Coronavirus: Council service disruption
Coronavirus: Council service disruption
It is important to remember that COVID-19 has not gone away, regionally case rates are some of the highest we have seen throughout the pandemic.  To help reduce the risk of the virus spreading there will continue to be some changes to the way we deliver our services.  We will:
Be considerate by asking staff and visitors to wear face coverings in the public areas of our buildings to protect others including the frontline workers we all rely on

Be cautious by continuing to wash our hands and provide hand sanitiser for visitors and by keeping social distancing measures in place in our buildings

Be kind by recognising that many people still feel anxious about the changes to restrictions and may want to take precautions to stay safe
 We will continue to update this webpage with any changes to services.
The Arches at the Civic Centre reception will be open from 8.30am to 4.30pm Monday to Friday.  Only people with an appointment or who need to access emergency services should visit the Civic Centre.
Social distancing will remain in place in the Civic Centre and most of our other buildings.  Members of the public will be encouraged to:
Observe 2 metres social distance

Wear a face covering unless exempt

Use hand sanitiser when entering council buildings

Sign in using the Test and Trace app
Our recycling centres at Brunswick, Byker and Walbottle are open with social distancing measures remaining in place.  We will continue to operate an "odds and evens" system, based on the last number of car licence plates and the date. 
You can find more information about visiting our sites at www.newcastle.gov.uk/hwrc 
Housing Advice Centre 
The Housing Advice Centre will continue to offer advice by telephone or email which can be accessed by calling 0800 1707 008 or be emailing housingadvicecentre@newcastle.gov.uk
After 4.30pm on weekdays or at weekends you can access out of hours support if you have nowhere to sleep by calling 0800 1707 008 and following the instructions to speak to the emergency homeless service.  For more information visit www.newcastle.gov.uk/homeless
Private Rented Service Newcastle
Landlords and tenants who rent their home from a private landlord can get free advice and support by calling the Private Rented Service Newcastle enquiry line on 0191 277 1438 between 9am and 12 noon Monday to Friday or by emailing privaterentedservice@newcastle.gov.uk.   You can also find a range of information and guidance including advice on COVID-19 at www.privaterentedservice.co.uk
Your Homes Newcastle 
Following the easing of national restrictions, Your Homes Newcastle (YHN) will begin to reintroduce their full repairs service starting w/c 12 April and will be prioritising repairs that were booked in and cancelled due to Covid-19, along with new non-essential repairs that have been reported during lockdown. 
For these repairs, customers will get a telephone call from a member of YHN staff to book an appointment. We appreciate that some customers might still be anxious about letting people into your home. If this is the case and your repair isn't urgent then please let YHN know when they contact you to discuss alternative arrangements.
YHN customers can report any new repairs by calling 0191 278 7878 or if it's a non-urgent repair than you can also report it via the YHN website at www.yhn.org.uk. 
Any postponed non-urgent planned maintenance inside properties, such as kitchen replacements, will resume from May 2021. Customers will be contacted in advance of any work taking place. If you have any concerns, please let the YHN team know when they contact you.
For the time being YHN Housing Services Offices (hubs) will remain closed to the public, however Housing Services Officers are resuming estate visits from 12 April 2021 and you can contact your Housing Services Officer by using the email address or telephone number of your local housing office. Click here for contact details: https://www.yhn.org.uk/contact-us/key-contacts/yhn-housing-services/  
All non-emergency services and cyclical replacement programme works for the Newcastle Furniture Service (NFS) will resume on 12 April. If you have any queries, you can contact the NFS team via email

FurnitureService@yhn.org.uk

  or give us a call on 0191 278 1888

If you are having any concerns about paying your rent, please speak to your local YHN Income Collection team as soon as possible so they can discuss how they can help you.

Support and advice on Universal Credit and benefits issues is available over the phone from YHN's Financial Inclusion team.

YHN can still help with anti-social behaviour issues. For any issues with ASB or noise nuisance, please contact the YHN Safe Living team for advice and support.

You can contact YHN for support us by calling 0191 278 8600. Lines may be busy so if you can contact by email then please get in touch at 

yhn@yhn.org.uk
For full information on our current services please visit: www.yhn.org.uk/coronavirus
Libraries
All libraries in Newcastle, apart from Blakelaw, are open with slightly amended opening hours. We are in the process of agreeing the re-opening of Blakelaw Library by the end of July.
We are open for our Select and Collect service, limited browsing, enquiries, and time limited computer access. Social distancing measures remain in place including floor markings, 2m distancing and limits on the number of people allowed in the building. Visitors are strongly encouraged to wear face coverings, unless exempt, when in our library buildings and to sign in using the Test and Trace app.
Planned library closures
We are facing staff shortages as a result of self-isolation we have put contingency plans in place which includes the following planned closures:
Week beginning 19 July 2021 – West End and Denton Burn

Week beginning 26 July 2021 – East End and Newburn

Week beginning 2 August 2021 – Kenton and Cruddas Park

Week beginning 9 August 2021 – Gosforth and High Heaton

Week beginning 16 August 2021 – Outer West
Full details of opening times and days can be found on our Your libraries page.
Other library services
We continue to offer free access to our eBooks, eAudiobooks, digital magazines and comics. You can join online and we are constantly updating the titles available.
Keep an eye on the Newcastle Libraries social media channels (Facebook, Twitter, Instagram and TikTok) for craft ideas, information, quizzes, local history and story times to keep you entertained and amused. 
We work in partnership with the Royal Voluntary Service (RVS) to offer a Home Delivery Service.  To find our more or to sign up for the service email information@newcastle.gov.uk or call 0191 2787878.
The City Library continues to offer Visa application services.  Find out or to book an appointment please visit https://www.ukvcas.co.uk/home-internal.
Museums
From Monday 19 July you will no longer need to pre-book your visit for the Discovery Museum, Great North Museum: Hancock or the Hatton Gallery.  You will still need to pre-book if you want to visit the Challenging Convention exhibition at the Laing Art Gallery but not for the rest of the gallery.   To keep everyone safe visitor numbers will be monitored to ensure venues don't get too crowded. Visitors are recommended to wear a face covering, unless exempt, when visiting museums. 
For more information visit www.twmuseums.org.uk/
To protect customers and staff there will continue to be some changes to how Register Office and Bereavement Services are delivered.  Social distancing measures will remain in place and visitors will be encouraged to wear face coverings unless they are exempt.
Births

    
Registrations are strictly by appointment only and parents can contact the Register Office to make an appointment by calling 0191 2787878 and asking for registrars or by emailing registrars@newcastle.gov.uk.     
If parents are a married couple or in a civil partnership both parents can attend however we would encourage only one parent to attend as we want to ensure the health and safety of parents and staff while infection rates remain high in the city

If parents are not married or in a civil partnership both parents should attend.   

Parents are requested to wear a face covering, unless exempt, and to follow social distancing measures when attending their appointment   

If you are displaying any symptoms of Covid 19 you should not attend.  If you are showing symptoms when you attend you will be asked to leave
More detailed information will be provided by a Registrar when you make your booking.  Please note that any parent turning up at the Civic Centre without an appointment will not be seen.   
Marriages and civil partnerships   
Social distancing measures remain in place in public areas of the Civic Centre and guests are requested to check in using the Test and Trace app.  Guests are asked to wear face coverings, unless exempt, in public areas but these can be removed in the ceremony rooms.  
If you are having your ceremony in Newcastle Register Office the number of attendees allowed is four – the couple and two witnesses.  If you are having your ceremony in the Leazes Room the number of attendees allowed is 50. This includes the couple, witnesses, children, other guests and anyone working at the ceremony. 
If you are having your ceremony at an approved premise you should contact them directly if you have any queries about numbers.
All restrictions on ceremony content has been removed.
Notice of intent to marry or form a civil partnership  
For a marriage or civil partnership to take place you must give notice of intent.  Notice must be given in person by you both to the Register Office of the District where you reside at least 28 days before your ceremony is due to take place.
We are currently experiencing high demand so notice appointments are not available at short notice.  Please make sure you contact us in a timely manner to make your appointment or you may not be able to proceed with your ceremony as planned.
New ceremony bookings   
Ceremonies can be booked two years in advance. 
If you are interested in booking a ceremony please contact the Register Office by phone (Monday to Friday, 8.30am to 4.30pm) on 0191 2787878 and ask for Registrars, or by emailing registrars@newcastle.gov.uk, stating your preferred date and time, the name of your venue and your contact details, and someone will get back to you.
Bereavement services
You can contact the Bereavement Services office at the Civic Centre by calling 0191 211 6941 between 9am and 3pm, Monday to Friday or by emailing bereavementservices@newcastle.gov.uk. The office is not open to personal callers.
Deaths   
All death and still-birth registrations will continue to be carried out by telephone.  To make an appointment to register a death or still birth please call 0191 2787878 and ask for Registrars.  We will explain the process when you call to make the appointment.    
GPs who are issuing medical cause of death certificates should scan and email them to registrars@newcastle.gov.uk as provided for in the Coronavirus (Emergency) Act 2020.  Certificates should not be handed to the informant as they will not have any face to face contact with a registrar.  
Cemeteries and crematoria
All cemeteries in the city are open.   The West Road Crematorium is open, as is its waiting room.
Visitors are encouraged to observe social distancing measures and to wear a face covering indoors unless exempt. 
Funerals 

  
There are no restrictions on the number of people who can attend a funeral at one of our chapels or a graveside service.
An intensive cleaning regime is in place at the West Road Crematorium with the chapels being cleaned between every service.  To facilitate this, we kindly ask that mourners exit the chapel as soon as the service is concluded and move away from the entrance.
Funeral directors are requested to scan and e-mail documents where possible and drop off statutory documentation to a central point for collection.  Please contact bereavementservices@newcastle.gov.uk for more information.   
Citizenship ceremonies

  
Group ceremonies are now being held on a monthly basis and private ceremonies are available upon request.
The Home Office will send out a ceremony invite to each applicant via post or email and the Register Office will be notified.  If you have received a ceremony invite, please do not contact us - we will be in touch to invite you to a ceremony and you will be offered the first available date.
Guests are requested to wear a face coverings in the public areas of the Civic Centre, to check in using the Test and Trace app and to follow the social distancing measures that are in place.  Face coverings are not required in the ceremony room.
Certificates  
We are only accepting online applications for copy certificates. Order via our online order service page.  
All certificates will be posted out.  A collection service is not available.
Priority Service
Priority applications will be posted out within 24 hours of receipt of your application. 
Please note that these timings apply to working days i.e. if you order your certificate on a Saturday it will not be posted until Monday.
Standard Service
Standard applications will be posted out within 15 working days of receipt of your application.
Family History requests
We are currently, until further notice, unable to process family history requests.
You can find the latest information and guidance on schools and childcare here. 
Care homes are open and are following Public Health England guidelines but some restrictions remain in place.  Contact your care home to find out more about their visitor policy.  You can find the latest guidance on visiting care homes here. 
Some Day Services may remain closed or be offering reduced services.  You should contact your Day Services provider to find out more.
Be Considerate, Be Cautious, Be Kind
Did you know?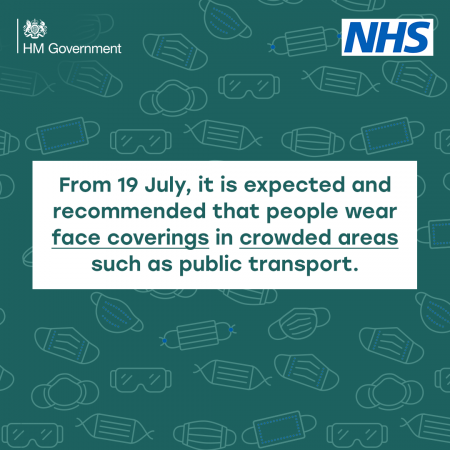 COVID-19 has not gone away, regionally case rates are some of the highest we have seen throughout the pandemic.  While thankfully hospital admissions are not as high as previously, they are growing.  People are still becoming very ill and even those with mild symptoms can go on to develop long Covid. 
To help protect others and keep Newcastle open there are some things we can all keep doing:
Be considerate – continue wearing a face covering indoors – particularly in crowded areas – and on public transport to protect others, including our frontline workers who we all rely on
Be cautious – the pandemic is not over, and continuing to wash your hands, wear face coverings, keep your distance and meet outdoors when you can, will help to prevent the virus spreading
Be kind – many people may still feel anxious about changes to restrictions, be mindful of how others may still want to distance and wear face coverings
The people of Newcastle have worked hard throughout the pandemic and made many sacrifices. Thank you for your continued support to ensure these efforts aren't
Staff are providing updates and answering questions on social media platforms.  If you don't follow the council already you can do so on Twitter - @NewcastleCC, and Facebook - @NewcastleCityCouncil
If you bookmark www.newcastle.gov.uk/coronavirus on your browser it will be easier come back and check for updates.
Be Considerate, Be Cautious, Be Kind