West Road Crematorium
West Road Crematorium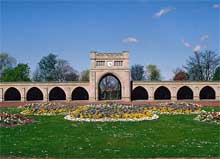 Finding the Crematorium
Cremation services take place Monday to Friday from 9am until 3pm. We do not have cremation services at weekends.
West Road Crematorium
West Road
Newcastle upon Tyne
Tyne and Wear
NE5 2JL
You can contact Bereavement Services on 0191 211 6941.
The West Road Crematorium
The crematorium has two chapels, joined together by an arcaded cloister known as the Loggia. The original Garden of Remembrance is immediately behind the cloister and is approached through the archway of the central clock tower. Both chapels are traditional in style and have been re-furbished to the highest standard.
The West Chapel seats approximately 180 mourners and is equipped with an organ, CD and cassette player. An induction loop system is installed and it is wheelchair accessible.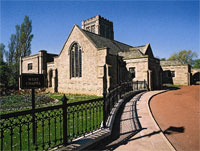 The East Chapel seats approximately 165 mourners and is equipped with an organ, CD and cassette player. An induction loop system is installed and it is wheelchair accessible.
Following a cremation, there are several options for the final disposal of the cremated remains:
They can be collected by the funeral director, who will return them to the family, for their own private disposal
They can be scattered on the Garden of Remembrance
They can be buried in a family grave, or in a smaller cremation plot
Small plots specifically designed for the burial of cremated remains are available at the West Road, Lemington, and Hollywood cemeteries. Your funeral director will be able to give you further details, as will staff in the Bereavement Services Office.
If you would like to visit the crematorium, a member of the Bereavement Service staff will be happy to show you around the facilities at the crematorium. This can be arranged by appointment through the Bereavement Services Office.
Garden of Remembrance
The Garden of Remembrance behind the cloisters is the original Garden of Remembrance, where cremated remains are scattered. For this reason, we ask that visitors do not walk across or place floral tributes on the lawn.
Vases are provided for the use of visitors to the garden, but as around 3300 cremations take place each year, it is not possible to allocate a vase for the sole use by one family. It is for this reason that we ask that personal messages and identification details are not placed on the vases.
Snowdrop Garden
The Snowdrop Garden is located at the far right hand side of the West Road Cemetery, adjacent to the babies' burial garden. It is a special remembrance garden for children who have died, stillborn babies and for lost pregnancies, whatever the cause. The garden is a place of tranquillity where parents and relatives, regardless of their religious beliefs, can go at any time to remember their children.
Please Note In the garden, there are no cremated remains to be strewn or burials to take place, and all memorials should be the authorised plaques available for purchase from Newcastle City Council.
Frequently Asked Questions: Bereavement, Cremation and Cemeteries