Killingworth Road
Killingworth Road
Salters Bridge update
Salters Bridge was closed to vehicles as part of our bridges scheme. Read more here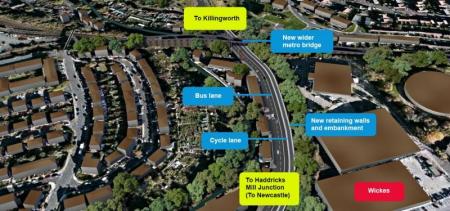 In 2017, we worked with Nexus to install a new Metro bridge and widen the road which leads on to Haddricks Mill roundabouts in South Gosforth, to reduce congestion, smooth traffic flow and increase safety to one of the main commuter routes into Newcastle.
The next stage of the project was to divert three major gas pipes and further utilities work.
The final part of the scheme was civil engineering work carried out by Newcastle City Council. We then widened the road to double the width of the carriageway, installed new wider pavements, and installed a bus lane and cycling facilities.
Now complete, the project will improve air quality, reduce journey times and improve public transport reliability on one of the major commuter routes into the city.
Did you know?
Connecting key junctions across the city - the improvements to Killingworth Road are part of a wider package of corridor improvements that run from Cowgate to the north of the city in Gosforth. We have completed work on Cowgate, we're currently working on Killingworth Road and Haddricks Mill and when they are complete, we will start work on Blue House.