Killingworth Road
Killingworth Road to re-open to two-way traffic from 31 July
We are advising motorists that Killingworth Road will re-open to two-way traffic (north and southbound) from 31 July 2019. 
Construction work is on-going and will continue into early 2020.
More updates to follow.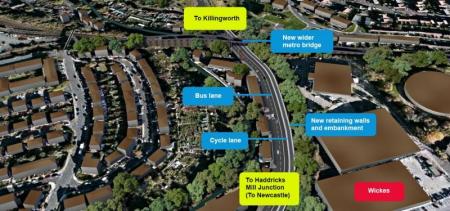 More information on the project
In 2017, we worked with Nexus to install a new Metro bridge and widen the road which leads on to Haddricks Mill roundabouts in South Gosforth, to reduce congestion, smooth traffic flow and increase safety to one of the main commuter routes into Newcastle.
We closed Salters Bridge to stop rat-running through residential streets. Salters Bridge will remain closed until later in the summer. We will make a full announcement in due course.
The next stage of the project was to divert three major gas pipes and further utilities work.
The project was beset with difficulties during the gas pipes replacement programme with Northern Gas Networks which caused it to severely over-run.
Initially a phased opening was in operation with a safe route through the road works for pedestrians and cyclists and southbound traffic only. Now we are at the stage of the scheme where we have enough space on the carriageway to allow two-way traffic back on the road.
We are now at the last stages of the works with installing widened footpaths, cycle lane, bus lane, vehicle lane and safer crossings.
Construction work will continue into early 2020.
Once complete, the project will improve air quality, reduce journey times and improve public transport reliability on one of the major commuter routes into the city.
Our site is in Beta Live, we welcome your feedback to help us improve the site.