Holocaust Memorial Day Newcastle
Holocaust Memorial Day Newcastle
Holocaust Memorial Day takes place every year on 27 January, the anniversary of the liberation of Auschwitz by allied troops.  It is a day to remember the millions of people murdered in the Holocaust and in the genocides that have followed.  Each year Holocaust Memorial Day focuses on a theme that aims to help us learn more about the past, to empathise with others and to work towards a better future.  
On this page you will find information about how we commemorate Holocaust Memorial  Day in Newcastle, plans for next year's Holocaust Memorial Day and details of past events and activities.
Newcastle has been an active and committed contributor to the National Holocaust Memorial Day programme since it began in 2000.  The programme allows our city to not only commemorate and show respect for the victims of the Holocaust and other genocides but to engage with residents from all backgrounds to deliver a programme of creative and educational activities which:
Identifies and examines discrimination and discriminatory behaviour and the consequences
Encourages appropriate opposition
Fosters better understanding of the origins and history of communities that have arrived in our city more recently
Encourages greater tolerance and social inclusion; and
Contributes to the council's ambitions around equality.  
Newcastle's programme is recognised nationally and in 2007 our city was the first in the UK, other than the national capitals, to host the National Commemorative Event.  In 2015, the council decided to move from delivering the activities itself to offering funding for independent projects which provided a focal point for remembrance.  The programme, which included lectures, exhibitions, films, plays, concerts work shops and learning activities, was a great success and created an opportunity for more communities to take part in a way that not only reflected the diversity of Newcastle but made use of the wide range of skills, knowledge and commitment that is available in our city.  
Our Holocaust Memorial Day activities have continued to be organised in this inclusive way every since.
"You didn't think about yesterday, and tomorrow may not happen, it was only today that you could cope with, and you got through it as best you could." - Iby Knill, survivor of the Holocaust
The theme for Holocaust Memorial Day 2022 is One Day.  Holocaust Memorial Day, 27 January, is One Day that we can all put aside, come together to remember and learn about the Holocaust, Nazi Persecution and the genocides in Cambodia, Rwanda, Bosnia and Darfur.  Holocaust Memorial Day is One Day when we can all hope for a world with no genocide, when we empathise with others and act for a better a better future.
Survivors of the Holocaust and of genocide often talk about the One Day when everything changed, sometimes for the worse and sometimes for better.  For many it may be hard to pick out just One Day as each and every day was a huge struggle, with no end in sight and no glimmer of hope that the next day would be any better.  Those who were targeted and persecuted held out for the One Day in the future when all their suffering would be over, hoping they would 'all see the day of liberation' (Elie Wiesel, Night).
One Day is just a snapshot in time and therefore cannot give the full picture, the context, the background that is needed, but it can help bring a piece of the full picture to life. The age or gender of the victim, or their geographical location ensured that no One Day during the genocide was typical. The same date would be experienced very differently by Jews hiding in France, Jews incarcerated in Auschwitz, Jews awaiting their fate in Hungary, for example. For those who suffered for days, weeks, months, years focussing on just One Day is a starting point.
Holocaust Memorial Day 2022 is One Day, we can all come together in our communities, to learn from the Holocaust and genocides and to a better future and to One Day when there is no genocide.
Holocaust Memorial Day 2022 funding
Newcastle City Council is inviting applications fro grants to create and deliver the Holocaust Memorial Day 2022 programme with emphasis on a hybrid approach of online and in person activities.  We are particularly keen to hear about ideas that will connect with local communities and engage people online.    
You can find out more about the criteria and how to apply here. 
"We will continue to do our bit for as long as we can, secure in the knowledge that others will continue to light a candle long after us." - Gena Turgel, survivor of the Holocaust (1923-2018)
The theme for Holocaust Memorial Day in 2021 was 'Be the light in the darkness' which encouraged people to reflect on the depths humanity can sink to and celebrate those who resist the darkness and who are the light before, during and after genocide .  In Newcastle the council lit the Civic Centre purple as a symbol of 'light in the darkness' - a beacon of hope for all - and worked with local communities and faith-based organisations to develop an online programme of activities and events that  encouraged residents to be shining lights of hope during dark and difficult times now and in the future.   
North East Council of Jewry
The Representative Council of North East Jewry (Rep Council)  unique and thought-provoking film for 'Be the Light in the Darkness' was first published on Sunday 24 January 2021 to coincide with the lighting-up of the Civic Centre.
You can find out more at https://www.northeastjewish.org.uk/      
Monkfish Productions
Monkfish Productions short film, 'Let This City Shine' made by Monkfish Associate Artists Andy Berriman and Sky Hawkins, celebrates Newcastle as a place of hope and light and features moments of people in Newcastle acting as shining lights for others who were or are struggling, lonely or afraid.  
Find out more about Monkfish productions by following them on Facebook or Twitter 
Skimtone Arts
Skimstone Arts Holocaust Memorial Day radio broadcast series 'Who Holds the Torch', presented by Kema Sikazwe and Claire Webster Saaremets celebrated being a light in the darkness. 
The broadcasts are available at https://www.mixcloud.com/Skimstoneradio/
Find out more about Skimstone arts at www.skimstone.org.uk
Brundibar Arts Festival
Brundibar Arts Festival is the only annual Festival in the UK dedicated to celebrating music and arts created by victims of the Holocaust.  Their film 'The Cook Sisters: Heroines of the Holocaust' tells the story of two ordinary sisters from Sunderland who worked to bring Jews out of Nazi Europe saving the lives of 29 people.  
Find out more about the Brundibar Arts Festival at www.brundibarartsfestival.com, on Facebook or by emailing brundibarartsfestival@outlook.com
John Sadler's Time Bandits 
Time Bandits is a new development in historical interpretation and living history drama, from first person recounting to skirmishes and battle re-enactments. 
Time Bandits' Holocaust Memorial Day film 'The Relief of Belsen' is taken from an eyewitness account by Captain Andrew Pares of 113 LAA Regt, (formerly 7 DLI). The words used are his and based on other contemporary testimony. 
Northern Cultural Projects
Northern Cultural Projects' film Women of Belsen is based on oral and written testimonies of female Holocaust Survivors and aid workers 
 
A Living Tradition CIC
A Living Tradition is an organisation based in the North East of England which uses the heritage of human rights and community cohesion work in the region to encourage and promote it now and in the future.  The commemorated Holocaust Memorial Day 2021 through the mediums of film and poetry.
'Who Is Bonhoeffer for Us Today' examines the legacy of a brave and principled man who stood up to the Nazis and helped Jews in the 1930's and 40's and what it means to us today.
'Remembering the Rohingyas' is a short film uses photos and contributions to increase understanding of the genocide of Rohyinyas in 2017 and shows how human goodness can be a light even in the bleakest darkness. 
'Newcastle: A Place of Sanctuary' by Yani Siskartika and Peter Sagar looks at the way Newcastle and the wider northeast has been a centre of human rights work for 250 years and how we have welcomed people from different communities over the years.  It also provides a fascinating tour of our own  history and a reminder of the terrible suffering the Roma went through during the Holocaust and how they are still a very marginalised today.
'Genocide in Bosnia: A Warning from History' features an interview with Smajo Beso from the Northeast Bosnian community, in which he talks about his early life in Bosnia, including how he had to flee during the war in 1990s, and his journey since then.  
'Examining the Roma Holocaust Through Poetry',  made by North East based poet Jo Clement and featuring Nicu Ion, examines some of the poignant and deeply felt poems written by Roma in response to the terrible events of the 1930' and 1940's.   
Download poetry from Roma Holocaust
'A People Uncounted' effortlessly weaves stories from the Porajmos (devouring) - the Roma word for the Holocaust - with those of Roma people facing discrimination. Due to the nature of the subject matter, the film is suitable for over 16s only so anyone wishing to watch if should email information@newcastle.gov.uk to request the log-in details.
Further reading and resources available.
Did you know?
10,000 unaccompanied children in Nazi territories between the ages of 5 and 16 were given refuge in the UK. This was a unique humanitarian operation which became known as the Kindertransport.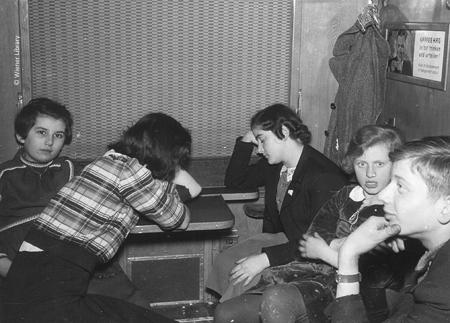 Read more about at    Kindertransport and refugees.