EU Settlement Scheme
Due to Coronavirus the EU Settlement Scheme ID Verification Service has been suspended until further notice.
The United Kingdom (UK) left the European Union (EU) on 31 January 2020.  This means that European rules relating to the free movement of people between member states will no longer apply to the UK when the transition period ends on 31 December 2020.
The EU Settlement Scheme (EUSS) was introduced to offer EU, EEA, Swiss citizens and their eligible family members living in the UK before the end of the transition period the opportunity to protect their right to live in the UK after the transition period has ended.  The EUSS protects the rights you currently have in the UK including access to healthcare, benefits and pensions.  
If you're an EU, EEA or Swiss citizen you and your family need to apply to the EUSS before 30 June 2021 to continue living in legally in the UK.   If your application is successful you will be given either settled status or pre-settled status.  The application process is free but you must apply before the deadline on 30 June 2021.
You can find out more about the EUSS here.
You must apply to the EUSS before 30 June 2021.  
EU, EEA and Swiss citizens and their families will need to apply to the EUSS if they want to continue to live in the UK.  Remember people of all ages, including children, need to apply.
More information on who is eligible to apply can be found here.  You can find the government's information on the EUSS in 26 European languages here.
There will be no changes to your current rights under EU law until the end of the planned implementation period.
You can apply to the EUSS for pre-settled or settled status using an online form which can be found here.  
As part of the process you will need to scan and verify biometric ID documents.  You can do this yourself on a compatible device such as a mobile phone or tablet.  
To use an Android phone or tablet the device will need to have Near Field Communication (NFC).  You can check if a device has NFC by searching 'NFC' in the device settings.  You will not be able to download the app if the device does not have NFC.
The 'ID Document Check' app is also available for iPhone 7 and 7 Plus and newer iPhone models.
You can check if you can use your device and find out how to download and use the ID Document Check app here.
If you live in Newcastle and need help with your EUSS application please contact:
The Children's Society North East
Email: euss@childrenssociety.org.uk  Phone: 0191 349 9481
Riverside Community Health Project
Email: EUSSadvice@riversidechp.co.uk  Mobile: 07943 197249  Phone: 0191 226 0754
Your Homes Newcastle
Email: EUSS@yhn.org.uk  Phone: 0191 277 1190
The North East Law Centre
Phone: 0191 230 4777 - Friday 10am to 1pm  for free advice service on legal issues 
If you are granted settled or pre-settled status it is important that you keep your records up to date. There are some people you will need to tell about your status including your landlord or mortgage company, the DWP if you receive benefits such as Universal Credit, Personal Independence Payment or a Pension, your GP and any other medical services you use, your children's schools, your employer and the local council.  If you aren't sure if you need to tell an organisation, speak to them to find out if they need to know.
Did you know?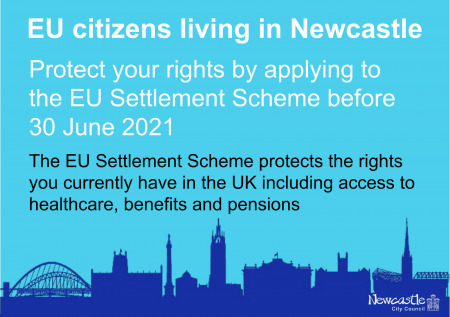 Pages in this area