Season Ticket Permits (Formerly Citypark Permits)
Season Ticket Permits (Formerly Citypark Permits)
If you are a frequent user of the city centre car parks operated by Newcastle City Council then you may be interested in one of our Season Tickets after reading the following information. 
Season Tickets for use in our car parks were previously called Citypark permits and have been re-branded as part of changes to the car parks that took effect on 01 July 2021.  Gold, Emerald and Diamond season tickets may only be used in the designated permit bays located within the car park named on the permit. If the vehicle is an electric vehicle the permit may also be used within an electric vehicle charging bay whilst actively charging within the car park named on the permit.  If the season ticket is being used by a disabled badge holder, the season ticket holder may park in a disabled parking bay or regular pay and display parking bay provided that the season ticket and disabled badge are clearly displayed.
If you hold a Citypark Silver or Gold permit these permits remain valid until their expiry date.  Silver permits will be phased out beyond their current expiry date, while Gold permits remain in operation and can be renewed at expiry. 
Citypark Gold Plus permits have been rebranded to become Emerald permits while Citypark Platinum permits will become Diamond permits.  Holders of Gold Plus and Platinum permits will receive replacement Emerald and Diamond Season Tickets running to the same expiry date as their current Citypark permit in time for the change over of signage in the car parks for 01 July 2021.
 Examples of the signage to show which bays are reserved for that particular Season Ticket and the days and times of operation from 01 July 2021 are shown below: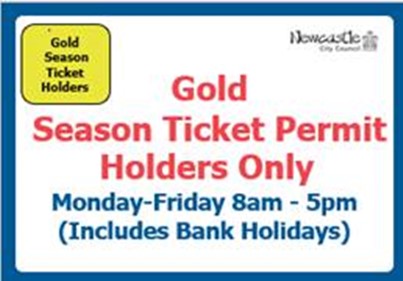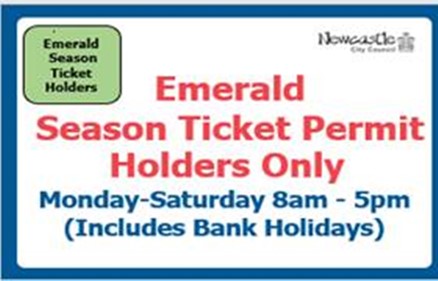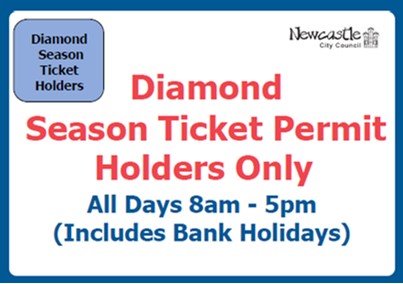 Companies holding Platinum permits issued through a lease agreement for the car park will be issued with replacement Platinum Lease Permits before 01 July 2021.  An example of the signage for Platinum Lease bays is shown below: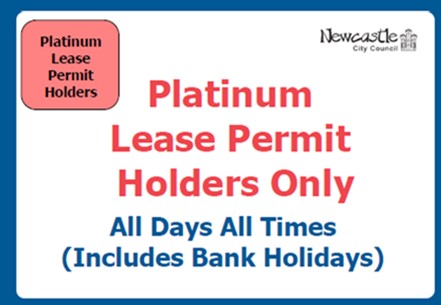 MEA House permits
From 01 July 2021 a new permit was introduced for businesses based in MEA House.  These businesses are all charities.
The parking permit is only valid to be used in the parking bays allocated to MEA House permit holders within the Ellison Place car park.
The cost of the annual parking permit depends on the number of days the permit is required for.
One day a week costs £100.00 for a year

Two days a week costs £200.00 for a year

Three days a week costs £300.00 for a year

Four days a week costs £400.00 for a year

Five days a week costs £500.00 for a year
For an application form to apply for a MEA House parking permit, could you please e-mail cityparkpermits@newcastle.gov.uk
---
How are Season Ticket Permits priced?
There is a fixed price for the Season Tickets, which depends on the car park that you use.
Please find details of the Season Ticket Prices, together with details of car parks where there is currently availability for permits.
---
What are the permit type options and what are the differences between permit types?
We currently offer three different types of permit of Season Tickets – Gold, Emerald and Diamond.
 
Type
Allocated Spaces
Times
Gold
Yes
Monday to Friday - 8am to 5pm (

car parks in the Alive after 5 promotion); 6pm (surface car parks); 10pm (Stadium)

Emerald
Yes
Monday to Saturday - 8am to 5pm (

car parks in the Alive after 5 promotion); 6pm (surface car parks); 10pm (Stadium)

Diamond
Yes
All days, 8am - 5pm (

car parks in the Alive after 5 promotion); 6pm (surface car parks); 10pm (Stadium)
---
How to apply
Apply for your permit using our online application form
We are currently developing a new Platinum Lease Holders Permit for the new Helix Multi Storey car park (The Garage) which will open later in 2022.  Applications for the new Platinum Lease Holders Permit  can be submitted from Friday 6th May 2022 and will be limited to the various businesses located at the Helix who will be entitled to apply for a permit at this new car park.  The cost of the new annual Platinum Lease Holders Permit will be £1750 per permit and permits will be issued to coincide with the opening of the new car park.  
Please note, at present the maximum number of season tickets have been issued at the Claremont Road & Ellison Place car parks and we are currently not processing new applications for these car parks.   
Due to a recent increase in demand for Season Ticket permits, please be advised that any application submitted to Newcastle Parking Services may take up to 14 days for an offer to be issued. This will therefore affect any date you wish the permit to commence.
---
Benefits of having a Season Ticket permit
A Season Ticket permit removes the need to carry or find change for your parking session and also includes a discount built in to the price.
---
How long do the permits run for?
All of our permits can be taken out for periods of 4 weeks, 13 weeks (3 months), 26 weeks (6 months) or 52 weeks (12 months) at a time. For each permit type payment must be processed up front before the permit is issued.  There is no longer an option to pay for an annual permit via monthly instalments due to the number of customers who defaulted on payment plans, but the option of taking out permits at 4 week intervals providing an option for customers to spread the cost of the permit each month.
---
Can I have more than one vehicle registration on my permit?
For convenience and flexibility each permit can have up to two vehicle registrations printed on it for added security. Alternatively, you can request that the permit does not have a named vehicle registration number to provide flexibility to be used on any vehicle.
---
What do I do if I change my vehicle

or my permit is mislaid

?
Please contact the Parking Services Team via email to cityparkpermits@newcastle.gov.uk for guidance on how to change a vehicle registration number on your permit or request a replacement permit.
---
What happens if my circumstances change and I no longer need the permit?
The permit should be returned to Newcastle Parking Services, P.O. Box 2BL, Newcastle-upon-Tyne, NE99 2BL by recorded delivery/Royal Mail signed for.  This provides proof of posting and receipt.  We will then revoke your permit and depending on how you paid for the permit, calculate if you are due a refund for the unexpired portion in full weeks or the reduced amount you owe on a payment plan.  A £25.00 administrative charge will be applied for the process of cancelling the permit; making the necessary changes to the car park configuration and processing a refund.  If you paid for your permit upfront in a single payment, we will refund the value of the unused portion of the permit to you, usually to the payment card that the original payment was taken from, minus the administrative charge.
---
Data Protection Information
Personal data will be collected in order to process your application for a permit in line with the terms and conditions of use. Your personal data may be collected, processed, shared and retained in order to carry out the performance of a public task and fulfil our legal obligations in the following ways:
• To establish eligibility for a permit.
• To support enforcement of the parking permit scheme restrictions.
• Shared with the police or security organisations to prevent or detect crime.
Please note ANPR cameras may be used for the purposes of statistical analysis and payment/enforcement queries.
---
Your Data Rights
In relation to the personal data which we may hold about you, you have the right to request to:
Be informed, have access or rectify incorrect information. You also have the right to object to or restrict our processing of your data.
Under Data Protection law we must verify your identity and explain to you our reasons if we do not agree to carry out your request.
---
Contact and Further Information for Data Protection queries only
If you would like more information about how we use your data, please read our Privacy Policy: https://www.newcastle.gov.uk/local-government/access-information-and-data/data-protection. Data protection questions can be made via telephone on 0191 211 6500, by email to dataprotection@newcastle.gov.uk or in writing to Data Protection, Newcastle City Council, 6th Floor, Civic Centre, Barras Bridge, Newcastle upon Tyne NE1 8QH
You have the right to complain to the Information Commissioner's Office at www.ICO.org.uk.
If you have further queries you can also email us via cityparkpermits@newcastle.gov.uk. Please be advised that we aim to respond to queries (other than applications for permits) within 3 working days.