Queen Victoria Road and Claremont Road
Queen Victoria Road and Claremont Road
We are making permanent changes to the road layout on Queen Victoria Road.
We will be building a new two-way cycle track along the length of the road and putting in new and safer junctions and crossing points. There will also be a new bus stop outside the hospital.
We're investing £2.95m in the improvements, including £1.3m from the government's Active Travel Fund, to make this busy city centre street safer for everyone.
We've developed the plans in consultation with the Royal Victoria Infirmary, Newcastle University, local residents, businesses and road users. 
We've also taken on board feedback from people about the current temporary traffic arrangements on Queen Victoria Road, which were put in place during the first Covid lockdown to support social distancing and active travel.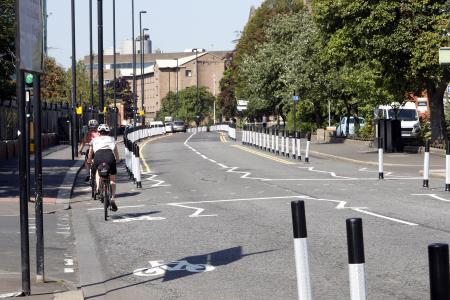 Work on nearby Claremont Road has already been completed as part of wider safety improvements in this area of the city. These works have included new pedestrian crossing facilities, widened footpaths and changes at the junction outside the car park to improve traffic flows and make it safer for people on foot and bikes.
When will work be happening on Queen Victoria Road?
Preparation work will start on Monday 15 January 2024. This will involve getting the road ready for the new traffic signals to be installed.
The main construction work is due to start in March 2024. This will be when we start building the new cycle track and crossing points as well as installing the new traffic signals and bus stop.
How will people be affected?
During the preparation stage for the works, people driving will still be able to travel in both directions along Queen Victoria Road but there will be traffic lights controlling the flow of traffic one way at a time.
When the main work starts in March, the road will be temporarily one-way, northbound only, for vehicles from St Thomas Street to Claremont Road.
Throughout the works the pavements on both sides of the road will temporarily be used as shared space for people walking, wheeling and cycling.
How will access to the hospital be affected?
Access to the hospital site will continue to be maintained but there may be temporary changes to the car park entry and exit points to allow work in these locations to be carried out safely.
We will continue to work with the RVI to minimise any disruption and keep people informed.
Once the main work starts in March vehicles will only be able to travel northbound along Queen Victoria Road, turning left into the hospital car parks.
If you are approaching from the Claremont Road end of the road and / or Central Motorway, you will need to follow the signed diversion routes.