Payments are currently suspended. 
As a precautionary measure, we have taken the decision to temporarily suspend our online payment system while we investigate an issue with our supplier. We apologise for any inconvenience caused.
Street lighting
Street lighting
We're responsible for street lighting within Newcastle upon Tyne.
LED Street Lighting
We have been given the go-ahead to replace standard sodium street lights with new LED technology. This was agreed by Cabinet in November 2017 when they agreed a report on the business case for replacing all streetlights maintained by Newcastle City Council with new LED technology over the next 2 years.
We maintain over 36,000 street lighting columns across the City, valued at over £48million with a current energy cost of £2.5m per annum. The LED replacement programme is part of an £8m improvement scheme which will ensure we have modern, cost efficient street lighting that will last well into the future and bring our lighting up to date.
The new, more efficient LED equipment will cost about 60 per cent less to power and can play an important part in reducing carbon emissions. They will also help to mitigate any future rises in electricity prices.
A number of LED street lights are already operating across the city where the original lights have been replaced because of faults or where we have undertaken schemes.
Frequently asked questions about LED street lighting
Q: What is a LED?
A: LED is the common abbreviation for Light Emitting Diode. They are illuminated by the movement of electrons in a semiconductor material, last for an amazing amount of time, give off virtually no heat and contain no hazardous substances. Highly efficient and environmentally friendly, LEDs are widely used to light homes, businesses and outdoor spaces.
Q: Do LEDs contain hazardous chemicals?
A: LEDs contain no hazardous chemicals unlike many of the legacy street lighting still in place. In addition, the LED luminaires are RoHS (Restricted of Hazardous Substances) complaint.
Q: Are LEDs dangerous to the eyes?
A: The principle danger to the retina from viewing bright sources is Photoretinitis. Studies have shown that LEDs do not pose any risk to the retina for short exposure times. It is not advisable to look directly into any light source whether it is natural (the sun) or artificial.
Q: Is it true LED lights produce blue light that can disrupt sleep by suppressing the body's production of melatonin?
A: LEDs can be made in cool white and warm white light. Adding more red light creates a warmer white light, whereas the addition of blue light produces cool white.
Research actually shows that light exposure needs to be in excess of 30 lux continuously for an hour for any measurable shift to take place in melatonin, the hormone which governs our sleep patterns. Even then this shift is insufficient to disrupt sleep patterns.
Typical street lighting levels are significantly lower than light levels normally found in the home. The use of handheld phones, tablets and computers is likely to have a greater impact on melatonin levels.
Furthermore, the luminaires are risk group 1 which means no specific precautions need to be taken.
Q: Why are we changing our street lighting?
A: The city's street lighting energy bill has previously exceeded £2.5M, and with energy process forecast to rise we are taking this opportunity to replace the existing street lighting networks with more efficient LED equipment. This will allow us to continue to provide a quality street lighting service at an affordable price and will mitigate any future rises in electricity costs.
Q: What are the benefits of this?
A: We'll be using newer LED lighting which uses less energy, so it's cheaper to run and is kinder to the environment.
When the work is completed, the new lights will use between 50-70% less energy across the city, providing savings of more than £1.4 million a year.
The new light will also cause less light pollution and mean we'll be able to set lighting levels depending on the type of road and traffic volumes.
The new LED lanterns are expected to have a lower failure rate and much longer life expectancy than standard street lights therefore on-going maintenance requirements will be significantly reduced. Unlike most street lights which can take up to ten minutes to reach full brilliance, LEDs switch on to full output immediately.
LEDs do not contain the harmful elements normally found in standard street lighting such as mercury or sodium and are therefore easier to safety dispose of.
We'll have consistent lighting levels in all residential areas and, because the new lighting is whiter, you'll be able to see and recognise things such as different colours more easily.
Q: Will every street light be replaced with an LED type lantern?
A: The majority of city council-owned street lighting on adopted highway will be converted to LED as part of the lantern replacement programme.
Q: How will the work be carried out?
A: Enerveo Enterprise, previously known as SSE, is carrying out the work on our behalf. This will involve replacing the light on top of each lamp post with the new LED lighting. The lamp post itself won't need to be removed or replaced and the work will be done one light at a time.
Q: Will there be disruption?
A: Enerveo has already completed similar street lighting renewal projects in other parts of the North East. They've planned the work programme in Newcastle based on their experience of having worked on other projects in order to minimise disruption.
In most cases, lantern replacements take around 15 to 20 minutes per unit and are carried out using a single vehicle (cherry picker). There will be no excavation and limited traffic management, so any disruption should be minimal.
Because the lights will be replaced one at a time, turning the energy supply off as work moves from one lamp post to the next, it means we won't have to turn off all the lights on one street together.
Q: Will I notice a difference when the new lighting is installed?
A: The vast majority of our existing street lighting burns sodium which produces a light that appears yellow or orange in colour.
Residents will notice that the LEDs produce a white light that can be brighter and make it easier to differentiate colours which will improve visibility for motorists and pedestrians. They make colours look more natural and LED street lights provide better facial recognition for security and CCTC cameras.
The image below gives an indication of the various colour temperatures.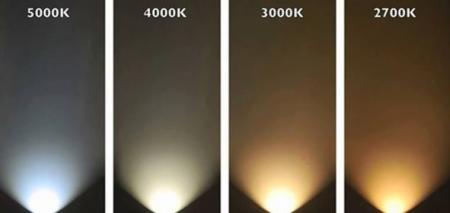 Some previously installed LED lanterns operated at a colour temperature of 5000k. A small number of residents felt that these lights were too cold (blueish) in appearance.
For the last two years we have installed LEDs with a very efficient natural white light at 4000k colour temperature. The majority of the new installations will use this type of LED.
Q: The new LED lighting is not bright enough and no longer lights up my drive, garden or front door.
A: The new lighting is designed to meet the British and European standards for road lighting design. In order to benefit from the maximum possible savings, the city council has used lanterns specifically designed to direct all available light down on to the highway. We would not wish to use our public lighting to illuminate private property and the lighting of private property is the responsible of the homeowner or tenant.
Q: Will any street lighting columns be replaced as part of this programme?
A: In almost all cases the new LED lantern will simply replace the existing lantern on any given street lighting column.
In a very small number of cases a street lighting column will be replaced if it is found to be in poor condition however it is unlikely that the position of the street light will be changed. In these circumstances a single sodium light may be left in situ for a short period of time until the lighting column can be replaced.
We do have a separate street lighting column replacement programme which targets the oldest, most decrepit equipment around the country. This programme will continue to operate concurrent with the proposed LED scheme and will take advantage of the new efficient lanterns.
Q: Are LEDs harmful?
A: Exposure to light from an LED is as safe as being exposed to natural lighting or any other artificial light source. There is a wealth of research that confirms the safety of this technology that is being widely installed throughout the UK.
Q: Will I be disturbed by light shining through my window?
A: Existing street lighting tends to spread light in all directions, including upwards, causing light pollution and light spillage into private properties. LED lighting is easier to direct, focussing available light downward onto the roads and pavements minimising any light spillage into homes and gardens.
If you experience any light intrusion following the introduction of the new LED lanterns, please contact us and we will investigate.
The level of blue light emitted by our LEDs is equal to, or lower than, moon light which shines at around 4000k. The intensity of the light is more important when considering disruption to sleep patters. Our designers will strive to minimise the amount of artificial light that will fall on to a bedroom window. In general this will be kept below 1 lux; for reference, daylight is 10,000 - 100,000 lux.
Q: Will the lampposts be moved?
A: The design team are aiming to provide a quality light source with new LED technology whilst using the existing lampposts. In some circumstances the lamppost may be changed taking into consideration the condition and the year it was installed. All efforts will be made to ensure they are installed in the same place.
Q: Will there be excavations/holes all over the roads and footpaths?
A: The project is predominantly to replace the head of the lampposts. Excavations may be necessary if the lamppost is to be replaced due to wear and tear. All works will be sufficiently cordoned off with public safety a high priority.
Q: Will I be able to park on the street?
A: Any disruption to parking will be kept to a minimum. Parking in certain areas may be restricted for a short period until local works are complete; for this, we apologise in advance.
Q: Can I park on my drive?
A: Due to the temporary nature of the required works, any disruption to parking will be for short periods. There may be instances where engineers will be working directly outside your property and they may ask you to park nearly for a while. If you have any specific access problems, please approach the engineer who will be more than happy to resolve the issue.
Q: Will temporary traffic lights be used?
A: Traffic management may be used where there is a high flow of traffic or the roads are narrow.
Q: What will you do with the old lanterns that are removed?
A: These will be properly disposed of with materials being re-used where possible.
Q: How much will the programme cost?
A:The full LED programme will take three years to complete costing approximately £8 million.
Q: How much money will be saved?
A: It is anticipated that the complete replacement of all city council street lighting with LEDs will generate through a dual saving in both energy consumption and on-going maintenance.
Q: When will the work start and how long will it take?
A: The project started in earnest in Summer 2019 and the majority of our street lighting across all wards will have been upgraded by the end of Summer 2021.
We'll be starting work in the Denton and Denton Burn areas, at the top of the West Road, and will work along that road towards the City Centre. This initial part of the work will include the streets leading off either side of the West Road.
After that, work will move onto other areas, following a programme of work developed by Enerveo. This will take into account issues such as the location of any road works and is aimed at ensuring the lighting upgrades are carried out as efficiently as possible.
Did you know?
You can report problems with Street Lights with our partners at Enerveo Enterprise