Drugs and Alcohol
Drugs and Alcohol
Why Awareness matters
Alcohol and drug awareness is an important part of everyone's health and wellbeing. Drug and alcohol use can be an issue that affects anyone.
The effects can cause problems for communities, the individual and their families.
Are you, a family member or a loved one experiencing any problems as a result of drug and/or alcohol use?
Do you need help or advice to reduce your risks and prevent further issues?
Alcohol and drug use can affect your judgement, behaviours and your health.
 
Tackling Drugs and Alcohol in Newcastle
The intention of our Drug and Alcohol Delivery Plan is to reduce the health, social and economic equalities and harms caused by drugs and alcohol and the threat they pose to individuals, families and communities. 
To get help, advise and support for your alcohol or drug use (or for a family member) you can contact:
 
Your GP. Or search to find your local GP
 

Newcastle Treatment and Recovery (NTaR) Integrated Drug and Alcohol Services
NTaR delivers drug and alcohol services within Newcastle through a single point of contact, for all ages and substances. The service offers a range of support including specialist assessment, addiction medical and nursing care, recovery coordination, psychosocial, health support and a range of recovery support.

How to get referred

Referral into the service can be done by telephone on 0191 206 1117
or via email: NTARreferrals@cntw.nhs.uk (this is a secure email address)  

Cumbria, Northumberland, Tyne and Wear NHS Foundation Trust (CNTW) are the lead provider in partnership with Humankind and Changing Lives under the name of NTaR. The service is delivered from Plummer Court Specialist service and other community venues appropriate to need.

Cumbria, Northumberland, Tyne and Wear NHS Foundation Trust Plummer Court Specialist Mental Health Services, Carliol Square Newcastle upon Tyne NE1 6UR
Opening hours Monday to Friday 8.30am to 8pm and 10am to 6pm Saturday and Sunday.
Telephone: 0191 206 1100
 

Drug and Alcohol Young People's Service


NTaR delivers support for children and young people (and young adults) through a dedicated young people's team, offering a range of interventions appropriate to the child/young person through a specialist assessment. CYP will be seen in venues appropriate to their needs or access.  




Single point of access/referral via Plummer Court,

by telephone on 0191 206 1117 or via email: NTARreferrals@cntw.nhs.uk (this is a secure email address). The referral line will be supported by a CYP duty worker. 
 

The Drug and Alcohol Social Work Team.




A small specialist social work team who undertake assessments for suitability for residential rehabilitation for adults living in Newcastle. If you wish to be considered for residential rehabilitation you need to be engaged in treatment with  NTaR and you can discuss this further with your keyworker within the service. You can self refer to NTaR via (insert link/ or add details?). If you would like to have an informal discussion about your interest in residential rehabilitation you can contact the team on 

 0191 2772355 or mhadmin@newcastle.gov.uk 
Family Support
 
Positive Response to Overcoming Problems of Substance misuse (PROPS)
Provide support to the families and carers of problematic drug/alcohol users.
Services are running as normal with telephone and online support replacing face to face contact
Support and some groups are being delivered via Zoom as well as telephone support for clients
New referrals are still be taken across Newcastle and North Tyneside
Helpline hours Monday to Sunday 9.00am to 9.00pm.
Telephone: 0191 226 3440
Other services
 
Harm Reduction Service (part of the NTaR partnership)

43 Clayton St, Newcastle upon Tyne NE1 5PN.




The service offers harm reduction interventions including needle and syringe exchange, nursing support, blood borne virus testing and advice and information. They can also help you understand access to needle exchanges across the city including a range of pharmacy exchanges and the exchange at Joseph Cowan Health Centre. For more information telephone 0191 261 4719.

Ridley Villas
Ridley Villas is a supported accommodation service providing support to women with children living in Newcastle and Gateshead, who require support to help overcome drug and/or alcohol addiction, to continue to achieve and sustain abstinence by accessing appropriate treatment.
Telephone: 0191 232 9181
 
Newcastle User and Carer Forum  
C/o Public Health, Civic Centre, Newcastle enabling service user and carer involvement in line with our service user and carer charters engagement, consultation and communication in relation to service / treatment provision in the city. Also offers peer led support activities, training, volunteer opportunities, advocacy and mentoring. All based on the Newcastle Recovery Framework.
Opening hours for Public Health Monday to Friday 9am to 5pm.Telephone: 0191 278 8126
 
Housing Advice Centre, 

112 Pilgrim St, Newcastle upon Tyne NE1 6SQ


 please phone 0191 277 1712 or 0191 277 1716 or email 

housingadvicecentre@newcastle.gov.uk

.
Did you know?
International Foetal Alcohol Spectrum Disorders Awareness Day
International Foetal Alcohol Spectrum Disorders (FASD) Awareness Day takes place each year on September 9, presenting an opportunity to raise awareness about the dangers of drinking during pregnancy and the plight of individuals and families who struggle with FASD.
Women who drink alcohol during pregnancy can give birth to babies with fetal alcohol spectrum disorders, sometimes known as FASDs. FASD is the umbrella term for a range of disorders. These disorders can be mild or severe and can cause physical and mental birth defects.
People with Foetal Alcohol Syndrome (FAS), a severe form of FASD, may have problems with their vision, hearing, memory, attention span, and abilities to learn and communicate. While the defects vary from one person to another, the damage is often permanent and lifelong.
The message during FASD Awareness Day is there no safe amount, no safe time and no safe type of alcohol to drink during pregnancy.
An alcohol-free pregnancy is the best option for your unborn child.
There is no known cure for FASD, but it is 100% avoidable with abstinence from alcohol during pregnancy.
Find out more here - https://www.nhs.uk/conditions/foetal-alcohol-syndrome/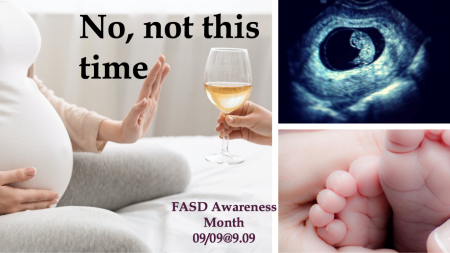 Need more information?
Other resources
Face to face 12 Step Meetings in the city are currently cancelled. There are Mutual Aid, AA and NA online meetings every day.
Alcohol Change: alcohol and mental health
If you drink alcohol regularly, do you know your units? Why not have a go at this new quiz from Balance to see how you compare with the weekly low risk limit? Try it out at www.reducemyrisk.tv