Asymptomatic testing in Newcastle
Newcastle City Council has implemented a programme of routine asymptomatic community testing, currently targeted at key workers without symptoms of Covid-19.  
This routine testing will help to identify those individuals who do not have symptoms but are potentially infectious – this will help to reduce the risk of transmission and outbreaks. Two sites are now operational, with one at the Banqueting Hall in the Civic Centre, and another at Westgate College.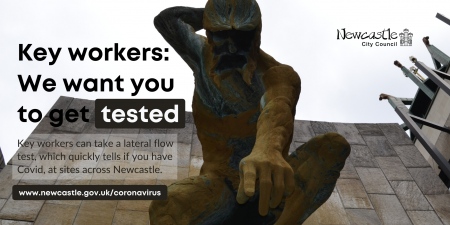 The programme is currently only open to key workers in Newcastle who cannot work from home and do not already have access to asymptomatic testing programmes through their employer.  
Anyone who can work from home should remain at home and not book asymptomatic testing appointments.
The focus on the community testing programme will evolve in line with the government's road map out of lockdown and to reflect the roll out of other routine testing programmes. 
Please visit the relevant page in the 'Did you know?' section to book an appointment at your preferred location.
Before attending your test:  
Face coverings should be worn, unless exempt, when attending the test centre. 

We advise you do not eat or drink 30minutes before you arrive.  

You will need to bring with you a mobile phone or tablet to register the barcode of your test on the NHS website. If you don't have a device we can support you to register your test.   

To make recording your tests quicker and easier you can set up an NHS account in advance  online

This is not linked to the NHS Covid-19 app.  

Your appointment will take 15-30 minutes in total.  

Your results will be shared with you within an hour of completing your test by text or email via the NHS.  You do not need to wait for your results.  
 If you have symptoms of Covid-19, you should not take part in asymptomatic testing and instead seek a PCR test at a fixed testing site from the Government website.