Exploring Local Heritage
Exploring Local Heritage
We promote the value of heritage in Newcastle through conserve and preserve alongside carefully manage changing environments and development to ensure that the future has a visible past. 
We do this through public schemes like the Commemorative Plaque Scheme and Tyne and Wear Heritage Open Days, as well as through the advisory services we provide for planning, archaeology, listed building, conservation area and scheduled monument permissions.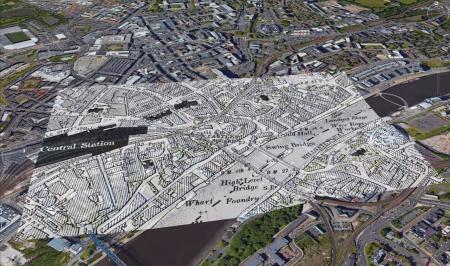 Newcastle Commemorative Plaque Scheme
There are over 100 commemorative plaques located around Newcastle to highlight the historic buildings and structures, alongside to show the city's connections with eminent figures from the past. Click here for further information including access to an interactive map to locate these plaques. 
Heritage Open Days
Heritage Open Days (HODs) is the nation's biggest free annual celebration of architecture, history and culture and allows the public a chance to visit heritage sites that are usually not open to the public or normally charge an entry fee. The weekend is part of European Heritage Days, a much larger collection of similar events across Europe which are run as part of a Council for Europe Initiative.
Heritage Open Days in Newcastle and across Tyne and Wear take place every September and gives the public the chance, free of charge, to visit or take part in buildings, tours, walks, talks and events, all celebrating the amazing, vibrant and diverse heritage of the region.
Archaeology Day
2018 saw the first Archaeology Day held by the Tyne and Wear Archaeology Service. Over 100 people heard talks on a range of archaeological discoveries across Tyne and Wear.
Sitelines is an online version of the Tyne and Wear Historic Environment Record. You can search it to find out about archaeological sites and monuments in your area.
Visitor information and interpretation
We are continually progressing the
phased upgrade of interpretation boards around the city,
maintenance of existing interpretation,
replenishment and distribution of published visitor leaflets,
the development of new visitor information leaflets and especially those that form part of the Explore Heritage series
the development of new interpretation boards and other interpretive media
as well as the research, development and introduction of alternative digital interpretive media.
We provide support for local groups looking to implement heritage projects or interpretation schemes and provide interpretive services to other departments within Newcastle City Council who wish to support the provision of heritage/ visitor information through their own ongoing capital and revenue schemes.
Hidden Newcastle Mobile App
Unlock the forgotten stories of Newcastle's past as you walk around the city using the free Hidden Newcastle mobile app. Discover the real people who lived and worked in our familiar streets.
Did you know?
Newcastle City Council provide support for local groups looking to implement heritage projects or interpretation schemes. Heritage Open Days take place every September in Newcastle and across Tyne and Wear.
Related Pages
Need more information?
Click here to use our interactive map to explore the various heritage assets in Newcastle upon Tyne.
For queries relating to Commemorative Plaque Scheme, Interpretation and Heritage Open Days in Newcastle, you can contact us via urbandesignandconservation@newcastle.gov.uk.