The Bigg Market
The Bigg Market is a bustling area at the heart of Newcastle city centre and is often known as the party central of the city. The area has many bars and a range of restaurants.
As part of Newcastle NE1 Limited's (Business Improvement District Company) regeneration of the Bigg Market and  supported by the National Lottery Heritage Fund, the market area has a newly refurbished public space which has re-animated and revived the market breathing new life into the Bigg Market.
The market takes place on Tuesdays, Thursdays and Saturdays each week.
Please note that the maximum size of your stall must be 3metres x 3metres. No vehicles are permitted on site, this includes vehicles to trade from.
Rent per market is £30. You will need to have valid public liability insurance of minimum  £10 million.  You will need to go to the Grainger Market inspector's office on alley 2 before you set up. You will need to agree the location of your stall with the market inspectors.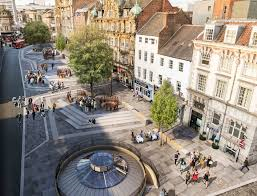 Did you know?
The Bigg Market is also a site of historical significance and dates back to the middle ages. Together with the Castle and the Cathedral, the Bigg Market area forms the medieval heart of Newcastle. It was the location of a thriving market and is named after a barley called Bigg barley which was sold from many of stall at the market.