Queen Victoria Road and Claremont Road
Queen Victoria Road and Claremont Road
In summer 2020, we made a number of changes in the city centre to make it easier for people to get around in a safe and socially-distanced way as initial lockdown restrictions were lifted.
The measures were designed to help people travel on foot and by bike and included more people-friendly and safer space for walking and cycling on Queen Victoria Road.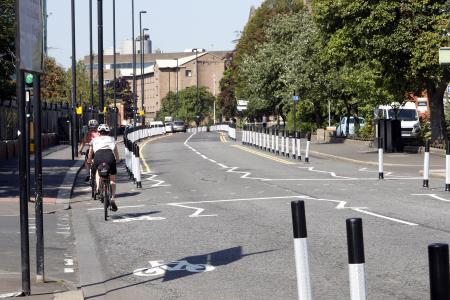 We've been monitoring the temporary arrangements that are in place to understand how they are working, taking on board comments from stakeholders and making small adjustments to improve them. The proposals outlined below suggest how we could make some of these temporary arrangements permanent. 
We have secured a total of £2.3m, a portion of which is from the Active Travel Fund, to carry out this work. 
Key changes as part of the proposals include:
Two-way, protected cycle lane for the length of Queen Victoria Road and on to Claremont Road.
Provision of the signalised junction and pedestrian crossing at the Claremont Road car park, and a right only exit from the car park, to provide safer crossing facilities.
Redesign of the roundabout at Queen Victoria Road / Claremont Road junction to allow for better and safer facilities for people on foot and on bikes.
Permanent, signalised pedestrian crossings to facilitate the large volumes of people on foot accessing both the hospital and the university.
New entrance and exit arrangements on the Queen Victoria Road from hospital car parks, to support the aspirations of the RVI's new internal road layout.
Provision of a new bus stop facility on Queen Victoria Road to support bus travel to the RVI.
Change in priority at the Richardson Road / Queen Victoria Road junction .
This image was created by Declan Adams, a Design for Industry student at Northumbria University, to show how Claremont Road would look with the permanent changes in place.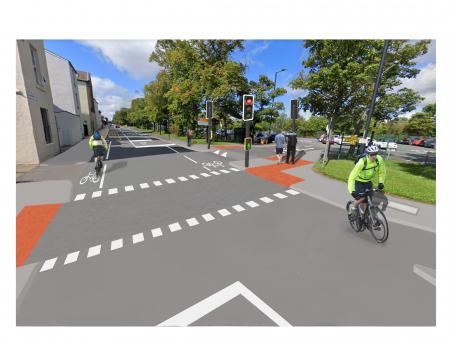 Pages in this area