Holocaust Memorial Day 2022
Holocaust Memorial Day 2022
The Holocaust Memorial Memorial Day Trust theme for Holocaust Memorial Day 2022 is 'One Day'.  Newcastle's enlightening and thought-provoking Holocaust Memorial Day programme, which is delivered by a range of community groups and organisations and is  based on their interpretation of the theme One Day, can be found here.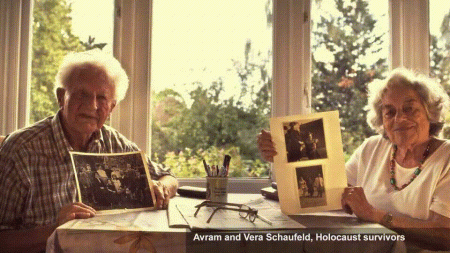 Survivors of the Holocaust and of genocide often talk about the One Day when everything changed, sometimes for the worse and sometimes for the better.
Avram and Vera Schaufield (picture credit: © Holocaust Memorial Day Trust)  are Holocaust survivors who have been married for over 60 years.  Read their story here.
"One Day Grett, my school friend, greeted me with an embrace. The next day she ran across the road and turned her head away so as not to acknowledge me." - Iby Knill, survivor of the Holocaust
One Day is a snapshot in time. It doesn't give the full picture but it can bring a piece of the picture to life.  Fazia. a lawyer in Sudan, and her children were forced to flee their home after she was targeted by the Sudanese government for supporting victims of the genocide in Darfur.   
"One Day I decided to leave my country. It was a hard decision, but there was no other way. I left my home, my friends, my people, I left all my belongings. There is a book on a table near my bed open on page 49 waiting for me" - Fazia 
One Day could be a day in the future that all those who were targeted and persecuted held on for, the day when they would be free. 
"Muster your strength and don't lose heart. We shall see the day of liberation. Have faith in life..... Help one another is the only way to survive." - Elie Wiesel, Night
One Day can also be a significant date in history, such as Kristallnacht or the start of the Warsaw Ghetto Rising, that lives in our collective memory forever. 
One Day, particularly for survivors, can be part of us always
One Day can change lives forever
One Day the world may come to its senses
One Day, hopefully, there will be no genocide
Holocaust Memorial Day Programme
Thursday 13 January to Thursday 20 January - Level 2, Newcastle City Library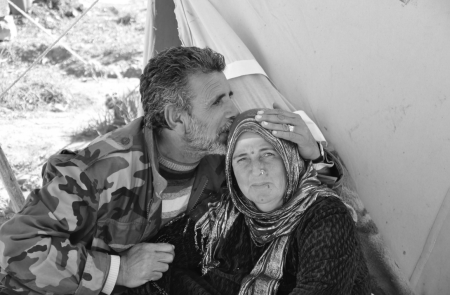 Picture credit: © Ako Ismail
Skimstone Arts presents a thought provoking exhibition by photo journalists Ako Ismael (from Kurdistan Region of Iraq) and Shahor Omar (from Kirkuk, Iraq). Both have lived refugee experience and now live in the North East making this exhibition even more poignant.  These moving images shows how, in one day, the normal lives of whole communities were broken, something so dramatic can force people, including children, to suddenly become refugees fleeing their homes and become survivors looking for a place of safety.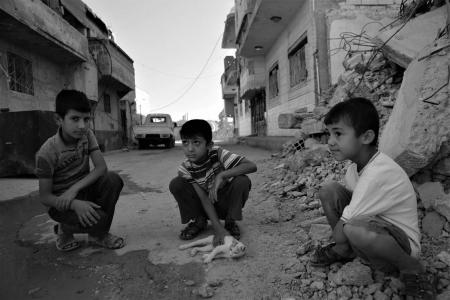 © Shahor Omar
"As a child, I saw war and it opened my eyes. I heard bombs. I was 19 when I started working in the media. I have an idea to work for peace, not war. I want to show my photos and film to people that war is dangerous, it's bad, loss of friends, loss of family, loss of everything. There is risks for me, but I have a dream. Peace." - Shahor Omar, Photojournalist and Videographer
A Battle for Dignity - The Warsaw Ghetto Uprising, 1943 - Exhibition
Thursday 20 January to Thursday 3 February - Level 2, Newcastle City Library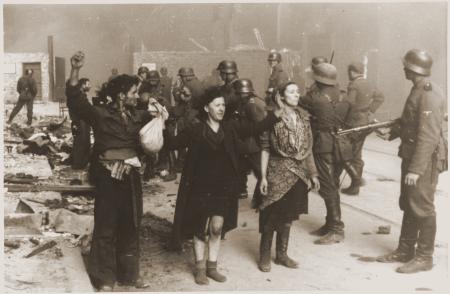 Surrender of the Warsaw Ghetto - © Wiener Library
On 19 April 1943, Jews in the Warsaw Ghetto not only protested but began to fight back by refusing to line up at assembly points for deportation. 
Around 700 resistors and an unknown number of civilians, with virtually no arms, training or supplies held off the Waffen SS for nearly a month. 
Over 7,000 died and many more were moved to concentration camps and murdered in the aftermath. 
Presented by the Friends of Harbottle Castle and Volunteers from Pendower Hall, this exhibition pays tribute to the men and women whose heroism, although doomed, must never be forgotten. 
Brundibar Arts Festival - The White Rose Concert
Saturday 22 January, 7.30 - Jesmond United Reform Church
The Brundibar Arts Festival is the only annual event in the UK dedicated to celebrating the music and arts created by victims of the Holocaust.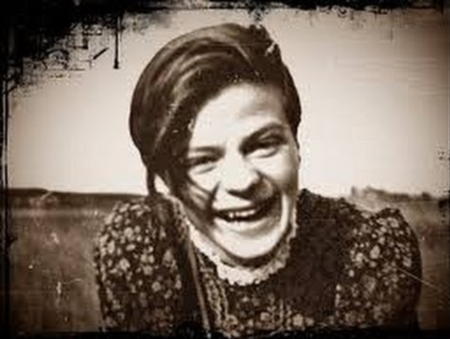 Sophie Scholl - © Brundibar Arts Festival
The White Rose is a concert dedicated to Sophie Scholl, a German anti-Nazi activist who was convicted of high treason for distributing anti-war leaflets at the University of Munich. Sophie was executed by guillotine at the age of 21. 
"Such a fine, sunny day, and I have to go, but what does my death matter, if through us, thousands of people are awakened and stirred to action." - Sophie Scholl
White Rose was the name of the non-violent resistance group that she belonged to. This concert celebrates the bravery of a young woman who stood up for what she believed in.  Before the concert there will be a talk about Sophie by Silvie Fisch.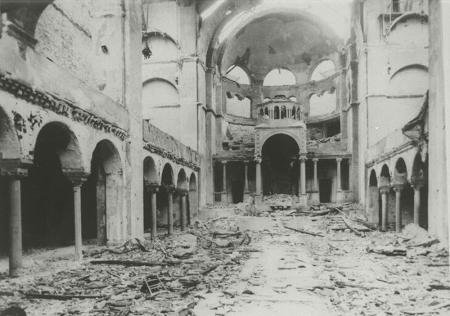 Synagogue destroyed on Kristallnacht - © Center for Jewish History, NYC
Presented by the Representative Council of North East Jewry, this Commemorative Event will focus on Kristallnacht, 24 hours in 1938 that was the turning point in the lives of millions of European Jews from which there was no turning back.  Keynote speaker, Gabrielle Kennaghan, will talk about her experience of Kristallnacht and her life as a refugee.
The event will also include video testimonies of Holocaust survivors and a recorded performance of a song written for and performed by local school children.  
Due to COVID this event will be online only. You can watch the film here or at www.northeastjewish.org.uk 
Sunday 23 January, 6pm - Jesmond United Reform Church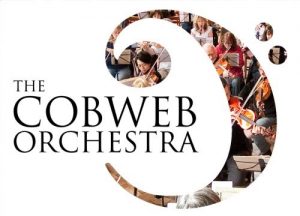 The Brundibar Arts Festival have joined together with the Cobweb Orchestra to present a community concert where professional musicians play alongside amateurs. This performance is designed to enable performers and the audience to explore the works of inspirational female composers.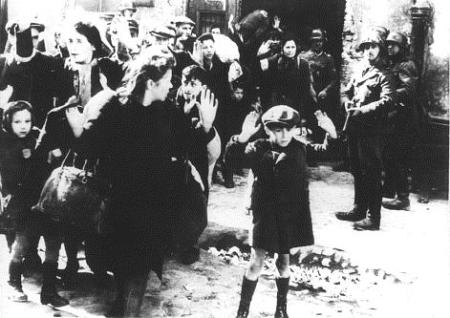 Families deported from Warsaw Ghetto - © Wiener Library
The Warsaw Ghetto Uprising, which was led by 23 year old Mordecai Anielewicz, called for Jewish inhabitants of the Warsaw Ghetto to resist being rounded up and taken to the death camps and concentration camps. The rising lasted just under a month until, on 16 May 1943, the brave fighters were finally defeated. The Nazis entered the ghetto to liquidate it - destroy the ghetto and murder or remove all those inside.
More than 56,000 Jews were taken from the Warsaw Ghetto during the 'liquidation'. 7,000 were shot upon capture with the remaining 49,000 deported to concentration camps. Most of the fighters were murdered in the fighting including Anielewicz.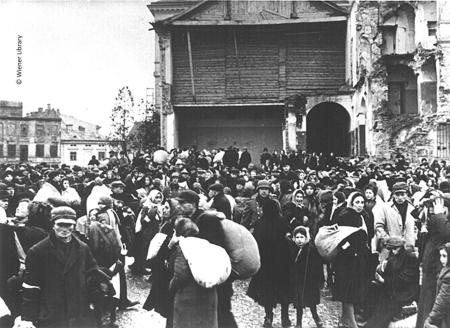 Jewish people deported from Poland © Wiener Library
Noreen Plen, the granddaughter of two Polish Jewish families, whose lives tragically changed when the Germans invaded Poland in 1939. In different ways, the two families, were affected by two of the most evil people on the planet - Joseph Stalin and Adolf Hitler - and their stories will unfold during the presentation.  
You can attend this public talk in person at the Discovery Museum or online.  Places are strictly limited and booking is essential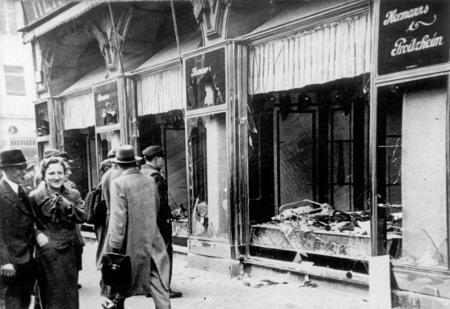 Aftermath of Kristallnacht - © Bundesarchiv, Bild 146-1970-083-42 / CC-BY-SA 3.0
Monaca Stern is the child of Jewish parents who were both forced to flee Nazi Germany.  Her father, George Loble, was left with vivid memories of Nazi oppression, the Nuremberg laws and of Kristallnacht. In later life he felt it important to inform people about the dangers of racism and antisemitism.  Following George's passing in 2021, Monica is proud to follow her father's work in Holocaust Education and in this lecture tells his story.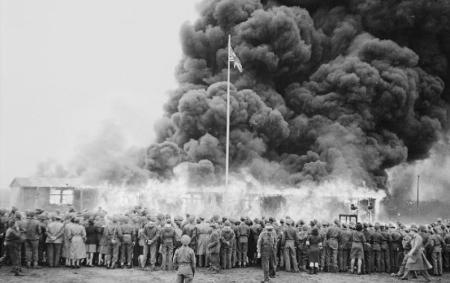 Liberation of Belsen- Bergen - © Weiner Library 
A film by A Living Tradition which reflects on the way the people of the North East have responded to genocide and the abuse of human rights.  Focussing on the day the Durham Light Infantry came to help with the relief of the concentration camp at Belsen-Bergen along with the RASC.  The film also includes real-life testimony from Bosnian victims of persecution and from local people who challenged their persecutors. 
This event has been moved to online only due to COVID restrictions. 
80 Trees for 80 Years - Commemorative Tree Planting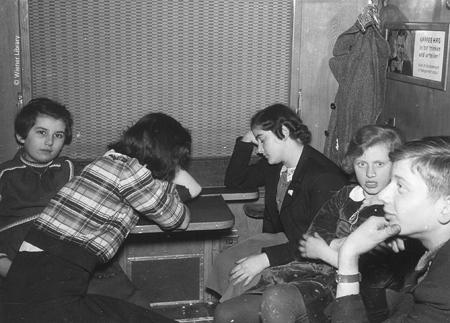 © Wiener Library
Around 70,000 refugees, including approximately 10,000 children on the Kindertransport arrived in Great Britain from Nazi occupied Europe in the 1930s.  
Founded in 1941, the Association of Jewish Refugees (AJR), is the national charity supporting Holocaust refugees and survivors.  Its mission is to represent and care for Britain's Jewish refugees and survivors of Nazi oppression; to commemorate their experiences and contributions to society; and to combat antisemitism by supporting teaching and learning about the Holocaust. 
To mark their 80th anniversary the AJR and local partners are planting eighty Oak saplings across the country in remembrance of those who were persecuted and perished and in tribute to those who fled and settled in Britain and the contribution they have made to the community.
The Lord Mayor of Newcastle, Councillor Habib Rahman will be joined by Mr Andrew Kaufman MBE (former Chair of AJR), local faith leaders and a small number of invited guests to plant for a Commemorative Tree Planting Ceremony in the grounds of the Civic Centre.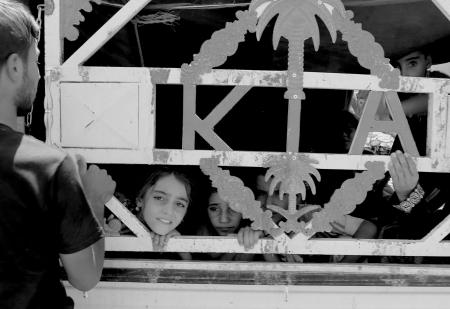 © Ako Karim
A live broadcast on Skimstone Radio featuring music, poetry and spoken word.  Inspired by real life stories One Day Changes explores how we can build a better future, one change at a time.  One Day Changes considers how we can pledge to give understanding, care and support that positively affects people's traumatised lives and brings new hope. 
Yazidis have long faced persecution. The United Nations has described the Islamic State's campaign against them as genocide with militants kidnapping thousands of Yazidis in one day.
Find out more at skimstone.org.uk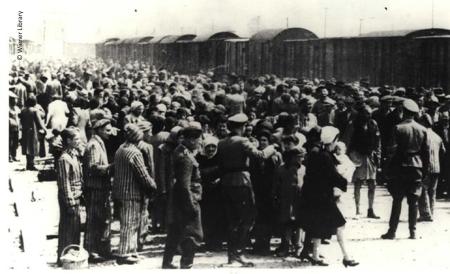 Men, women and children arriving at Auschwitz - © Wiener Library
Dr Ian Biddle discusses some of the ways in which Holocaust victims experienced time, how the atrocities they endured changed their attitude to time and how liberation brought some confusing and frightening changes. The lecture will focus on Jewish victims in particular, especially those who emigrated to The British Mandate of Palestine after liberation.
An exploration of Jewish life on Tyneside from 18th century to the current day.  The session will include a short gallery tour, object sharing session and other stories from Tyneside life during the Second World War
Brundibar Arts Festival - The Opera
Sunday 30 January, 6pm and Thursday 10 February, 2pm - Hall 2, Sage Gateshead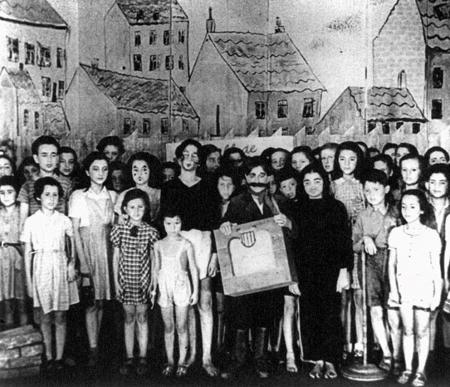 Hans Krasa wrote Brundibar as an entry for a children's opera competition in Czechoslovakia in 1938. The Nazis occupied the country before the winner could be announced but rehearsals began in a Jewish Zionist orphanage in July 1939. Krasa was arrested and deported to Terezin concentration camp before the work was performed. In July 1943, Brundibar was smuggled into the camp and Krasa created a new orchestral arrangement using the instruments available in the camp. The Terezin version was performed fifty five times. 
The last performance was held during an inspection of the camp by the International Red Cross in September 1944. The production moved to a large hall outside the camp and the stage designer was given everything he needed to improve the set and costumes.  The final scene was captured for a Nazi propaganda film. 
Immediately after the last performance the cast, musicians and composer were transported to Auschwitz and murdered.  The Brundibar Arts Festival is named after the opera in honour of all those who suffered and perished.
Tickets are available at sagegateshead.com
This drop in session invites people of all ages to take inspiration from Pavel Friedmann's poem 'The Butterfly' to create a kaleidoscope display of butterflies for Holocaust Memorial Day.
Pavel wrote The Butterfly at Theresienstadt concentration camp on 4 June 1942. On 29 September 1944 he was deported to Auschwitz where he died.
The Butterfly by Pavel Friedmann

He was the last. Truly the last. Such yellowness was bitter and blinding. Like the Sun's tear shattered on stone. That was his true colour. And how easily he climbed, and how high. Certainly, climbing, he wanted. To kiss the last of my world.

I have been here seven weeks. 'Ghettoized' Who loved me have found me. And Branches also of the white chestnut in the yard. But I haven't seen a butterfly here. That last one was the last one. There are no butterflies, here in the ghetto.
Wednesday 2 February, 7pm - Kings Hall, Newcastle University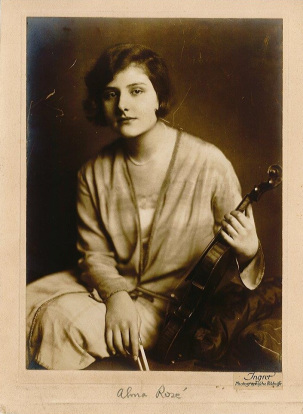 © Brundibar Arts Festival
The daughter of Arnold Rose, the leader of the Vienna Philharmonic Orchestra, and the niece of Gustav Mahler, the composer, Alma was a very talented violinist. Following Nazi occupation she escaped Austria, first going to London and then the Netherlands where she hoped to resume her musical career.  When the Nazis occupied the Netherlands she fled to France but in 1942 she was arrested by the Gestapo as she tried to escape to Switzerland.
After her arrest she was sent to Auschwitz where she became the conductor of the women's orchestra who played to their captors to stay alive. Alma shaped a large number of starved and terrified girls into an orchestra. She pushed the musicians hard, believing that if they played well enough they would be allowed to live.  They were playing for their lives.
Alma saved the lives of her players because if they played and played they would not be sent to the gas chambers.  Not one member of her orchestra is thought to have died under her baton. Alma did not survive the camp.
This concert is dedicated to Alma Rose.
Tickets are available at brundibarartsfestival.com or on the door
February (dates to be announced) - Tyne and Wear Museums
The Lahav Jewish Heritage Project is a new project set up to collect, preserve and celebrate the rich history of the Jewish community in North East England and in Tyne & Wear in particular, from the 1700s to the present day.
The project is managed by Tyne & Wear Archives & Museums and Newcastle Libraries in partnership with members of the Jewish community.
It was made possible by a generous bequest from the Ron Lahav Marital Trust (from which the project takes its name) to Newcastle City Council in 2017.
Find out more at twarchives.org.uk/about-us/lahav-jewish-heritage-project
Did you know?
Due to COVID, Newcastle's Holocaust Memorial Day Commemoration is a film presented by the Representative Council of North East Jewry. This film focuses on Kristallnacht, 24 hours in November 1938, when the world changed forever.