Climate Change in Newcastle
On 3 April 2019, the council declared a Climate Emergency to make Newcastle carbon neutral by 2030. 
We aim to deliver this while staying true to our wider core values of ensuring Newcastle is a fair, prosperous, outward-facing, innovative and vibrant city. We are guided by fairness, inclusion and social justice. 
We have an ambitious programme of interventions of what we as a council can influence through our policies, programmes, projects and services, but this fundamentally requires a whole city approach, with businesses, universities, the private sector, residents and communities going on this journey with us.
To achieve this, we have set out three key aims to work collaboratively across the city to shape our approach to climate change and ultimately the future of our city.
These are
Net Zero Taskforce
Citizen's Assembly
Did you know?
We want to hear from everyone across the city on how we as a city tackle climate change.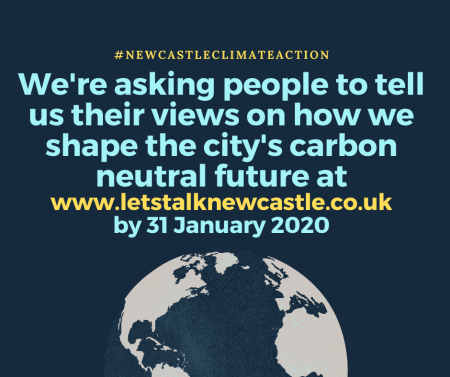 You can submit your ideas online here. The call for evidence will run for six weeks until 31 January. Everyone's ideas are welcome. Please join the climate change conversation and tell us your ideas. The information gathered will be used to inform the findings from the Climate Change Committee's report due to be published in March 2020, which will set out how the city will meet the net zero target by 2030. Read more here
Related Pages
Need more information?
We have a Climate Change plan for projects we need to develop over the next ten years to help us meet our 2030 target.