Grey Street
Grey Street
Grey Street improvement works
As part of our project to transform the city centre, improvement works will start on Grey Street on Monday 9 January 2023.
The work will be carried out in phases in order to minimise disruption and keep the road as accessible as possible.
We expect that all of the works will be complete in Summer 2024.
During the works this page will be updated with:
details of what is happening in each phase

what businesses, residents and visitors should expect
For more details about our vision for Grey Street, please see the news story on: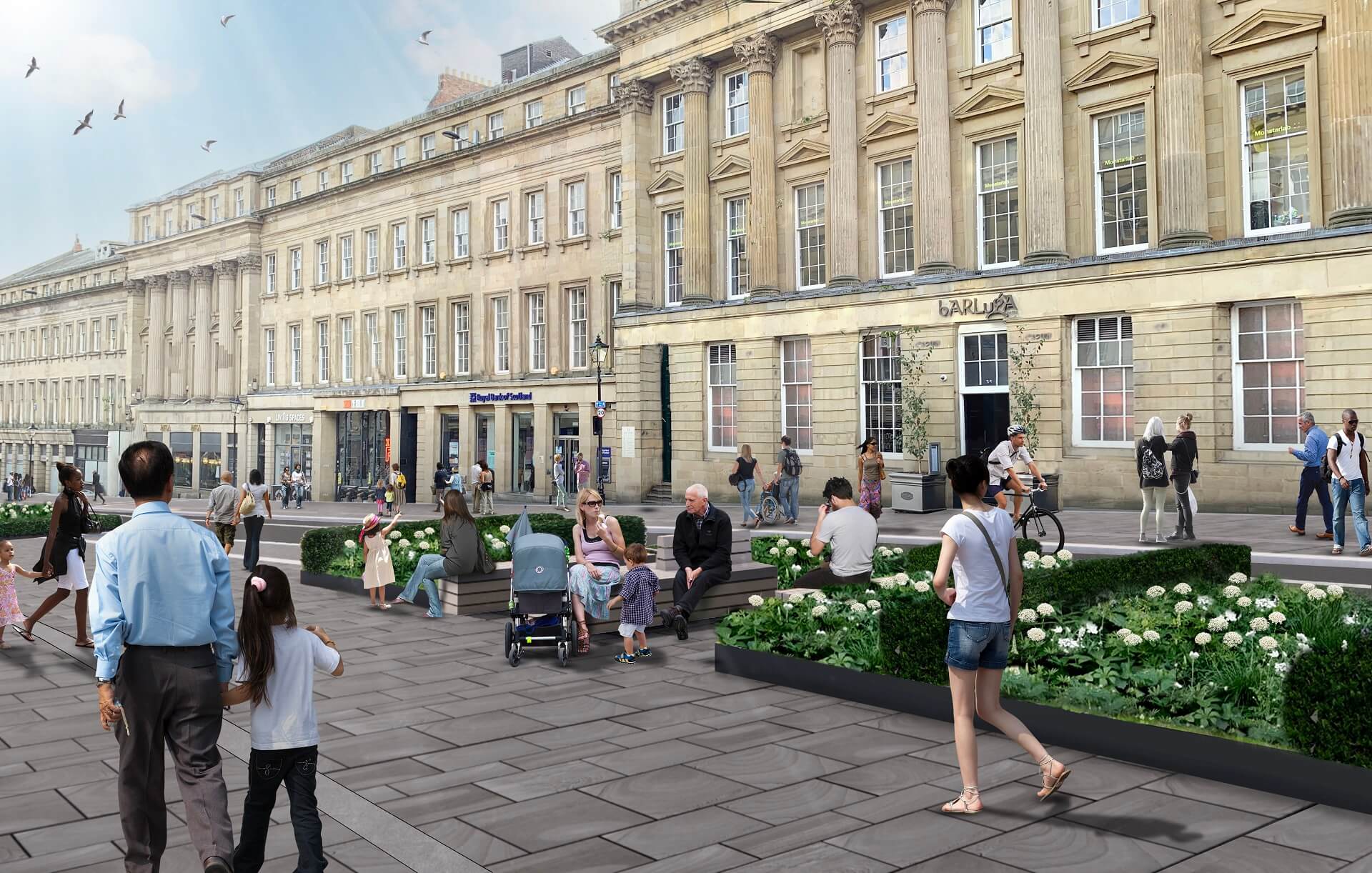 Phases of work
January to May 2023
The first phase of work, from Monday 9 January until May 2023, will see us:
realign the junction and its 

traffic signals at the bottom of Grey Street, where it meets Mosley Street

install a new surface water drain on the east side of the street, from Mosley Street towards High Bridge
During this time we plan to: 
install temporary measures to allow safe pedestrian routes through the works

install new traffic signals and ductwork

widen pavements on Grey Street and Dean Street

install new drains and manholes (20 metres at a time)

resurface the road (at night)
Work may be carried out:
Monday to Thursday. 7.30am to 4pm

Fridays, 7.30am to 1pm

Saturdays, 7.30am to 4pm

at night
It is possible there may be noise and disruption from:
installing ductwork and drains

removing existing pavements

installing new kerbs

digging up the concrete base slab of the existing road and installing its new surface
Access will be maintained for people:
on foot (though you may need to walk around the junction during works at each corner)
visiting businesses (on foot, during opening hours)
If travelling by car you should be aware that:
Mosley Street will be restricted to one lane in both directions
Future phases
Between May 2023 and Summer 2024, the works will then continue in phases.
This includes widening and repaving footpaths:
outside the Theatre Royal and on the west side of the street (May to October 2023)

on the east side of the street (September 2023  to February 2024)
We then plan to:
improve loading bays to benefit businesses (February to July 2024)

add raised planters - known as rain gardens - to improve drainage and create a healthier, greener and more tranquil space (February to July 2024)

install seating and tables (July to August 2024)

resurface the road along the whole length of the street (September 2024)
Contact us
If you have any questions about the work to improvement Grey Street, please: