City Centre Transformation: The Proposals
City Centre Transformation: The Proposals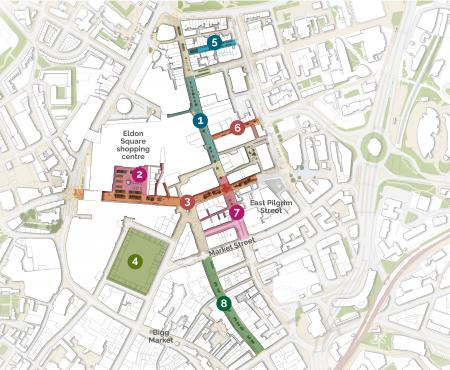 The city needs to be ready for the future. We want to create a series of enduring places and spaces to serve the people of the city with a legacy focused on resilience and pride. We are focusing on:
Creating a city of growth and opportunity for all. We aspire to create a city that will integrate new developments with the city's heritage, future-proofing the wider city centre.
Inspiring the city to be safer, cleaner and greener. With its importance as a regional centre for so many people, Newcastle needs a revitalised physical environment that will see a reduced number of vehicles and an increased amount of space that allows all to enjoy a healthier city centre.

Encouraging a city that embodies community spirit. Newcastle and its people aspire to believe in better, with a sense of warmth, and welcoming to all. This needs to be bound with the physical spaces to enhance this community spirit and be made accessible to all.
The first phase of works on Ridley Place and Saville Row are underway, with work to start in the coming months on Northumberland Street and Grey Street. We have been working with businesses and other stakeholders in these areas for some time, taking onboard feedback to update our designs. Proposals for the next phase of the programme are being developed, with further engagement for these areas planned in the coming months.  
1. Northumberland Street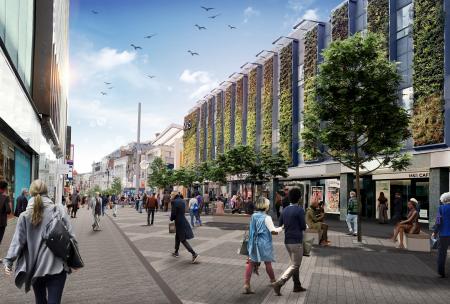 Northumberland Street will be transformed into a simple, elegant and welcoming environment interlaced with trees, greenery and places to sit. Informal performance spaces will add to the richness of the street, making this a place to spend time and discover more than shopping. 
2. Old Eldon Square
Old Eldon Square is a very important civic space for Newcastle in the heart of the city centre and we understand its significance as a place of reflection and remembrance.
Our vision is for the square to become a multi-generational space, for the very young and old, celebrating Newcastle's history, heritage and culture.
An engaging and inclusive events programme will make this a space for all whilst respecting the heritage and history of the environment.
3. Blackett Street
The vision for Blackett Street draws on the site's history, to reimagine this space as an inviting linear park.
This will be a green gateway into the city, stitching together different areas of the city, connecting surrounding streets with spaces to stop and socialise. There will be a heavy emphasis on greenery, with trees and planting, and public artwork. Beautiful and biodiverse rainwater gardens will bring people and nature together.
Presently the environment along Blackett Street is unwelcoming, and at times may feel dangerous for pedestrians. The road sees numerous buses pass along it each day and we are looking to remove through traffic from this road.
4. Grainger Market
This will become a thriving hub in the city centre for independent local businesses, produce and food culture.
5. Ridley Place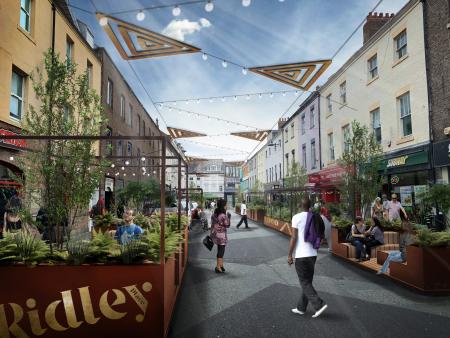 Ridley Place will play home to an independent community. It will serve as a space for new businesses and independent shops, cafes and bars, with a unique culture and spirit that will create a new destination for those in the city.
6. Saville Row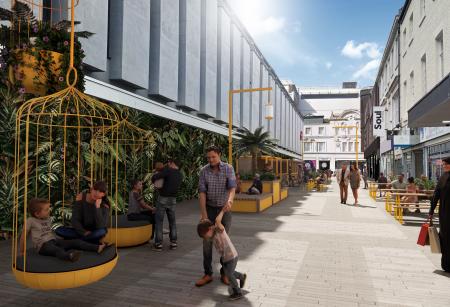 Saville Row will pay homage to one of Newcastle's most famous sons – Thomas Bewick.
His statue adorns 45 Northumberland Street, which looks directly onto Saville Row, and the City Library houses some of the largest collections of his books.
This will become a new type of garden street which is playful, with relaxed seating, planting and areas for enjoyment.  
7. Pilgrim Street
This street will have high quality public realm, connecting new developments with the heart of the city centre. This will include a dedicated cycle lane to improve and promote active travel.
8. Grey Street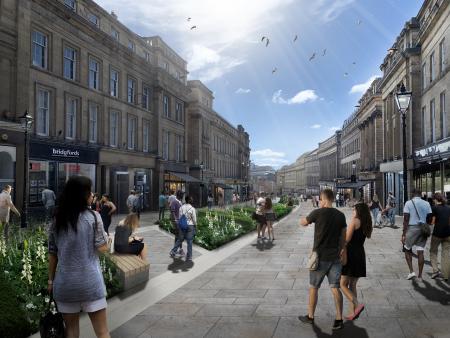 A street that will become the hub for cultural events and performance and ultimately become the primary pedestrian route between the city centre and Quayside.