7 April 2020
| | 3 min read
'Unsung heroes' thanked for vital care work
Newcastle City Council's Adult Social Care and Integrated Services Directorate continue to work tirelessly to protect and support some of the city's most vulnerable residents.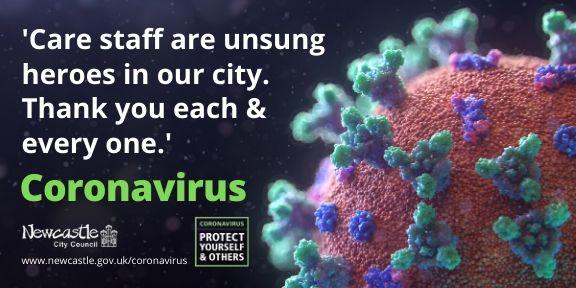 Despite the challenges created by the ongoing coronavirus pandemic all the Council's frontline social care services continue to support people across the city.
This includes vital safeguarding work and integrated care services which support anyone leaving hospital or those who need to maintain their independence.  
Councillor Karen Kilgour, cabinet member for health and social care said: "I would like to pass on my heartfelt thanks to all our staff, teams and providers across adult social care.
"Now more than ever we must protect the most vulnerable people in our city, provide them with ongoing care and support and ensure we help them in any way we can.  
"The dedication and flexibility of the workforce, their knowledge of the communities they support and partnerships are making this possible during these difficult times. 
"Adult social care staff are unsung heroes in our city, along with colleagues in the NHS, and the support they are providing is incredible.
"Once again a sincere thank you to each and everyone." 
CityLife Line
Citylife Line is available to residents who need help, support, food or medicine deliveries.
The service will also link you to a local voluntary and community sector organisation that can help you further.  
Find out more on our CityLife Line page.
Sourcing PPE and increasing COVID-19 testing
The Adult Social care service are part of regional partnerships ensuring adequate PPE is available for staff across the health and social care sector, including the NHS.
This same partnership is also coordinating with central government to implement increased testing in the region for frontline NHS and social care staff.  
Alison McDowell, director of Adult Social Care and Integrated Services said: "In these difficult times our services are experiencing an incredible amount of pressure. 
For example, everyone will be aware of the national issue of the scarcity of Protective Equipment. 
The Council continues to source and order PPE for staff to enable them to carry out their role safely within Public Health England guidelines.   
"We will continue to support vulnerable people in Newcastle, we will help any resident accessing our services for the first time and will continue to work closely with our NHS colleagues.  
"It is vital we all look out for our family, neighbours and community members during these difficult times" 
Social Care Direct
Anyone with concerns for a vulnerable resident, family member or neighbour should contact Social Care Direct in the first instance.