26 February 2021
| | 3 min read
Feedback helping to shape e-scooter trial
Changes to Newcastle's e-scooter trial have been introduced in response to initial feedback.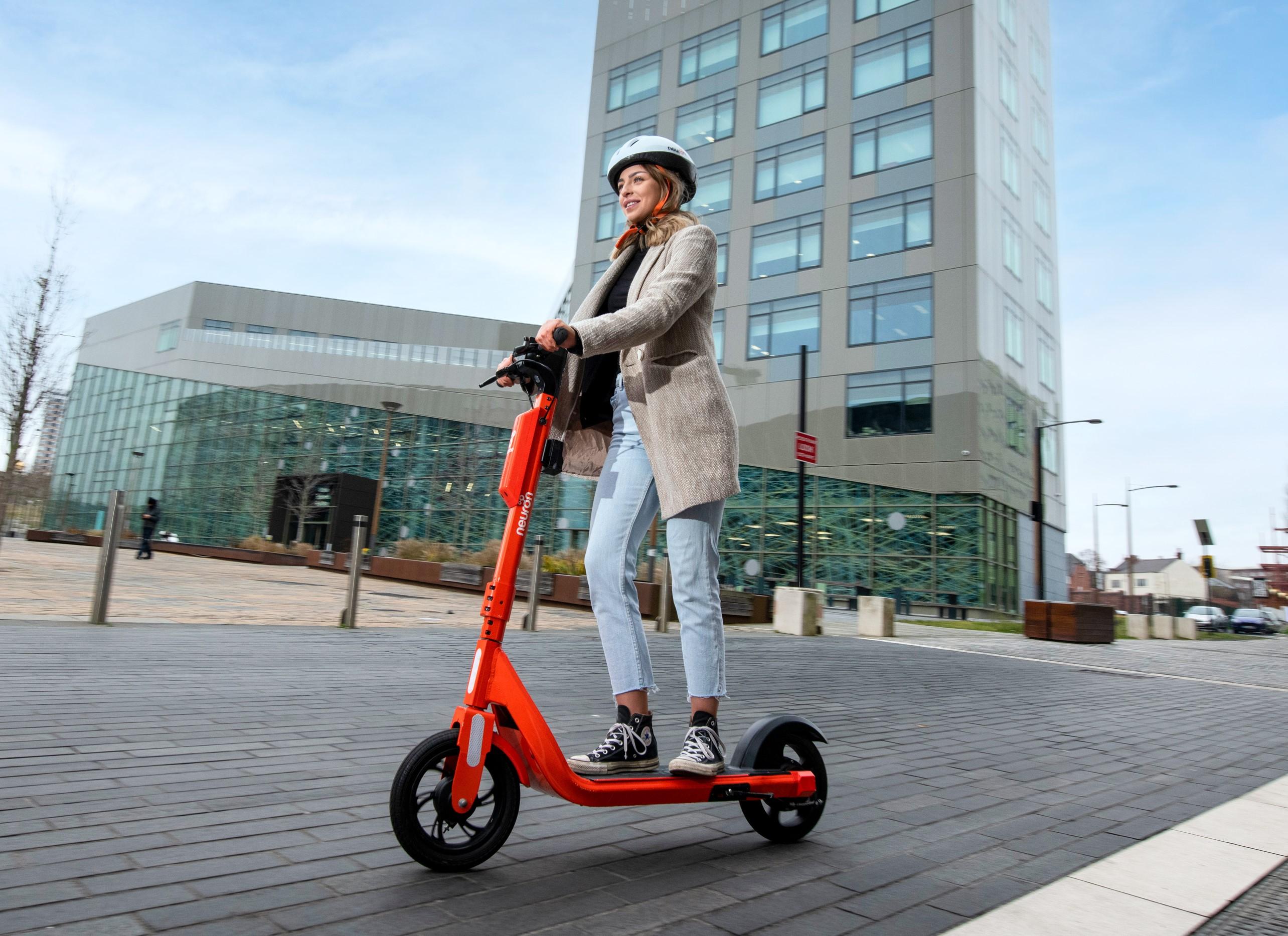 Newcastle City Council, in partnership with operator Neuron Mobility, are putting in place the new measures, which includes an overnight curfew on e-scooter use.
Since launching earlier in February, the trial has been overwhelmingly popular, with more than 5,000 people completing over 30,000 miles worth of journeys with hundreds of these NHS and other key workers. The vast majority of people have behaved safely and responsibly. However as with any new trial there has been a small proportion of people not following the rules and Neuron and the city council have been keen to adapt the programme quickly to address this.
The laws governing their use include anyone wanting to hire a scooter must hold a provisional or full driving licence and comply with the highway code.
Steps already taken to improve the integration of the e-scooters in the city have included the introduction of a city-wide curfew between 11pm and 5am throughout the duration of the lockdown in the city to ensure that journeys are limited to essential trips in working hours. 
Since introducing the curfew on Thursday 25 February, it has had an immediate impact, with reports of irresponsible riding significantly reduced. In addition, geofenced slow zones and no-go zones, and no-parking zones are being reviewed based on feedback and will be implemented continually during the trial.
Cllr Arlene Ainsley, cabinet member for transport and air quality at Newcastle City Council said: "We are listening to feedback from the police and local communities and are working closely with Neuron to quickly address issues where they arise.
"We have to remember that this trial is not even two weeks old, but despite that we've been able to use the data and feedback to make some changes already. This includes a response to some instances of e-scooters being used inappropriately and in some cases users have been banned from the service.
"E-scooters are a form of transport, currently for essential journeys only while lockdown restrictions are in place, and this trial is looking at whether they might offer a safe and environmentally-friendly alternative to travelling by car.
"It's vital that people use the e-scooters properly and in line with the riding rules that all users agree to when they sign up. The consequences of not doing so are potentially very serious."
George Symes, UK Expansion Manager at Neuron said: "We're really encouraged by the overall reaction since launching in Newcastle, especially with the really strong uptake of the e-scooters from NHS and other key workers, hundreds of whom have signed up for free passes to help them get to work in a way that's socially distanced. 
"In the first weeks of any new trial it's key to evaluate how e-scooters are being used then quickly adapt to iron out any problems and make the service better. We are working closely with Newcastle City Council to address some of the initial feedback we've received from important groups in the city.  Since introducing the 11pm - 5am curfew we've already seen a significant drop in the number of reported incidents and we'll keep adapting the service further to make sure e-scooters are integrated into Newcastle in the best, and safest, possible way."
Northumbria Police are also urging riders to act responsibly, warning people risk being prosecuted and losing their driving licences and being banned from the roads if they fail to abide by the law.
The call comes after reports relating to their inappropriate use and a small number of people having been charged with driving while over the legal alcohol limit.
Chief Inspector Alan Pitchford, from Northumbria Police, said: "It is important that riders act responsibly, abide by the law and ultimately don't put themselves or others in danger.
"Unfortunately, there have been instances where it has been necessary for officers to intervene and take action.
"We would ask all users to follow the rules and laws in place, which are there for the safety of everyone, and that they fully understand the potential consequences of not doing so. 
"We would also like to take this opportunity to remind people that under the current Government Covid-19 restrictions people should only be making essential journeys."
Jo Bullock, executive head of awareness and education at the Royal Society for the Prevention of Accidents (RoSPA), which is partnering with Neuron on a safety course for e-scooter riders, said: "We see micromobility as an important part of the transport mix going forwards, and we launched our partnership with Neuron because of the company's core focus on safety. We are pleased to see that Neuron is taking steps to make the trial in Newcastle a success.
 
"Ultimately, it is every rider's responsibility to ride safely and follow the rules. All riders should make sure they look out for their own safety and also the safety of others. Don't ride under the influence of alcohol, only one person should ride an e-scooter at a time, stay aware, and always wear a helmet."

Important Riding Rules and Safety Guidelines:
Riders must be 18 years old and above
Must have provisional or full driving license
No riding on pavements
Helmets should be worn, every Neuron e-scooter has one
Be aware and remove earphones
One rider per e-scooter
Keep a safe distance from pedestrians
Do not ride under the influence of alcohol or drugs
Keep both hands on the handlebars
Park responsibly and don't cause an obstruction

Further information regarding the safe and responsible use of e-scooters can be found at https://www.newcastle.gov.uk/our-city/transport-improvements/transport-…;