12 October 2020
| | 3 min read
£500 payment scheme launched for people who must self-isolate
A new scheme to provide financial support for people who have been told to self-isolate by NHS Test and Trace has been set up by Newcastle City Council.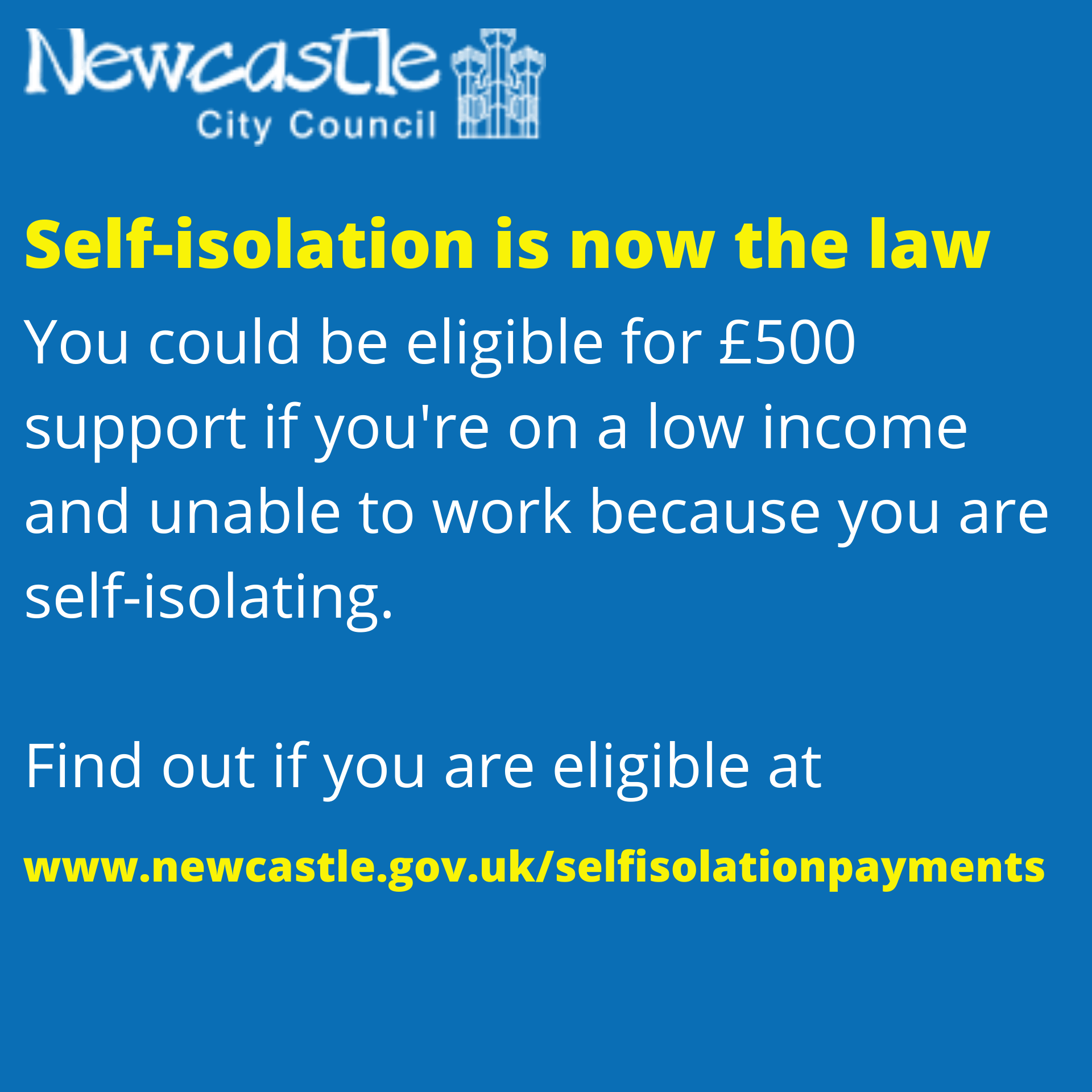 From today (12 October), people on low incomes who cannot work from home and will lose income as a result, can apply for a payment of £500 by completing an online form.
Test and trace support payments are part of a new legal duty for people to self-isolate, which came into force on 28 September, and ensures that those on low incomes are able to self-isolate without worrying about their finances. Government has asked local authorities to administer the payments.
The payment scheme came into effect at the same time as tougher new sanctions for people who fail to self-isolate could be fined £1,000, with fines rising to £10,000 for multiple breaches.
Cllr Joyce McCarty, deputy leader of Newcastle City Council, said: "Stopping the spread of the virus is incredibly important and self-isolation plays a key role in this.
"We're seeing a sharp increase in coronavirus cases across the whole of the north east, so it's really important that we have a fast and simple process for people to get these much-needed funds so they can self-isolate without worrying about the impact on their household finances.
"Government has set the eligibility criteria, but with soaring demand for universal credit, we know there are many people still waiting on benefit applications to be approved or caught up in an appeal process, and we will make discretionary payments to people in these situations, so no-one suffers financial hardship by doing the right thing for our city."
To be eligible for the £500 lump-sum test and trace support payment, people must meet the following criteria:
have been instructed to self-isolate by NHS Test and Trace, either because they've tested positive or are the close contact of a positive case

are employed or self-employed

are unable to work from home and will lose income as a result

are currently receiving Universal Credit, Working Tax Credit, income-based Employment and Support Allowance, income-based Jobseeker's Allowance, Income Support, Housing Benefit and/or Pension Credit
The council is also encouraging people who meet the above criteria but are waiting for a benefits decision or the outcome of a benefits appeal; or would normally have received universal credit or working tax credit but the previous months income assessment was higher than usual to apply.
People can go to www.newcastle.gov.uk/selfisolationpayments   to apply for the payments.
People will need to provide the following
a notification from NHS Test and Trace instructing them to self-isolate (this will include a Unique ID number) 

National Insurance number

a recent bank statement

proof of employment, or, if you are self-employed, evidence of self-assessment returns, trading income and proof that their business delivers services which cannot be undertaken without social contact.  
People who were told to self-isolate by NHS Test and Trace from 28 September and meet the above criteria, can receive back-dated payments and should also complete the form.
Once an application has been verified, payments will be made directly into people's bank accounts within three working days. The scheme is set to be in place until 31 January 2021.