17 May 2019
| | 4 min read
Steve Cram launches Newcastle and Gateshead Quayside duathlon
Two international multi-event athletes from the North East will be among competitors who line up to take part in Tyneside's latest big sports event this summer.  Triathlete Dan Dixon and duathlete Lynn Munro will be on the starting line of the inaugural TRY on the Tyne duathlon on Saturday 10 August, and which is being organised by Steve Cram's company Events of the North, in partnership with Newcastle City Council and Gateshead Council.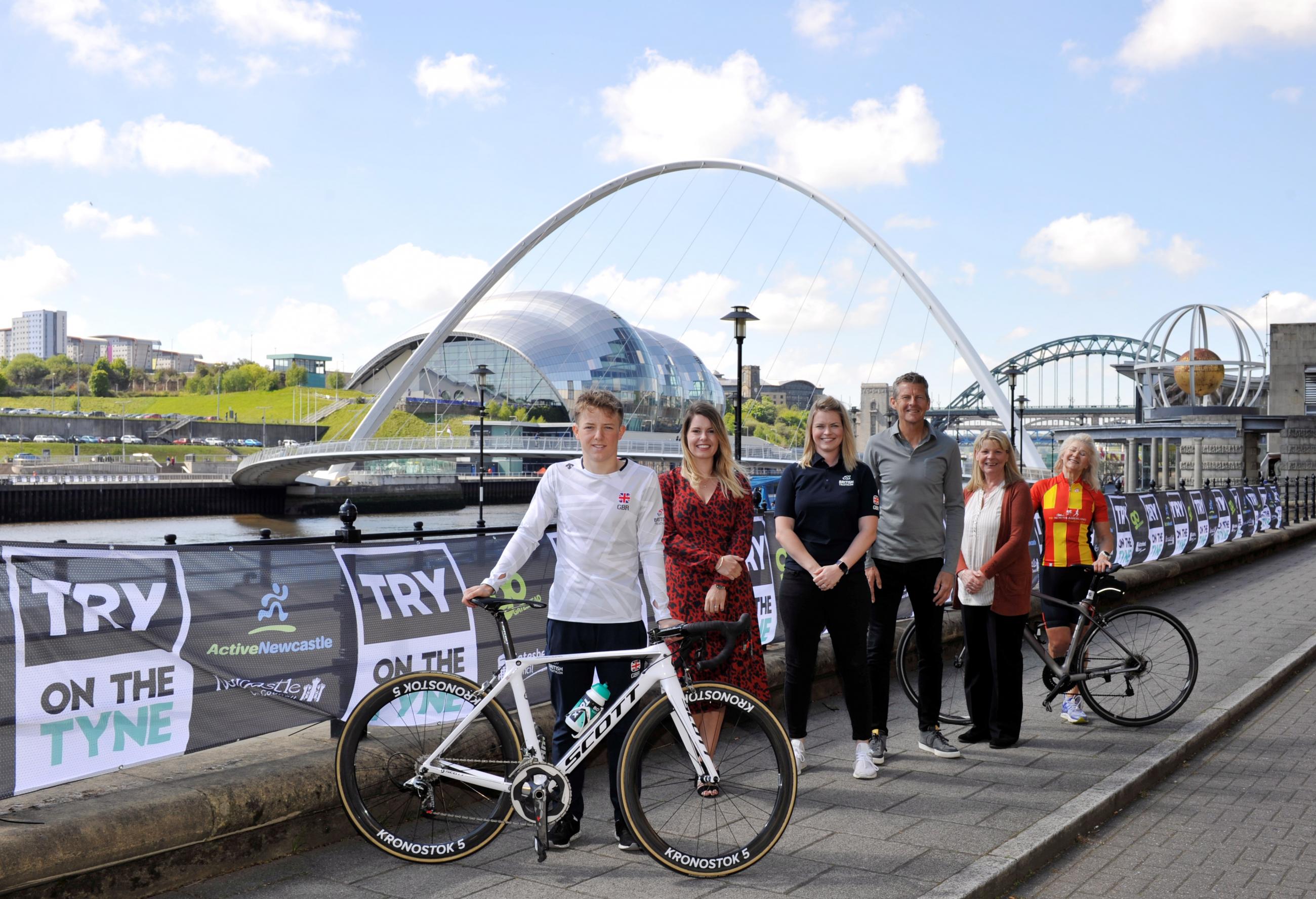 TRY on the Tyne will include duathlon (run-bike-run) races over the standard and sprint distances on a fast and largely flat route, taking in the sites along both banks of the Tyne.  The event will also incorporate 5K and 10K runs and junior races, with all races enjoying a mass start at Baltic Square in Gateshead and finishing on the Newcastle Quayside. 
Newcastle City Council and Gateshead Council are both backing TRY on the Tyne as part of a wider push to inspire more people to get active through cycling or running, or both.  Organisers at Events of the North hope to attract both regular athletes and beginners to a fast, flat course and an iconic setting, with the longer term ambition being to hold a triathlon on the Tyne, creating a major summer multi-sports festival for Newcastle and Gateshead. 
Dan Dixon, 17 and from Morpeth, was British Elite Youth Triathlon Champion in 2017, and has qualified to represent Great Britain in international events, while Lynn Munro, 66 and from Blyth, has just qualified for the age group race at the 2020 Duathlon World Championships.  Dan, Lynn and Steve Cram have met up with Sam Morgan-Nicholson from British Triathlon, Cllr Kim McGuinness of Newcastle City Council, and Cllr Angela Douglas of Gateshead Council, to see the event venue and issue a call to action for people of all ages and abilities to sign up and tackle one of the TRY on the Tyne races.  
Race founder Steve Cram comments: "We think that the Newcastle and Gateshead quaysides will be a brilliant setting for multi-sports events and we're excited that we have the opportunity to stage duathlon races here this summer.  The course is going to be fast and in a stunning location, which is great for competitors and spectators alike.  Add in 10K and 5K races and junior events and we're going to have a fantastic day of racing on 10 August.  We hope that this is going to be the start of something very special and that we'll be able to hold a triathlon on the same site in the future." 
Cllr Kim McGuinness, Cabinet Member for Culture, Sport and Public Health, Newcastle City Council, comments: "Running and cycling are both fantastic ways for people to get active and TRY on the Tyne will combine the two, giving both new and experienced competitors the chance to take part in a duathlon in the stunning setting of the Newcastle and Gateshead Quayside.  The sporting offer in Newcastle and the North East continues to grow and this is another welcome addition to the calendar. 
"Steve Cram has been an inspiration to listen to and I hope his experience, along with Dan and Lynn, two more incredible athletes form the North East, will motivate as many people as possible to get involved in August and make TRY on the Tyne another highlight to show our region's sporting prowess." 
Cllr Angela Douglas, Cabinet Member for Culture, Sport and Leisure at Gateshead Council, comments: "We are delighted to be part of TRY on the Tyne. This is a fantastic opportunity for people to take part in an event which is not only going to be great fun but also promotes health and fitness. This is part of a programme of major events Gateshead have planned with Newcastle and other partners which will show what a great place this is to both live and visit." 
Lynn Munro comments: "I have just qualified for my age group in the 2020 Duathlon World Championship, so I am really excited to be able to take part in a duathlon on home territory, alongside the beautiful Tyne.  I've taken part in other Events of the North races and have loved all of them, so I am sure that this will be another great event." 
Dan Dixon comments: "I think TRY on the Tyne will be a brilliant spectacle for North East England and especially Tyneside!  After many years of being an athlete here, it's great to see  
a huge multi-sport event take place and even better that it's open to all abilities, so anyone can have a go.  When words gets around and the people of Newcastle and Gateshead come out to cheer everyone on, it will be a brilliant day and something which we can all look forward to!" 
In the lead up to TRY on the Tyne, event partners are working with Tyne Tri Club to put on some training sessions for anyone who is new to the sport. 
Steve Addison, chair of Tyne Tri, comments: "We are really looking forward to being involved in the TRY on the Tyne Duathlon in August.  To ensure that new people into the sport of triathlon and those who want to build up some confidence are supported, we have linked in with British Triathlon and Events of the North to deliver some GO TRI Active sessions. GO TRI Active training sessions are linked to an event to engage, support and encourage all walks of life into the sport." 
Tyne Tri is a small adult club in the North East that offers various training sessions for all abilities.  Anyone interested in joining a session can contact the club through its website - https://tynetri.org/. 
"It should be a cracking event whether you're experienced or not, so just come along and enjoy it."
Steve Cram
Steve Cram launches TRY on the Tyne