21 September 2021
| | 4 min read
Smokers encouraged to quit in 10th year of Stoptober
Smokers across Tyneside are being encouraged to take part in Stoptober….the 10 year anniversary of the nation's biggest quitting campaign. It comes as new research shows more than half of smokers want to quit, and three quarters would never have started smoking if they could go back in time.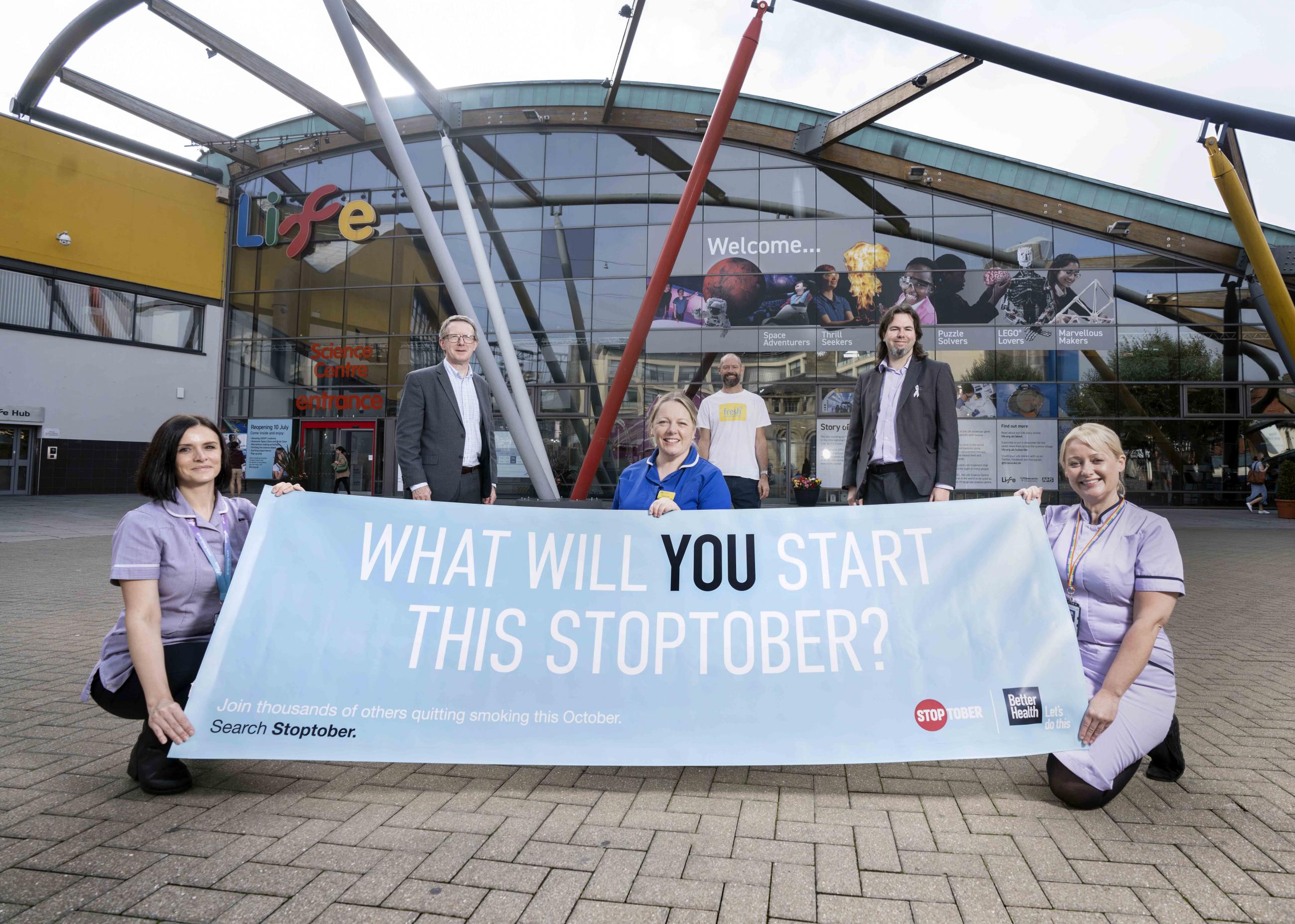 Fresh, Newcastle City Council and Gateshead Council are backing people to join in and stay quit for 28 days, feel fitter and healthier and enjoy more money in their pocket.

With quitting support and loads of free tools to quit like the new Stoptober app, it is easier than ever to join the 2.3 million others who have made a quit attempt with the campaign since it launched a decade ago in 2012. 
In the North East smoking rates have fallen from 22.1% adults smoking in 2012 – then around 459,000 adults, down to 15.3% of adults smoking – around 325,000 people – a fall of around 134,000 fewer adults smoking.
However, over 6 million adults in England still smoke, and it remains the leading preventable cause of premature death, causing almost 75,000 deaths a year.
Councillor John-Paul Stephenson, Newcastle City Council cabinet member for Public Health and Culture, said: "Quitting smoking is one of the best things you could do for your health. If you manage to make it through Stoptober without smoking, your chances of quitting permanently are massively increased.
"We've seen a huge decline in smoking rates locally over recent years and that's great to see, but we want to see all smokers kicking the habit and stop putting their lives at risk.
"Smoking kills, we all know that, and quitting will bring a whole host of benefits to yourself and those who care about you. Stoptober is the perfect time to give it a go so whether it's your first attempt to quit or you've tried before and not managed to see it through, I'd urge you to prioritise your health and give it a go this October."
Councillor Bernadette Oliphant, cabinet member for Health and Wellbeing at Gateshead Council, said: "With thousands of smokers across the country taking part, you'll probably have a friend, family member or colleague who also wants to quit – so why not support each other?
"Getting the right support makes quitting much less daunting and if you make it to 28 days smoke-free, it's five times more likely that you'll stay that way for good. Stopping smoking is one of the best things you'll ever do for your health. It gives your lungs the chance to repair and you'll be able to breathe easier."
Ailsa Rutter OBE, Director of Fresh and Balance, said: "The North East has seen massive progress over the last decade with fewer adults and children smoking. Most smokers wish they had never started and do not want their own children to smoke.
"On the one hand it is fantastic to see that millions of smokers have tried to quit in the last decade. However smoking is still our biggest cause of avoidable illness and death and has killed over 113,000 people in the North East since the start of the Millennium.
"As we go into the winter, we are all conscious of the need to stay fit and healthy and not place ourselves at an additional risk of ill health. Smoking harms your fitness and your lungs, and increases the risks of influenza, cancer, heart disease and stroke.
"The important thing is to never ever give up on quitting smoking or think it is too late - no matter when you quit, it brings important health benefits at any age."
Search 'Stoptober' now for a full range of quitting support options such as the free NHS Quit Smoking App or find your local stop smoking service.
A new nationwide survey of 2,000 current smokers released today (20 Sept) has found that:
Nearly half (45%) have been smoking more since the first lockdown began.

Key reasons are due to being bored in the lockdowns (43%)or the pandemic making them more anxious (42%).
More than two fifths (43%)of smokers surveyed believe that the strength of addiction and/or craving is the biggest obstacle to quitting, followed by the stress of everyday life (42%).
More than half of smokers want to quit, and three quarters (75%) would never have started smoking if they could go back in time. 
Of those who want to quit, more than half (55%) would like to do so to improve their physical health or to save money (52%).
Data from the monthly UCL Smoking Toolkit Study also indicates an increase in smoking among young adults under-35s since the coronavirus pandemic, up from 18% in 2019 to 24% now.
Stoptober is based on research that if a smoker can make it to 28 days smoke free, they are five times more likely to quit for good. The campaign first launched in 2012.