2 August 2019
| | 2 min read
Council Housing – Today, tomorrow and beyond
An exhibition launched at Newcastle City Library this week is the first in a series of activities to celebrate the centenary of council housing.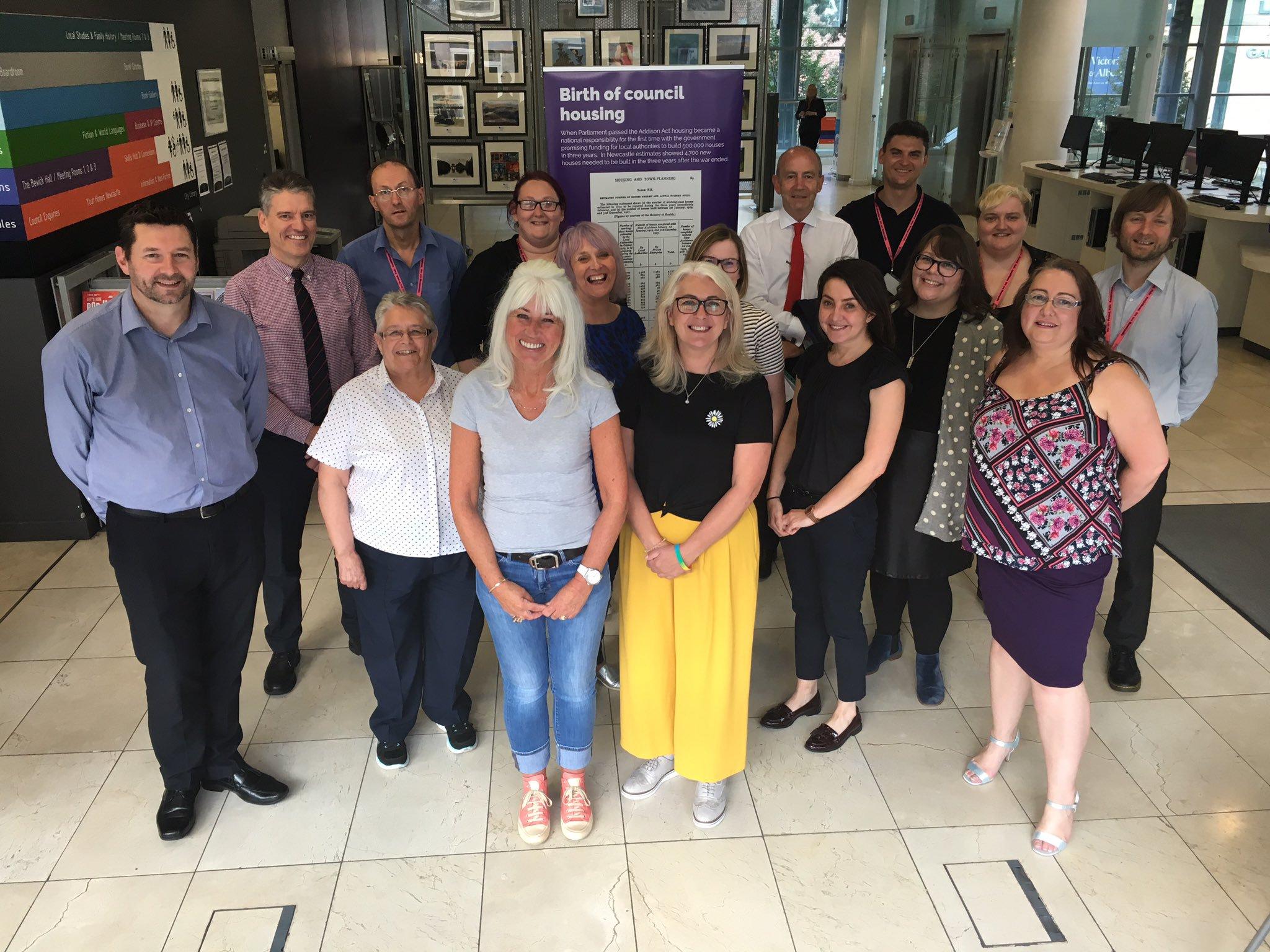 A string of visitors has already visited the display which looks at the story of council housing past, present and future through the eyes of the people who built the houses and those who made them their home.
Stories including Homes for Heroes, Cities in the Sky and the Right to Buy are all explored in an exhibition that begins at the entrance before winding its way through the building and ending with an array of displays on the sixth floor viewing platform.
When you get to the end you may be surprised to find a doll's house on a table full of paper, pencils and pens.  Attached to the house are notes with words such as 'Houses let families thrive' and 'Houses make homes' because this is your chance to say what your home means to you. 
And the paper, pencils and pens?  They're for young people to draw pictures or write about their home that will be turned into a piece of art to go on display in the city. 
In venues across the city smaller exhibitions, that will grow as people share their stories and photos, will focus on council housing in the local area.  These activities are just the start of the celebrations that will continue to the end of the year with films, talks, competitions and interactive activities planned.
Talking of competitions, the first one is underway.  If you spot the deliberate mistake on display in the City Library tell us what you think it is on the 100 Years of Council Housing Facebook group and you'll be entered in a prize draw.  And while you/re there, don't forget to share your stories and photos of council housing in Newcastle.
Opening the exhibition, Councillor Linda Hobson, Cabinet Member for Housing at Newcastle City Council said "The Addison Act led to thousands of homes being built in Newcastle and council housing makes a massive contribution to our city." 
"I guess my experience of council housing is like many others.  When I was born my Mam and Dad had a not very nice flat and when I came out of hospital I wasn't very well.  Because of the housing conditions my health suffered.  Then we were offered a house in Cowgate, Mam thought all her Christmases had come at once.  We had a three-bedroom house with a front and back garden and as a three year old child my health started to improve." 
"Over the next few weeks we're going to celebrate council housing by stories from lots more people but we're also going to look at council housing today and think about what we can aspire to deliver in the future."
The exhibition is being sponsored by Tolent who's Regional Director, Chris Price, said: "Having delivered over £803m of social housing projects it's fitting that we can be a part of this celebration.
"The needs and demands for more affordable housing have changed dramatically over the past 100 years, we're delighted to be working with Newcastle City Council and their stakeholders to continue delivering much needed, high quality homes now and for future generations."
For more information on the 100 years of council housing events visit www.newcastle.gov.uk or join the Facebook group at https://www.facebook.com/groups/360941514576577