9 July 2019
| | 2 min read
Young litter heroes do their bit
School children from West Denton Primary School have shown they are true litter heroes by clearing up the area around their school today (Tuesday 9 July).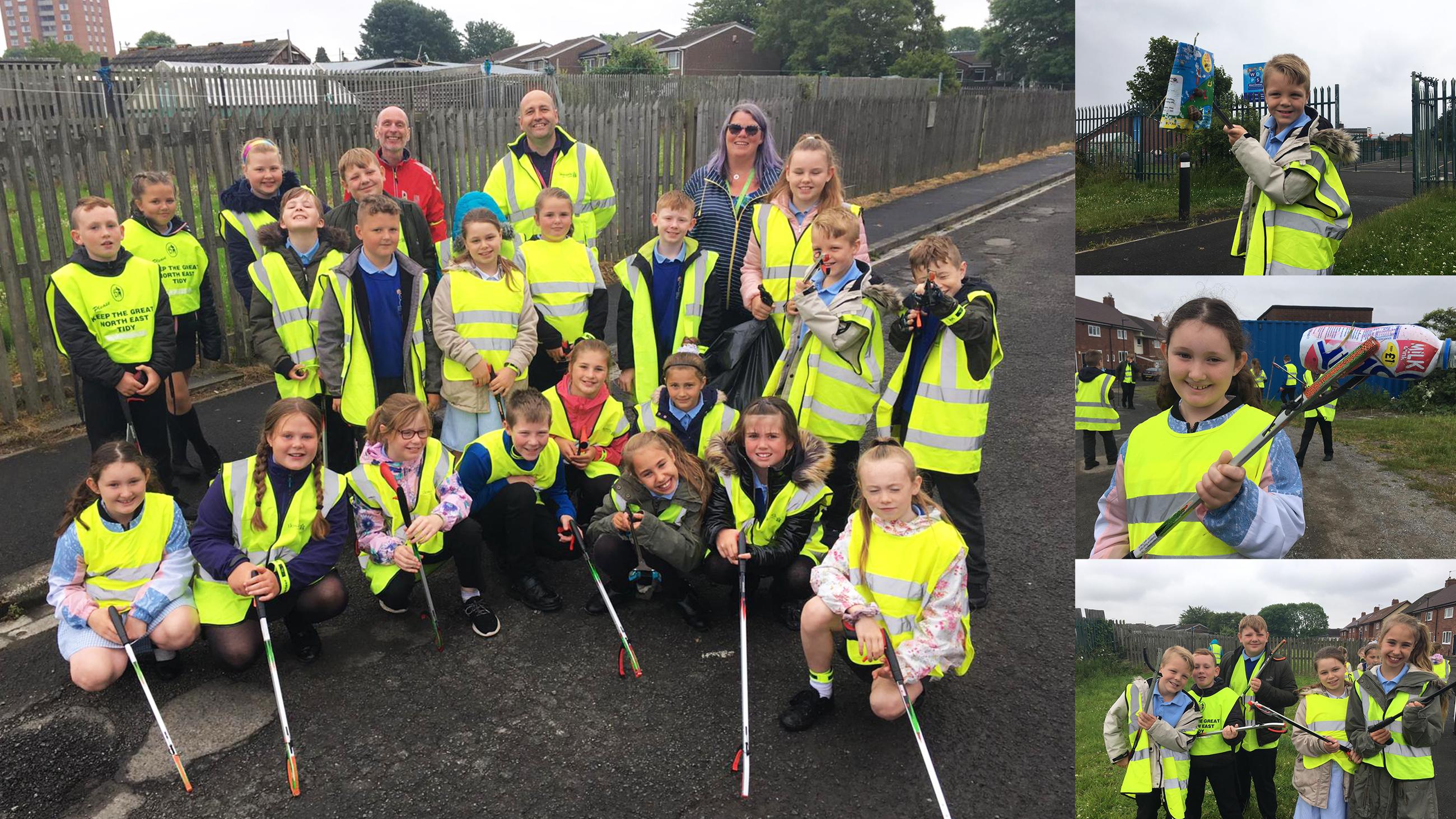 They were encouraged 'to do their bit" to help keep Newcastle tidy as part of the Your city, your home week of activity. Other schools across the city are also taking part in clean-ups during this week.
Led by headteacher Mick Mingstones and Newcastle City Council's Waste and Recycling Engagement Officer Lee Corby, the children were inspired to take part in this litter-pick to show that they care about our city and to stop others dropping litter.
Last year the council spent £2.2m picking up 7,000 tonnes of litter flung from cars and dropped in streets. With budgets strapped, it decided it could no longer continue to spend all this money so launched this campaign to change behaviour.
Your city, your home aims to reduce litter by asking the question - you wouldn't drop litter in your home so why drop litter in your city which is your home?
School children from West Denton Primary School doing their bit to keep the city clean
This week of clean-up activity complements the work the city's teams do every day. As well as the great work being done by local school children, on Monday (8 July) Cllr Nick Kemp, Cabinet Member for the Environment and Climate Change was joined by service directors and other members of staff for a clean-up of the Shields Road area. Members of staff will also get involved when they do a litter-pick around the Civic Centre later in the week.
And this weekend (Saturday 13 and Sunday 14 July) the council is encouraging local people and community groups to organise their own litter-picks and clean-ups to collectively show how proud they are of their city.
The Your city, you home campaign has its own website www.yourcityyourhome.co.uk  with lots of information to help people plan their own clean-up activity, whether this is over this weekend or at any time.
This website also gives people the opportunity to promote their clean-up activity and ask others to join them. Everyone who uses social media is encouraged to use #yourcityyourhome to demonstrate Newcastle is coming together to help look after the city.
There are a lot of community groups we have been supporting running their own litter-picks. We can help you set up your own.
And when a school gets involved in such a fantastic way, as West Denton have done today, it's important we help carry their message across.
Lee Corby
Waste and Recycling Engagement Officer, Newcastle City Council