5 June 2023
| | 4 min read
New team tackles graffiti in city
Communities are seeing the benefits of a programme to tackle graffiti in busy areas across Newcastle.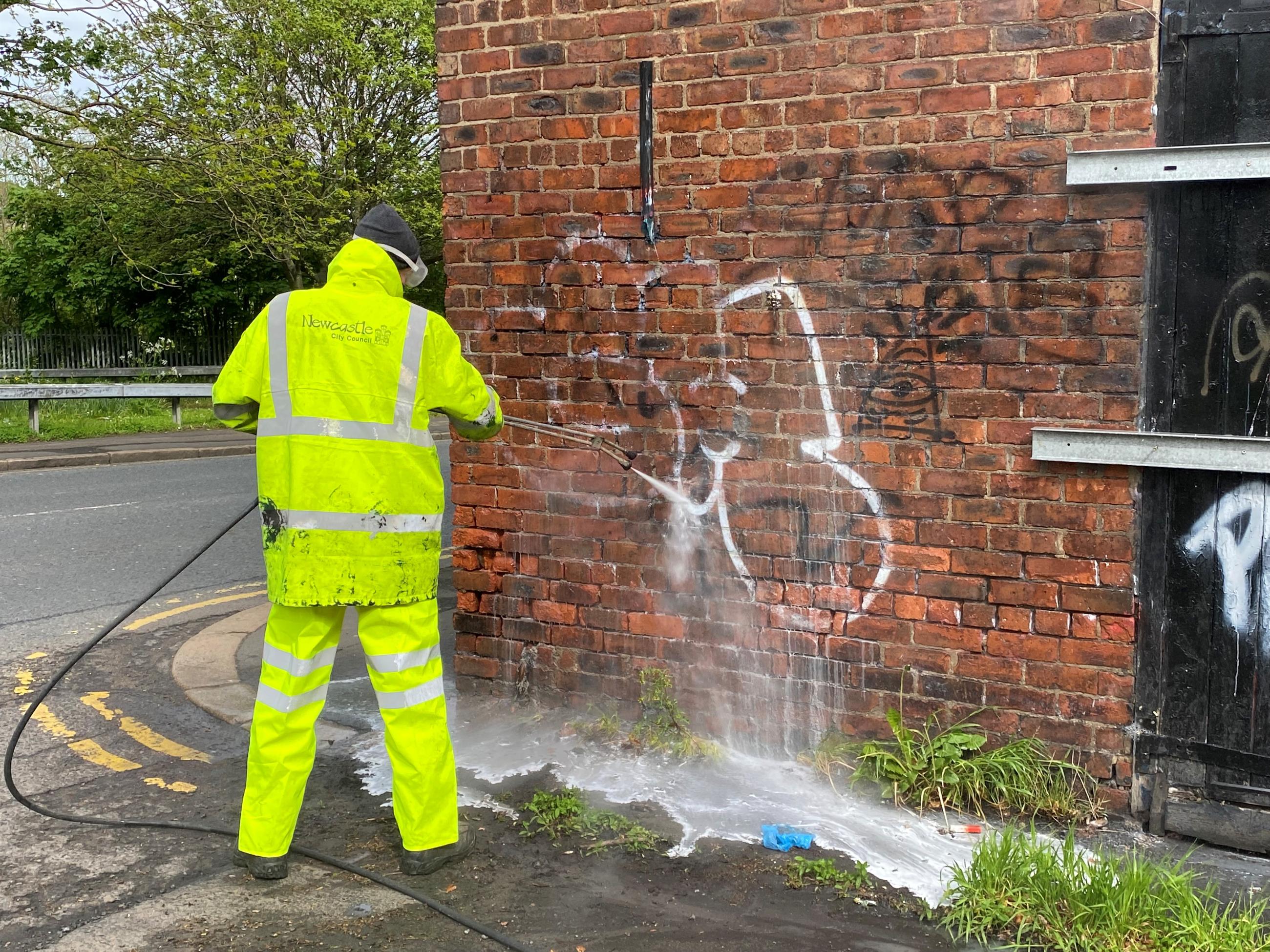 Newcastle City Council launched a new graffiti removal team in February tasked with supporting work already under way to keep high streets and high footfall areas clean and tidy.
Using environmentally friendly products and a high-pressure washer, work has been taking place to clean-up buildings, monuments and street furniture such as benches and bins that have been vandalised.
In May, around 150 pieces of graffiti were removed by the new team from buildings in areas such as Benwell, Elswick, Byker and Heaton.
Work will take place later this year to tackle graffiti on the city's high streets, including West Road, Heaton Road and Shields Road.
The new team is funded by the Council's Better Lives, Safer Communities programme, where an extra £1.5m is being invested in a raft of projects to tackle anti-social behaviour.
The team works alongside the Council's two other graffiti removal teams who operate in the east and west of the city.
Cllr Jane Byrne, Newcastle City Council Cabinet member for a Connected, Clean City, said: "Graffiti is unsightly, it makes people feel unsafe and can lead to further crime taking place.
"Tackling graffiti is an ongoing battle but with our additional team we are proactively removing more in high footfall areas and on our high streets, making the areas more attractive for residents and visitors.
"Everyone deserves to live in an area they are proud of and I am delighted to see the new team is already making a visible difference to our communities to create a safer, cleaner city for everyone."
Cllr Paula Maines, Newcastle City Council Cabinet member for a Resilient City, said: "Tackling anti-social behaviour is one of our key priorities which is why we are investing an extra £1.5m through our Better Lives, Safer Communities programme to tackle the issue.
"The programme has helped rebuild community spirit and bring people together through a range of projects, including the launch of our Empowering People in Communities pilots in Walker, Elswick and West Denton which involves residents shaping action plans to help their neighbourhoods to flourish.
"I am delighted the new graffiti removal team is improving the look and feel of areas across the city, supporting the fantastic work our teams do to keep our city clean.
"We want Newcastle to be an attractive, vibrant city where everyone feels safe and families and businesses can thrive – and this is what the programme is all about.
To report graffiti to the Council, call 0191 278 7878 and ask for Your Local Services.
You can also visit, www.newcastle.gov.uk/services/environment-and-waste/street-care-and-cleansing/graffiti.
If you are concerned about anti-social behaviour in your community, you can call Northumbria Police on 101 or visit the 'Tell Us Something' page at https://services.northumbria.police.uk/online-services/tell-us-something.
If a crime is happening, or in an emergency, always ring 999.