New initiative launched to help homes in Newcastle be warmer, greener, and manage fuel bills this winter
People across Newcastle are being encouraged to check if they are eligible to receive help under a new scheme being launched to help local householders be warmer in their homes, lower their carbon emissions, and save money on their fuel bills this winter.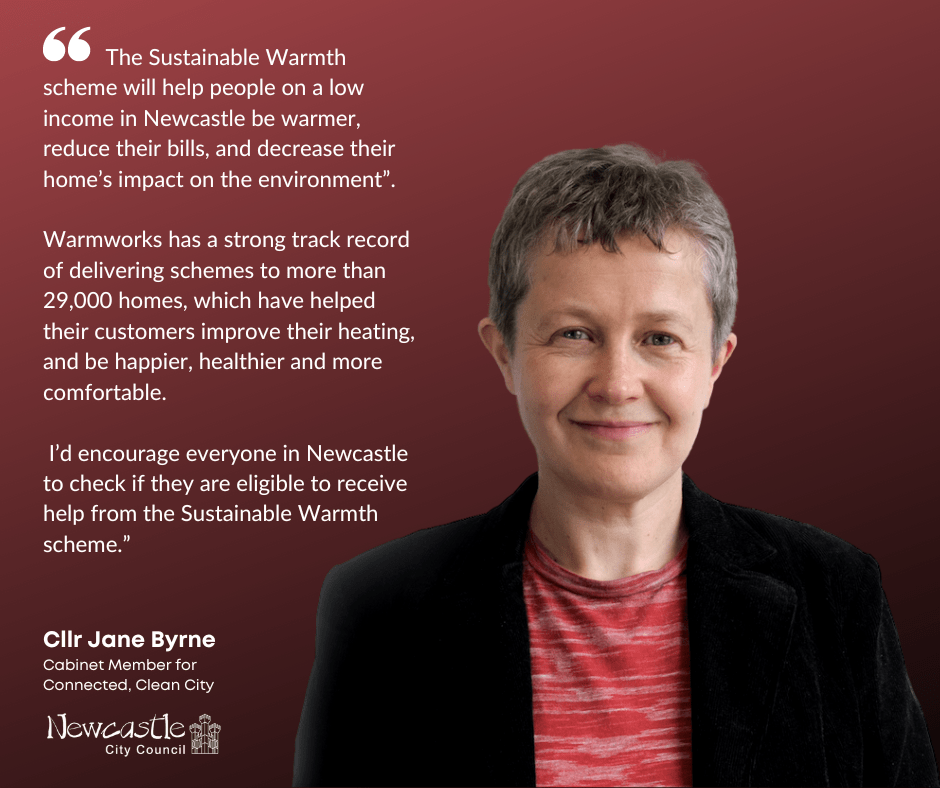 Under the Sustainable Warmth scheme, delivered by Warmworks on behalf of Newcastle City Council and through funding from the UK Government, householders can apply to receive improvements to increase the comfort and warmth in their home. The scheme offers a wide range of insulation measures, and renewable technologies, such as air source heat pumps and solar panels.
The Sustainable Warmth scheme is open to homeowners, and private tenants, where the home has a low energy rating and a low annual income.
Warmworks will arrange a survey in the homes of eligible householders to agree what work will be carried out. Then, an accredited and registered local installation team completes the agreed improvement, before an independent inspection assesses the completed work against rigorous quality standards.
Jane Byrne, Cabinet Member, Connected City, Newcastle City Council said:
"As we move into winter, many people will be worrying about their heating bills. The Sustainable Warmth scheme will help people on a low income in Newcastle be warmer, reduce their bills, and decrease their home's impact on the environment". 
"Warmworks has a strong track record of delivering schemes to more than 29,000 homes, which have helped their customers improve their heating, and be happier, healthier and more comfortable.  
 "I'd encourage everyone in Newcastle to check if they are eligible to receive help from the Sustainable Warmth scheme" 
Ross Armstrong, Warmworks Chief Executive, said:
"I'm delighted that Warmworks is working in partnership with Newcastle City Council to deliver the Sustainable Warmth scheme.
"We are all aware of the challenges that are ahead in relation to rising energy prices and the impact that will have for people who are already struggling to stay affordably warm in their homes. This scheme can provide practical help – through heating, insulation and renewable technologies – that could make a significant impact in the coming months.
"Now is the right time to come forward and find out if you are eligible for support under the scheme, and taking a few short minutes to get in touch with us could help your home stay warmer for years ahead."
You can find out if you are eligible for the scheme by getting in touch with Warmworks at newcastlesustainablewarmth@warmworks.co.uk