11 October 2021
| | 2 min read
Competition winners rewrite the future of Newcastle
Four budding young storytellers have won a unique writing competition by penning their own vision for the future of Newcastle.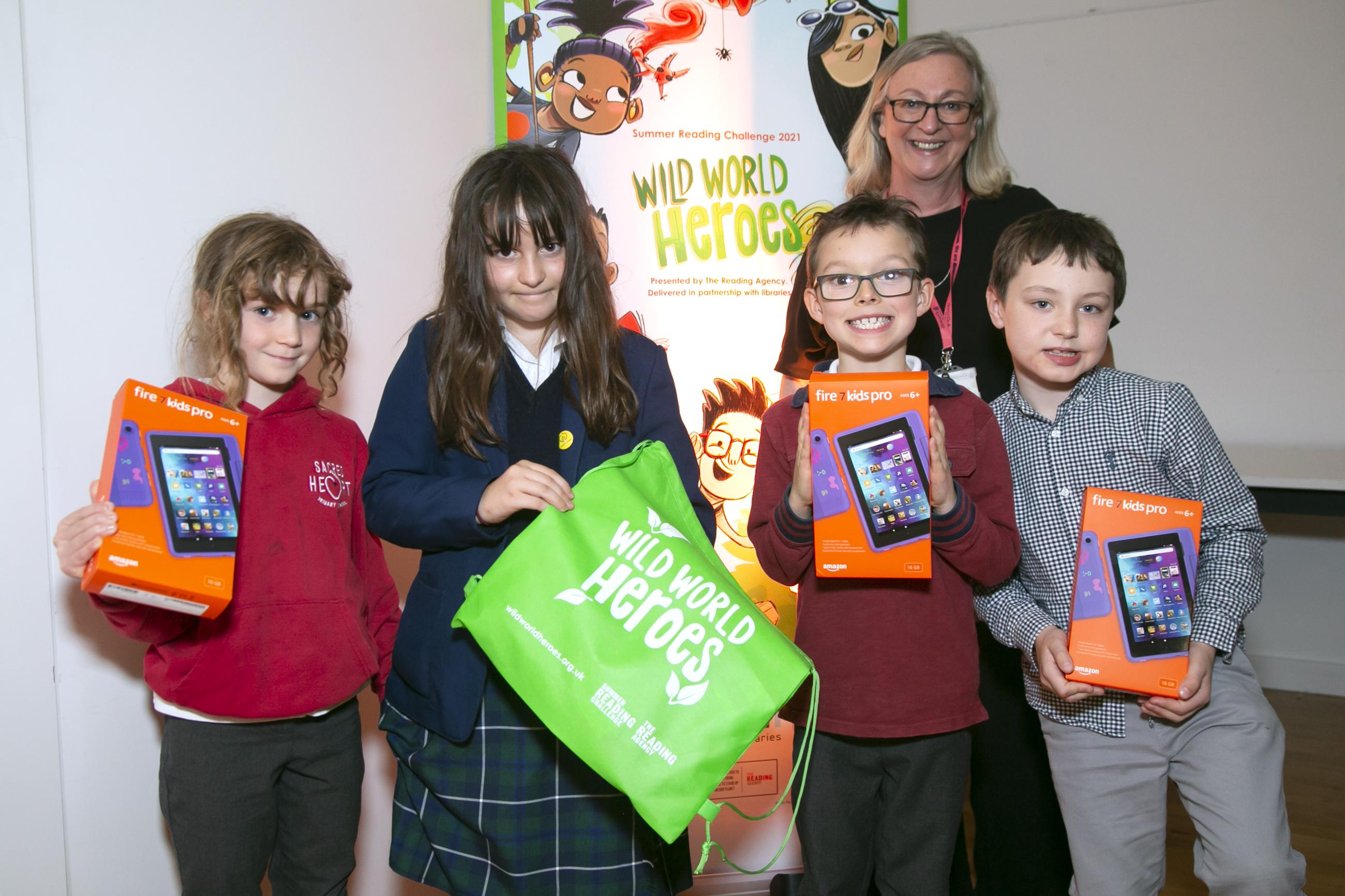 Each young person won a tablet computer which was presented to them by Cllr Paula Holland, cabinet member for Education and Skills, at a ceremony at Newcastle City Library on Wednesday 6 October.
As part of Newcastle City Council's Holiday Activity Fund programme and the Summer Reading Challenge, young people from across the city were invited to join in storytelling sessions and take part in an online competition to share their views on the future of Newcastle in creative ways.
All submissions have been used as part of the ongoing consultation to help shape the way the city  children and families services across Newcastle and as part of the City Council's new approach to supporting young people, helping them to realise their potential and live healthy, happy lives.
Every week during the summer workshops, led by storytellers David Silk and Mica Hard, handed out reading packs and delivered fun craft and superhero activities across the city. 
Anyone under 25 could submit their views in two unique ways, and to enter the competition –
Select a book as part of the summer Reading Challenge, under the theme World Wide Heroes, set the story in Newcastle and re-write the ending to show their vision for the city

Create a Geordie Superhero with powers to make Newcastle a great place for children to grow up
Councillor Paula Holland, cabinet member for Education and Skills, spoke after presenting the tablets to the winners,
"This competition has provided a unique opportunity for young people in Newcastle to let their imaginations run wild.
"Their views, presented in a creative way through storytelling, are essential as part of our new strategy for children, young people and family services in the city. We want the voice of our young people to be embedded in every decision, every service and every opportunity in Newcastle.
"The varied views and visions on display in all the stories and super heroes show that our children have a huge range of priorities and concerns for the future of Newcastle, it is vital that we act on these and create a clean, green, modern city where they can flourish and realise their potential.
"There will be more opportunities for young people to have their voices heard and I would urge everyone to get involved. They are the future of our great city and can help shape Newcastle now."
The four winners were selected by the Council's Voice and Influence team and are –
Jamie Smurthwaite, aged 8. Jamie made a film about his vision for the future of Walker Park.

Jack Dowling, aged 7. Jack reimagined the end of the book Dinosaur Chase and drew a picture of main character Fin soaring like a bird over a clean and green Newcastle.

Tabitha Erswell-Evans, aged 11 and Martha Erswell-Evans aged 7. Tabitha and Martha rewrote endings to Elfie the Rebel and The Cup Cake Caper showing how people can come together support local libraries and clean up Leazes Park.
Newcastle's Holiday Activity Programme engaged over 12,000 children and worked with 40 partner organisations this summer. The programme provided a range of cultural, sporting and physical activities to young people with healthy food on offer.
As part of the Holiday Activity Programme the Council organised five pop-up activity sessions in locations that miss out on larger city centre offers, took over the Screen on the Green at Old Eldon Square and gave away free tickets to Super Leagues Magic Weekend.