31 August 2021
| | 2 min read
Back to school – are you ready?
Schools in Newcastle are preparing to welcome pupils back into classrooms from next week (w/c 6 Sept).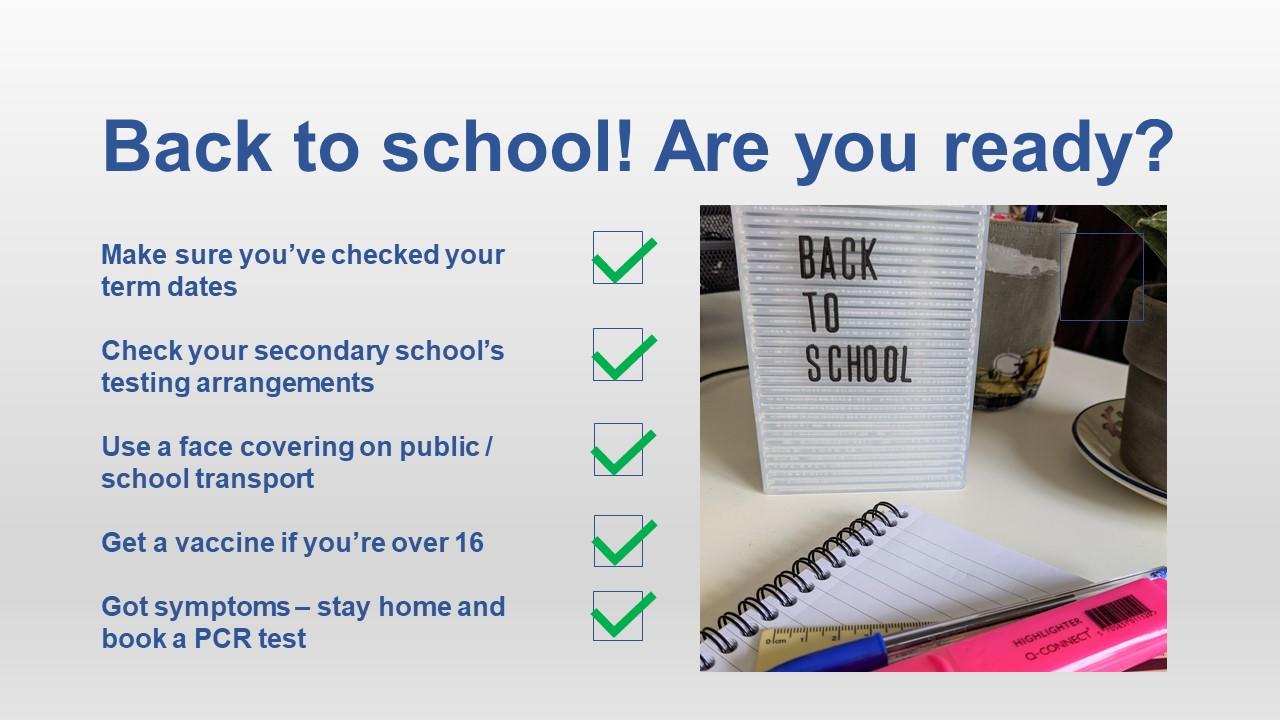 Many previous Covid safety measures, such as bubbles and face coverings, are no longer required but schools across the city will continue to take steps to keep people safe and reduce the risk of the virus spreading. These will include additional cleaning and hygiene measures, ventilation and testing.
Parents are urged not to send their children to school if they have any Covid-19 symptoms.
Students going to secondary school are reminded that they will need to take two Covid-19 tests at school during the first week of term followed by twice-weekly testing at home. Families are asked to check their child's school's website for details of testing arrangements.
And while students will no longer be required to wear face coverings in school, they are advised to continue to use one when travelling on school or public transport.
Young people aged 16 and 17, as well as those aged 12 and over who are eligible, and parents and carers who are not yet vaccinated are also advised to take up the offer of the vaccine.
Mark Patton, Assistant Director, Education and Skills at Newcastle City Council, said: "Schools across the city are looking forward to welcoming children and young people back into the classroom.
"With measures such as bubbles no longer in place, things will hopefully feel a little more back to normal this term but people can be reassured that the safety of pupils, staff and their families remains a priority.
"Schools will continue to take some precautionary steps, including extra cleaning, hygiene, ventilation and testing and families are advised to check their school website to ensure they are aware of their individual arrangements."
Lorna Smith, Deputy Director of Public Health at Newcastle City Council, said: "It's really important that children and young people are able to enjoy face to face learning as this has huge benefits for their physical and mental wellbeing.
"So far during the summer holidays we've had over 5,800 children attending our Holiday Activity Fund sessions and this has not only been beneficial for them, it has also been a Covid-safe and managed environment, in the same way as schools are.
"The risks to children from Covid-19 remains low compared to other age groups and, although many of the restrictions we've seen previously can now be removed, schools are continuing to take steps to keep people safe.
"We would urge families to support these efforts by ensuring they carry out home testing if required to do so, don't send children to school if they are showing symptoms and continue to follow the basic principles of hands, face, space and fresh air."
All schools have updated their risk assessments to ensure they have appropriate precautionary measures in place.
They will also be following national contingency guidance for implementing short-term measures if required should case numbers increase.
Close contact isolation requirements will no longer apply to under 18s who are identified as a close contact, unless they have symptoms or have tested positive themselves. 
Remote learning will continue to be offered to any pupil who does need to isolate and families on low incomes may also be entitled to a support payment.
Schools no longer have responsibility for close contact tracing, which will be carried out by the NHS Test and Trace service in line with standard contact tracing procedures.
Parents and carers are advised to check their child's school's website for details of testing and other arrangements in advance of the start of term.