20 May 2020
| | 3 min read
This is Tomorrow Festival Presents, This is for the NHS
This Is Tomorrow organisers announce free festival to thank NHS workers.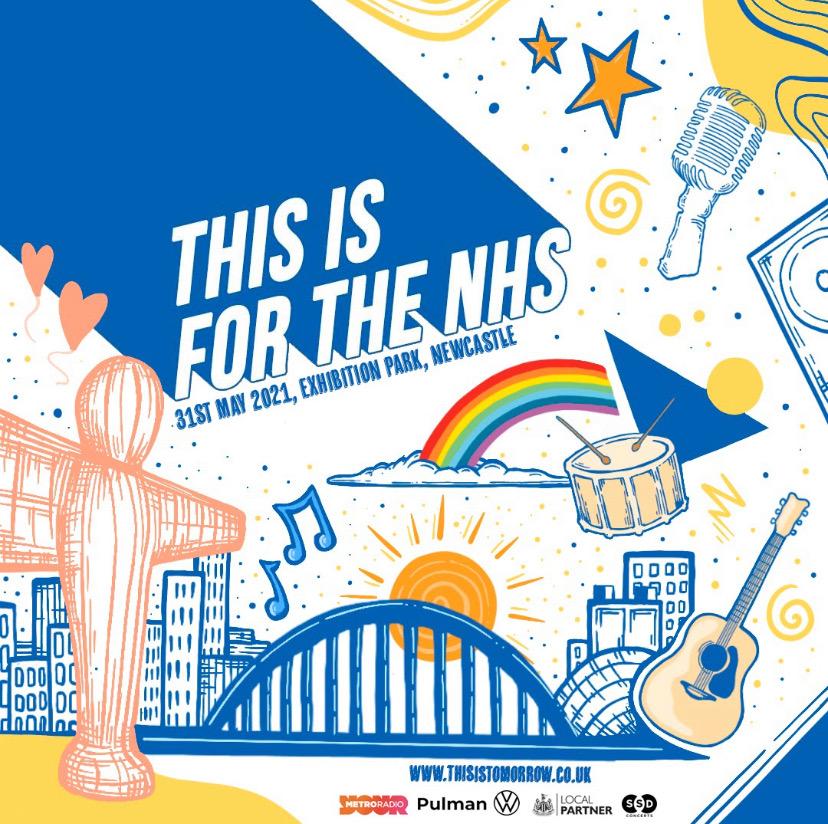 Newcastle's biggest outdoor music festival, This Is Tomorrow has announced that a free festival for NHS workers will be coming to the city as a huge thank you to those individuals who are risking their lives to curb the spread of the COVID-19 pandemic.
Set to take place on bank holiday Monday, May 31st 2021 in Exhibition Park, This Is For The NHS festival, will offer all Newcastle and Northumberland NHS workers along with care workers free tickets to a full day of high-calibre family entertainment across three stages.
The event will follow the weekend's previously announced This Is Tomorrow festival, with headliners Sam Fender, Gerry Cinnamon and Royal Blood and a full festival line-up. The newly announced This is For the NHS is set to raise hundreds of thousands of pounds for Northumberland, Tyne and Wear NHS Foundation Trust, South Tyneside NHS Foundation Trust, Gateshead Health NHS Foundation Trust, and The Newcastle Upon Tyne Hospitals NHS Foundation Trust.
Organised by the North East's leading events promotions company, SSD concerts, the one-off family friendly festival has promised a soon-to-be-confirmed line-up of  household names across music and comedy, all of whom will be donating their time to show their appreciation for the region's frontline workers.
Having worked in the NHS for 18 years as a radiographic practitioner, Managing Director of the festival and SSD Concert's founder, Steve Davis, decided it would be amazing to throw a huge party for the region's NHS to celebrate their incredible work.
He said: "We're donating This Is Tomorrow's festival site to give NHS workers a big day out and say a massive thank you to the key workers who are putting their own health at risk to keep us all safe."
"After speaking with former colleagues, I realised just how hard it has been for NHS workers. Considering the amount of risk that they have had to face on a daily basis and with the number of NHS staff that have died as a result of the disease, it is commendable that they have continued to go to work while everyone else has been able to stay safe at home.
"The care workers also need to be recognised for the courageous protection of the elderly in care homes and hospices. I hope we can give them a day to remember with their colleagues in May."
Tickets will be available from Friday 22nd May at 10 am. Completely free for NHS workers and care workers. NHS ticket holders will be able to bring their family and friends along with them, with adult and kids tickets priced at £25 and £15 respectively, all proceeds will be donated to regional NHS.
The festival organiser is pulling out all the stops in showing its thanks, with plans in motion for a charity banquet dinner, big prizes up for grabs and all proceeds from ticket sales to be donated to the NHS.
Steve continues: "The festival wants to give something back. We have been able to reschedule This Is Tomorrow festival, but without the incredible work being done by the NHS, the festival might never have gone ahead again, their hard work will ensure we get over this difficult time."
SSD concerts wants to also place on recorded its thanks to Urban Green and The Freemen of Newcastle who have, as ever been incredibly supportive in setting up the event.
Cllr Ged Bell, Newcastle City Council cabinet member with the responsibility for special events, added: "NHS staff, care workers and everyone on the frontline battling coronavirus is doing an incredible job and going above and beyond what is expected of them every day.
"I worked in the fire service for over 30 years and I can only imagine the pressures and struggles these courageous people are going through as they support some of Newcastle's most vulnerable residents. They are heroes and it is important that we recognise them in every way we can.
"This will be an incredible event and the Council will work closely with the organisers to make sure every step is taken to ensure the safety of festival goers, staff and performers. These major events will be building blocks for our cities eventual recovery from this crisis and will help the vibrant spirit of Newcastle thrive once again.  
"Our city is known across the world for being able to put on a show, I know this will be a day to remember for frontline staff and their families."
Since launching in 2016, This Is Tomorrow has established itself as one of the region's largest music festivals and a mainstay on the UK's festival calendar.
With past headliners including Stereophonics, Noel Gallagher's High Flying Birds Thirty Seconds to Mars, Catfish and The Bottlemen and Lewis Capaldi. This Is For The NHS Festival is expected to bring a stellar line up of internationally renowned acts as well as a conveyor belt of our favourite local artists.
This Is For The NHS Festival takes place on Monday 31st May 2021 at Exhibition Park, Newcastle.
Tickets for This is For The NHS will be available from 10:00 am this Friday 22nd May 2020.
For more information and to buy tickets visit: https://thisistomorrow.co.uk/