24 March 2022
| | 2 min read
Work underway to decarbonise schools, libraries and public buildings
Schools, libraries and cultural venues in Newcastle are undergoing energy-saving improvements to help cut carbon emissions in the city.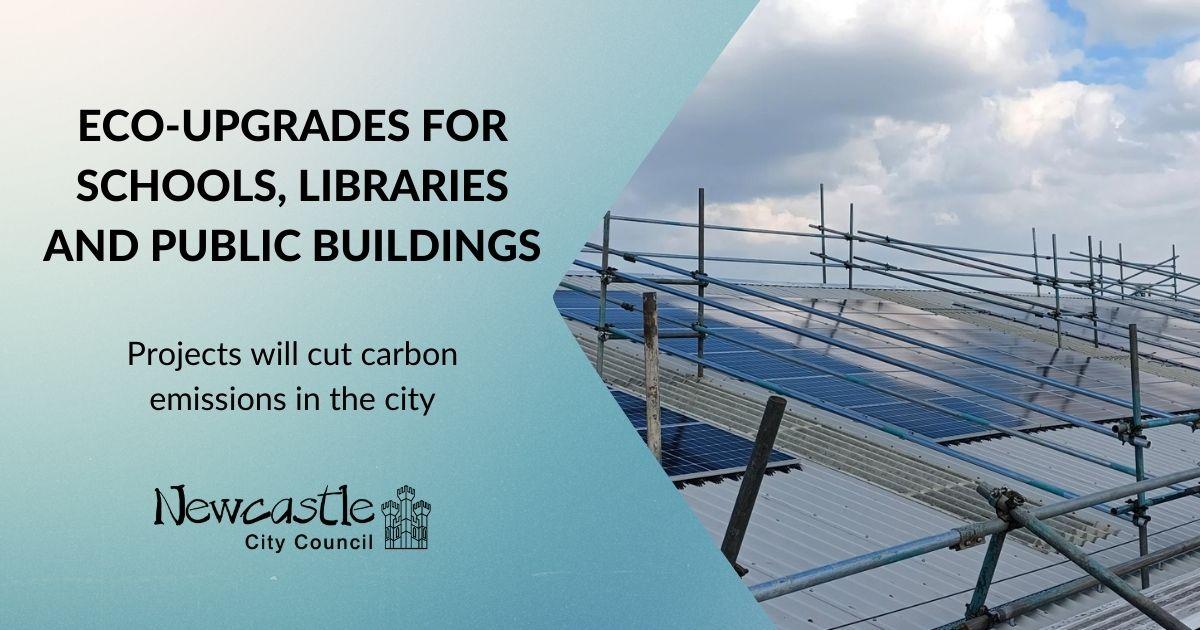 Last year, Newcastle City Council was awarded £27m from a government fund to install low carbon heating and other energy efficiency measures at 32 major sites.
Work is now underway on many of the sites across the city, including putting new highly efficient lighting, double glazed windows and a low carbon district heat network connection into Blandford House, which is home to the Discovery Museum.
Scaffolding and fencing has been erected at Fenham Library ahead of solar panels being installed from next week.
And heat pumps and solar panels are set to be installed at Newcastle Trampoline Park and Walker Activity Dome.
The projects are part of plans to help Newcastle reach net zero by 2030, which is being driven forward by the city council working with Collaborative Newcastle partners.
Cllr Clare Penny-Evans, Newcastle City Council cabinet member for climate change and public safety, said: "Achieving our net zero ambitions is a top priority for us and this funding will help ensure buildings such as schools, leisure centres and cultural venues have a more sustainable future.
"Existing, older buildings are among the worst polluters in the city so it's fantastic to see progress is being made to upgrade these sites, which will dramatically reduce carbon emissions and save hundreds of thousands of pounds in running costs.
"Now, more than ever, it is important we continue working with our Collaborative Newcastle partners as we strive to achieve net zero by 2030."
As part of the agreement with the government's Public Sector Decarbonisation Scheme, the council is aiming to complete all the projects this summer.
This includes installing heat pumps at Newcastle Civic Centre and solar panels, a heat pump, new windows and more at Theatre Royal's Royal House.
A wide range of energy efficiency measures are also planned for sites including, City Library, Gosforth Pool and East End Pool, the Pattern Shop, five car parks across the city and 15 schools.
It is estimated that upgrading the buildings will remove over 47,000 tonnes of carbon dioxide from the atmosphere during their lifetime.
To find out more about Newcastle's net zero action plan, visit www.newcastle.gov.uk/netzero.