8 August 2023
| | 2 min read
Warning as three men fined for illegally burning waste
People are being urged to think twice before having a bonfire after three men were fined thousands of pounds for illegally burning waste.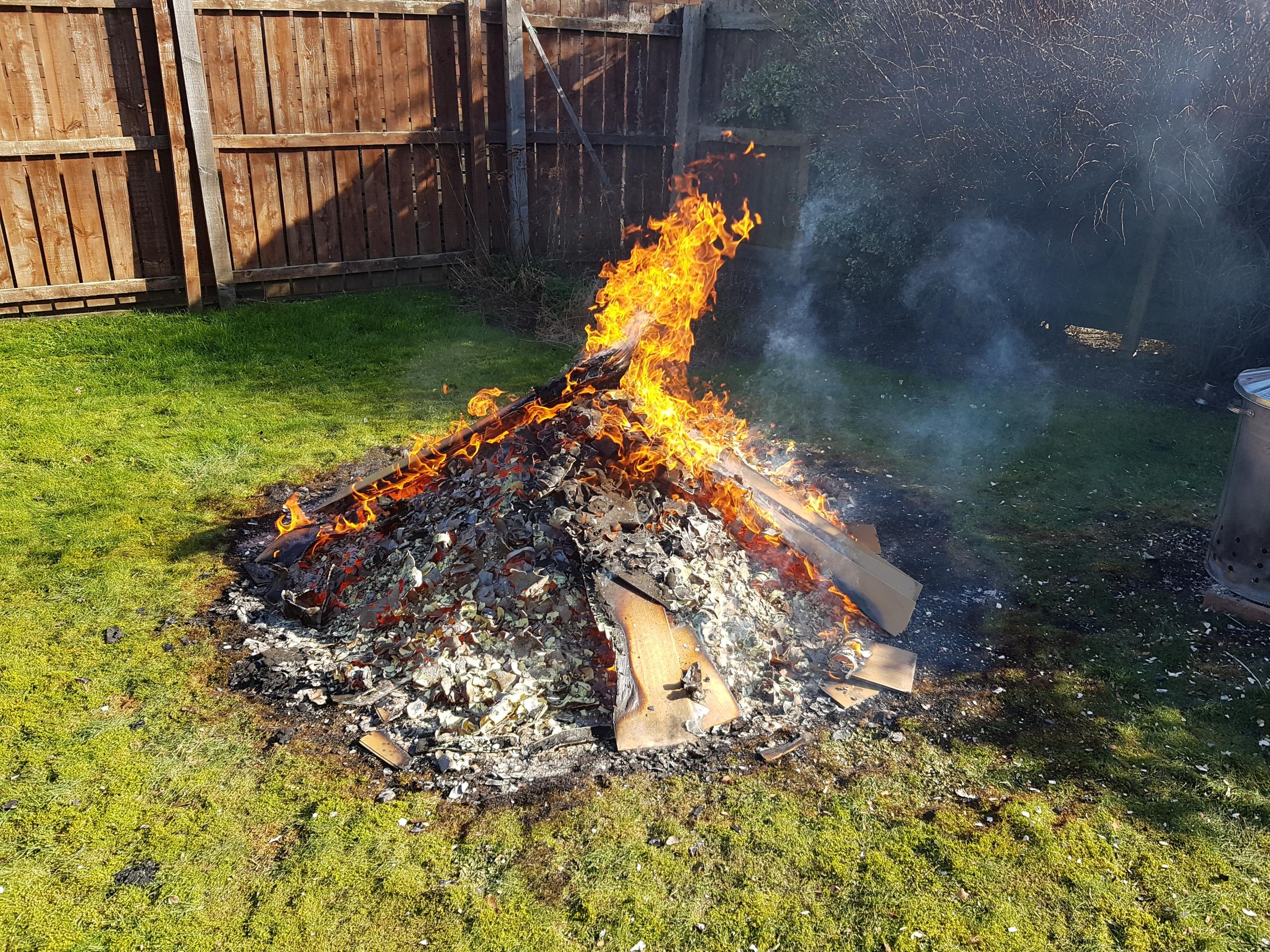 Newcastle City Council's Environmental Protection Team were called to a bonfire at the rear of Benwell Village Mews in Newcastle on February 23 this year.
The blaze consisted of laminate flooring and there was a considerable ash plie underneath, which indicates there had been a history of fires at the site.
Officers expressed concerns that the fire could have spread to nearby homes and gardens.
Large piles of waste including wooden doors, carpet, underlay and drawers from kitchen units were also found in the garden.
James Philip Anderson, 49, pleaded guilty to disposing waste in a manner likely to cause pollution.
Anderson, of Rogerson Terrace, Newcastle, was fined £2,154 and ordered to pay a £862 victim surcharge and £319.20 costs at Newcastle Magistrates' Court on July 28.
Appearing at the same court, James Matthews admitted to having a bonfire in the back garden of his home on Betts Avenue, Newcastle, on March 13.
He burnt waste from his home as well as waste that he had collected from people in the local area using a wheelbarrow.
Matthews, 57, pleaded guilty to disposing waste in a manner likely to cause pollution.
He was fined £320 and ordered to pay a £128 victim surcharge and £240.30 costs.
David Joseph Larkin, 61, was also fined for starting a fire at a premises to the west of Walbottle Road in Walbottle on June 1.
Larkin, of Hillhouse Road, Throckley, pleaded guilty to disposing waste in a manner likely to cause pollution.
He was fined £200 and ordered to pay a £80 victim surcharge and £254 costs.
Cllr Irim Ali, Newcastle City Council Cabinet member for a Dynamic City, said: "Smoke from bonfires can not only be a nuisance to neighbours but it can have an adverse impact on air quality, the environment and people's health.
"During the summer months we often see an increase in reports of bonfires – some of which could have deadly consequences.
"We urge people to think twice about how bonfires could affect others in their community and the dangers they can pose.
"As a council we very much want everyone to be a good neighbour and we strongly discourage the burning of any waste."
Area Manager Paul Russell, from Tyne and Wear Fire and Rescue Service (TWFRS), said: "Burning waste materials such as wood, tyres, and rubbish in your garden is illegal and can cause pollution or harm people's health.
"We have seen that these type of bonfires can quickly get out of control, spreading to properties and can also lead to large scale wildfires that destroy vast areas and put both life and property at risk.
"It might be seen as an easy option rather than heading to the waste recycling centre but the dangers are not worth the risk."
In most cases burning waste is illegal.
It is a criminal offence to burn household rubbish which will cause pollution or possible harm to health, any waste from commercial activity, any waste from building or demolition works, or any waste that will cause dark or black smoke.
If a bonfire is lit and causing a problem then please call the fire service on 999.
If it is unlit or extinguished please report it to the Council by calling 0191 278 7878 and ask for 'environmental health' or email psr@newcastle.gov.uk.
For more information about disposing of your rubbish and recycling responsibly, visit www.newcastle.gov.uk/services/environment-and-waste/rubbish-and-recycling.