18 March 2021
| | 2 min read
Grey Street measures to be amended ahead of businesses reopening
Work to help businesses get ready to reopen will begin on Grey Street next week (March 22).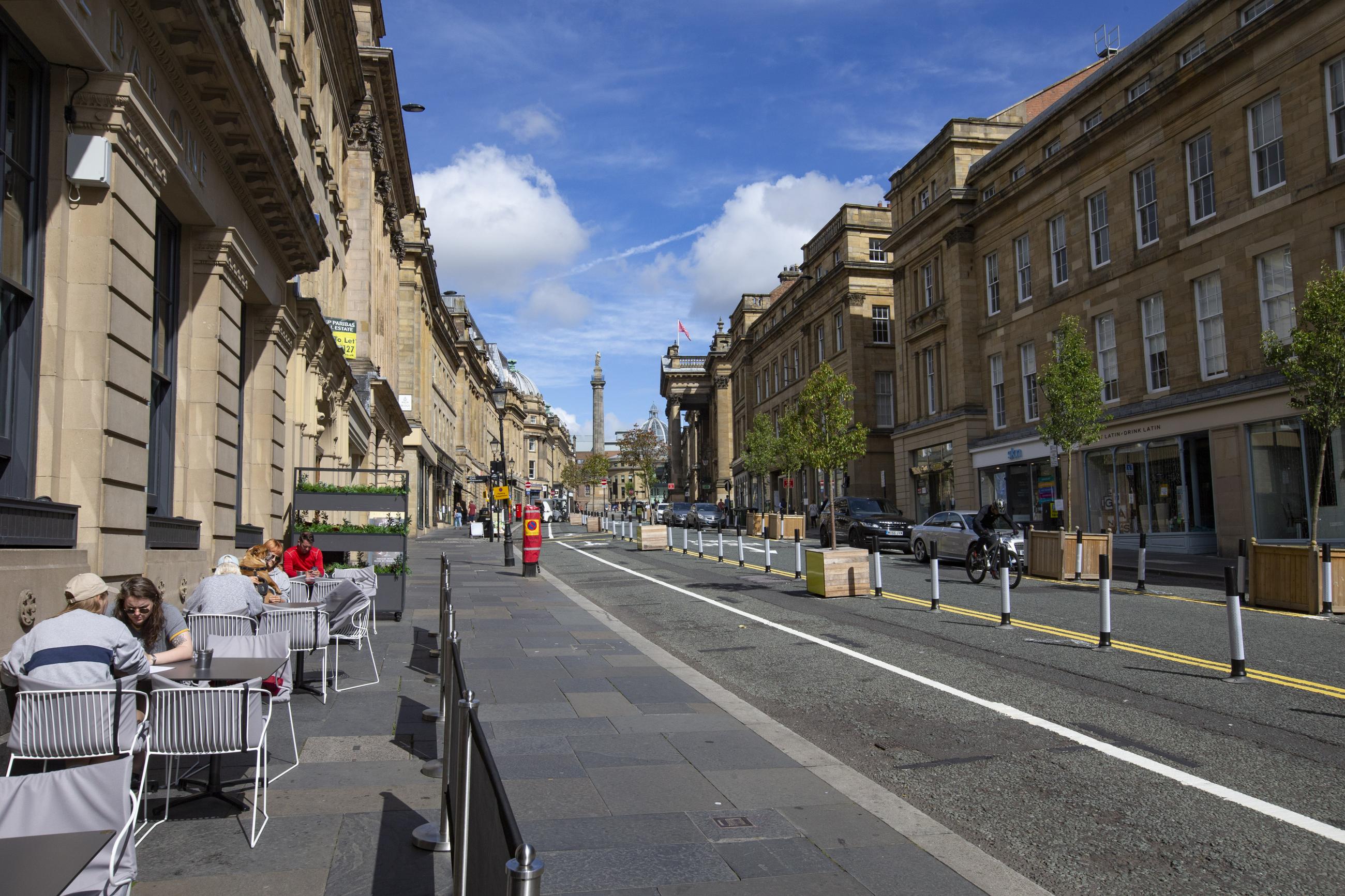 Temporary measures were put in place on the street last summer to support social distancing and enable bars, cafes and restaurants to create outdoor seating areas.
Since then, the introduction of tougher Covid restrictions, including the current national lockdown, meant hospitality businesses had to close, but they are now hoping to welcome customers back from April 12.
Depending on national Covid data, the government is expected to confirm that outdoor hospitality can reopen from that date, with table service only and the rule of six in place.
In preparation for this, Newcastle City Council is going ahead with work to improve the temporary arrangements on Grey Street following discussions with local businesses as well as feedback from the public, including people with disabilities.
One of the most important changes will be to extend the pavements so that the walking areas – currently positioned along the edge of the road where parking spaces used to be – are on the same level as the rest of the pavement where the outdoor café spaces are.
This will mean there will be raised footpaths on both sides of the street, which on one side will also result in the footpath being separated from the temporary cycle lane.
The black and white bollards which are currently in place to separate southbound traffic from walkways and the northbound cycle lane will also be gradually replaced with more attractive planters to create a more pleasant space.
Cllr Arlene Ainsley, cabinet member for transport and air quality at Newcastle City Council, said: "We have monitored the temporary changes to the road layout on Grey Street and taken on board feedback about how these arrangements are working.
"In preparation for businesses being allowed to reopen, we are now making some further changes to help improve accessibility and ensure sufficient space for pavement café areas.
"We also plan to change some of the temporary materials that we've used to test out the altered road layout in order to improve the appearance of the street, helping to create a more attractive and pleasant environment for people to sit and enjoy.
"We're continuing to speak to people and businesses as we develop our future proposals for Grey Street."
Atul Malhotra, director of operations at Malhotra Group plc, which owns Grey Street Hotel and Leila Lily's and also recently relocated its headquarters to Grey Street, said: "The easing of restrictions is great news for businesses across the city and we are certainly looking forward to welcoming customers back to our flagship bar and restaurant Leila Lily's – albeit outside, initially – in April.
"Grey Street is the jewel in the city's crown and, while it has understandably been quiet during lockdown, I have no doubt customers will return as soon as they are able, to support all our local operators who have had an extremely testing past 12 months. Here's to a great summer ahead."
The further changes to the street will remain temporary initially but future plans will see some of these measures made permanent.
Subject to ongoing discussions with businesses, in the longer term, the plans for the street would see all traffic removed – with similar provision in place for deliveries and servicing to businesses as that which exists now on Northumberland Street.
Further consultation and engagement with businesses, transport operators and the wider public will be carried out before any long-term proposals are finalised.
The city council will continue to make the case to government for further investment to cover the costs of Covid 19-related works. In the meantime funding from the council's annual transport improvements budget is being used to make the changes to the temporary measures and these works will begin next week (from March 22) to ensure they are completed by April 12.