21 October 2021
| | 2 min read
City space transformed to put people first
A major redesign of a busy city centre area has been completed.
The work at Barras Bridge, in Newcastle, has seen changes made to the road layout to give more space for people and new paving and landscaping installed to create a more pleasant environment.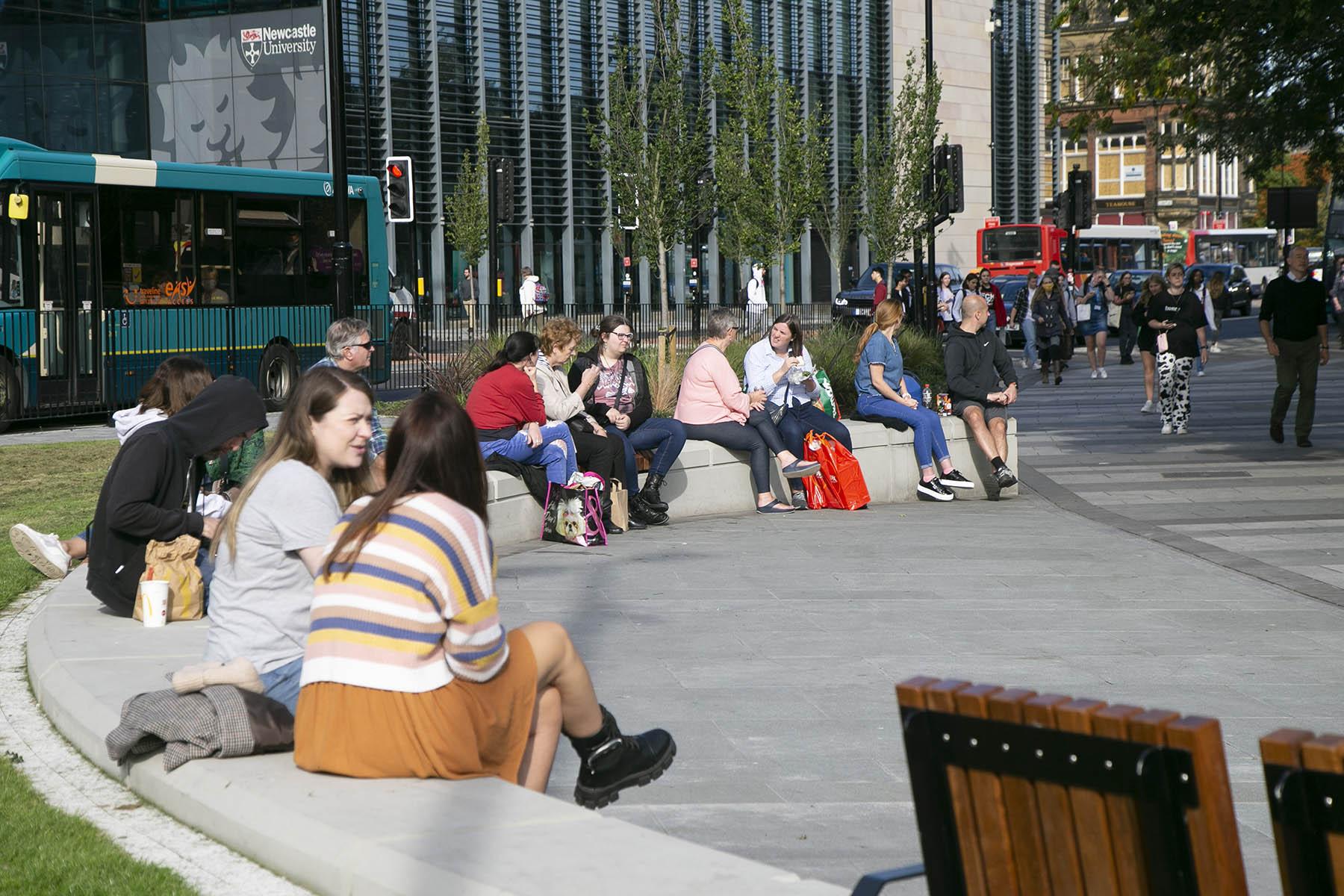 New seating, green space and trees have been added at the corner of Barras Bridge and St Mary's Place to provide a space where people can meet, while on the other side of the road outside Newcastle University's Kings Gate building, further trees have been planted to provide shade and interest.
Architecture students from the university played an important role in helping to design the new public space by taking part in a number of design workshops looking at how the area could be better used.
Newcastle City Council's transport and landscape design teams worked with the visions and ideas put forward by the students to create the final designs for the area.
Cllr Ged Bell, cabinet member for development, transport and neighbourhoods at Newcastle City Council, said: "This is one of the busiest pedestrian areas in the city centre, yet for many years it was dominated by multiple lanes of traffic, making it difficult for people to get around on foot.
"When we first tested the changes, it was to prove we didn't need that amount of space for vehicles. Having proven we could manage the traffic with upgrades to signals, we then secured millions of pounds of investment.
"I'm very pleased that these changes have given space back to people, putting them first and creating a much more pleasant landscape for everyone to enjoy.
"This has been a true collaborative project – with excellent support and input from a some of our talented students as well as us responding to public feedback on the initial temporary measures that were used to test out how the new road layout and crossing points would work.
"The end result is a space that is attractive and much easier and safer for everyone to get around, regardless of whether you are travelling on foot, by bike or in a vehicle."
Prue Chiles, Professor of Architectural Design Research at Newcastle University said: "A group of 6th year Architecture Students were looking at the future of the University area between Northumberland Road and the entrance to the University. The road crossings were tight and dangerous and the area in front of St Thomas' Church was constricting and congested.
"The students worked with a team from the City Council to design and prepare drawings for a bid for funding to complete the works, which was successful. It's fantastic to see how the students' ideas and hard work have helped improve this busy area."
Funding for the work has included £2m from the Transforming Cities Fund, aimed at schemes that will improve networks for people using public transport, walking and cycling, together with an additional contribution from Newcastle University of over £700,000.
A series of further improvements to the city centre are planned as part of a wider £50m programme of investment to create a healthier, greener and more welcoming city centre.
The City Centre Transformation Programme is designed to improve the city for residents and visitors and to support local businesses and the economy as they recover from the pandemic.