20 September 2023
| | 4 min read
Stay Safe and Speak Up about Food Allergies
Young people are being encouraged to speak up about their food allergies every time they eat out or order a takeaway to ensure they stay safe.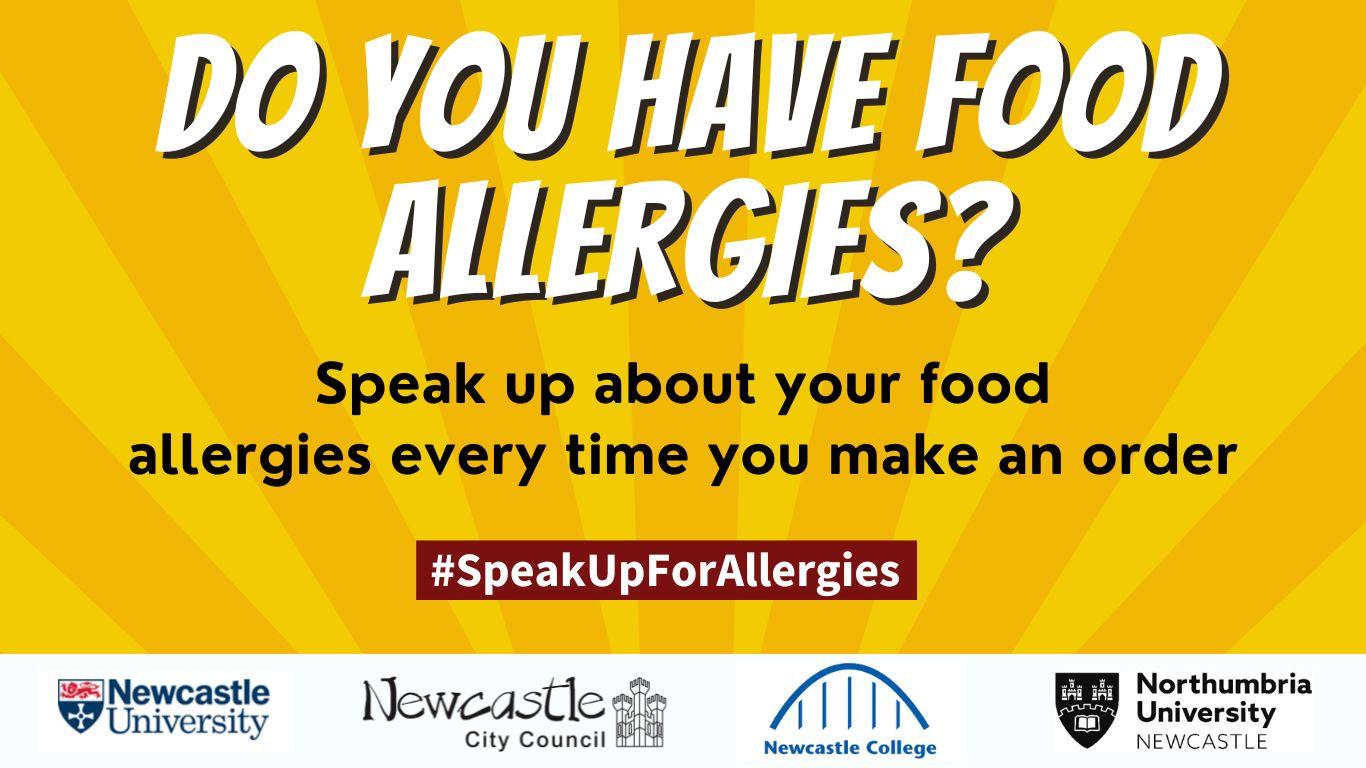 In the UK, an estimated two million people are living with a diagnosed food allergy.
But concerns are growing some young people are not discussing their intolerances with others because they may feel embarrassed or don't want to cause a fuss.
It comes as the majority of allergy reports made to Newcastle City Council's Food Safety Team relate to 17 to 30-year-olds ordering takeaways or food in pubs.
Now, as thousands of students arrive in the city for the autumn term, the Council is working with Newcastle and Northumbria universities and Newcastle College to urge young people to not put themselves at risk by making sure what they order is safe to eat.
Cllr Irim Ali, Newcastle City Council's Cabinet member for a Dynamic City, said: "The safety of young people is our highest priority, which is why it's incredibly important those with food allergies speak to the restaurant every time they place an order.
"You should never assume a meal is safe and even if it's something you've eaten before, the ingredients may have changed or it could be cooked by different chefs.
"It's also not enough to rely on the allergen information provided online or on the apps.
"Instead, we encourage people with allergies to call the restaurant directly when making an order and the trained staff will know what to do to keep your meal safe.
"If you're not confident the food business fully understands your needs then please find an alternative place to order from – it could save your life."
Sue Broadbent, Head of Student Life and Wellbeing at Northumbria University, said: "We ask all our students to make sure they look out for each other and would encourage them to let each other know if they have allergies, particularly if they are experiencing new cuisines for the first time.
"This little, but important piece of information, could avoid a terrible accident."
Craig Cowan, Head of Hospitality at Newcastle College, said: "One of the first topics we cover in all of our hospitality courses at Newcastle College is understanding allergens – it is one of the most important aspects of food safety management and it is vital that our students are fully prepared to work in the hospitality industry and respond to the needs of every customer.
"All young people should be aware of what is in the food they're eating and what they can do to minimise the risks of allergic reactions, which could have serious consequences.
"Restaurants and takeaways are specialists in their own food and they can always advise if dishes are not suitable for those with certain allergies, or they can provide a safe alternative.
"However, they can't do so if they're not made aware of an allergy, so I would encourage everybody to be vigilant and upfront when ordering food."
Sally Ingram, Director of Student Health and Wellbeing at Newcastle University, said: "Mentioning your food allergy when you order a meal could save you from serious harm.
"I urge all our students with a food allergy to speak up every time they visit a restaurant or takeaway and to speak to their friends about it too as it could prevent a serious incident."
Young people are being urged to follow these top tips to ensure they stay safe:
Be allergy aware – Find out if anyone in the group you're ordering for has a food allergy.

Speak to the restaurant every time – If ordering by app, don't rely on the in-app messaging service.
Call the restaurant directly and make sure they understand the allergy. Remember to ask, even when ordering the usual, because the recipe, ingredients, chef, or kitchen staff may have changed.

Be clear – Give examples of food that could cause a reaction and be clear about the allergy.

Ask the restaurant to label the allergy-safe meal – Make sure the container will be labelled so that it's clear when the meal arrives and there's no risk of cross-contamination.

Follow your instincts – If the person you're ordering from doesn't understand the allergy or intolerance, ask to speak to the manager. If you still don't feel confident, consider ordering elsewhere.

Don't feel embarrassed – There is no need to feel awkward asking about allergy. Food businesses are legally required to make allergen information available when you order and when the food is delivered.
For more information about being allergy aware, visit www.newcastle.gov.uk/foodsafety.