7 August 2020
| | 4 min read
Newcastle's pubs, restaurants and cafes urged to go smoke free
Pubs, restaurants and cafes that already have outside space are being urged to follow the lead of Newcastle's new pavement cafes and go smoke free.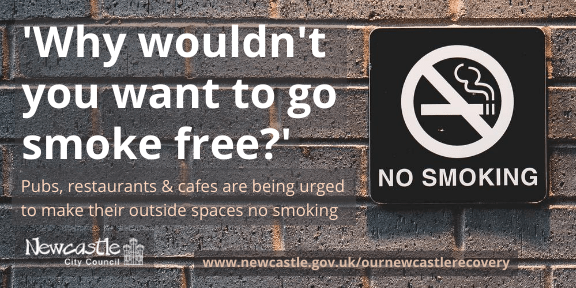 The number of people in the city who use cigarettes, pipes or cigars is now at its lowest level ever, and Newcastle City Council has put conditions on new outdoor seating areas to make them more family friendly.
'Staying stopped can be far from easy'
Cllr Irim Ali, cabinet member for neighbourhoods and public health, said: "The North East has seen the highest rate of people quitting smoking since the start of the pandemic, which is fantastic both for their health and that of everyone around them.
"However, we know that staying stopped can be far from easy, especially when someone might find themselves in an environment where other people are lighting up.
"As part of our fast-tracked measures to help the hospitality trade find the space they need to welcome back customers safely we're including a requirement that new pavement café areas be smoke free.
"We know that is something that the vast majority of people support, as it makes businesses a nicer environment to visit, more family friendly, and has the added bonus of helping ex-smokers avoid relapsing."
'W

hy would you not make areas no smoking?'
"Obviously pubs, restaurants and cafes that already have outside space are free to operate as they wish within the confines of their licences, but if you can make yourself a more attractive prospect for almost nine out of ten customers, then why would you not make those areas no smoking?" Cllr Ali said.
Effects of going smoke free
Following the smoking ban in licensed premises in 2007 Government research found three times as many businesses reported it was beneficial as claimed it had any negative effect.
Hospitals also reported fewer people admitted with heart attacks and stroke, with the biggest reduction among non-smokers who had previously been exposed to second-hand smoke.
A toxic blight on our communities
Where the small minority of people that do still smoke are out and about, they are being reminded to dispose of their waste responsibly, keeping our streets the clean, green, brilliant place we all want them to be.
Cllr John-Paul Stephenson, cabinet member for environment and regulatory services, said: "Cigarette butts are thought to be the most common litter in the world and unfortunately having been stubbed out on walls, crunched underfoot or flicked into drains or undergrowth they are an all too common feature of our communities.
"But they are toxic rubbish plain and simple. They are an unsightly blight on our streets, can take up to 10 years to entirely break down, and when they do the filters - which are made of the same plastics as the original Lego bricks - and other harmful chemicals like arsenic, lead and nicotine poison our environment, including rivers and seas."
What can smokers do to prevent litter?
Smokers are responsible for ensuring that they completely extinguish their cigarettes before placing them in a bin, with may public bins offering stubbing plates specifically for that purpose.
There is also no reason why smokers - who are well aware that smoking will result in waste - cannot carry portable "butt bins" with them or create their own by placing soil or sand in a small tin.
However, It is estimated that six tonnes of cigarette butts are discarded on Newcastle's streets each year - Enough to fill 277 wheelie bins.
Dropping cigarette or cigar ends is littering, which is a criminal offence under section 87 of the Environmental Protection Act 1990.
It can lead to fine of up to £2,500, but in many cases the offender will be given the option of paying a fixed penalty of £75 and avoiding prosecution.
However, if the person is uncooperative, for example unwilling to give their name and address, they may be referred directly to the magistrates' court.
Counting the cost of smoking litter
In 2019/20 the council's Your City, Your Home environmental campaign saw over 3,500 people counting a more than £250,000 cost of failing to dispose of their rubbish properly, with the most common items dropped continuing to be cigarette butts, chewing gum, single use plastic bottles, cans and food packaging.
Research suggests that in areas where people see littered cigarette butts they are more likely to drop other items, so stubbing out the problem could have an even greater effect than just ridding the environment of the tobacco waste itself.
Cllr Stephenson said: "We will not hesitate to issue penalties to those who fail to respect our city by not binning their rubbish or taking it home."
Help to stop smoking
For more information about giving up smoking visit the Newcastle Stop Smoking Service website at www.newcastlestopsmoking.org.uk