4 August 2020
| | 5 min read
Newcastle's new pavement cafes to be smoke free
Families will be able to enjoy Newcastle's pavement cafes without tobacco fumes as the new outdoor areas are to be 100% smoke free.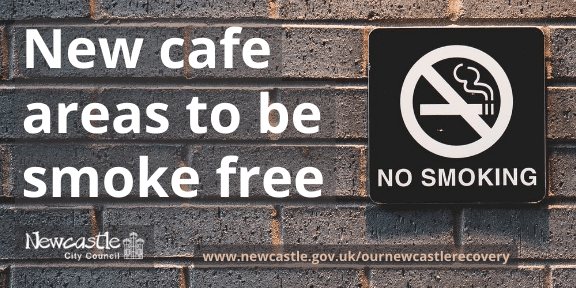 Newcastle City Council is including a condition in the licences being fast-tracked to help pubs, restaurants and cafes reopen to make outside eating and drinking more pleasant for everyone, reduce litter, help ex-smokers, and protect people's health.
The first of these new areas are being placed out on Grey Street this week.
'New spaces must be as welcoming as possible'
Cllr John-Paul Stephenson, cabinet member for environment and regulatory services, said: "We know how important it is that our hospitality trade has the space they need to be able to welcome customers back in a safe and socially distanced way, and we have been doing everything we can to support that.
"But we also know that, as a result of lighting up being banned indoors, that outdoor areas can easily become smoking areas, which is far from family friendly, and can create poisonous litter that harms our environment.
"As businesses may not have as much inside space for children and parents to avoid the effects of second-hand smoke we therefore need to make all of the new spaces we create as welcoming as possible, so that everyone can come and have a good time, and help return our city to the vibrant place we all love."
Following ongoing discussions with the licensed trade Newcastle City Council received 87 expressions of interest in creating pavement cafes, with 29 quickly given highways approval.
North East sees most smokers quit
North East England has seen the highest rate of people quitting smoking since the start of the COVID-19 pandemic, with less than one in seven people in the city now turning to cigarettes, pipes or cigars.
Cllr Irim Ali, cabinet member for neighbourhoods and public health, said: "Smoking is very much not the social norm in Newcastle, with the vast majority of residents – 87 percent – not using tobacco products.
"It is therefore only right that we ensure our city works for them, and not the minority whose toxic fumes can have such a detrimental effect on people's health, including causing a decline in lung function, which is hardly to be encouraged when a viral respiratory pandemic is ravaging the globe."
Research shows widespread support for being smoke free
"Being 100% smoke free in our new pavement café areas is a simple to understand and enforce idea, one that research from the Government and campaign groups like ASH show has widespread support, and which will both help prevent children being exposed to smoking and recent ex-smokers from being tempted to relapse," Cllr Ali said.
"This policy is something that is needed, wanted and workable and we hope it will encourage families to come and enjoy all that our beautiful city has to offer."
Smoking is the leading cause of preventable death
Smoking is the leading cause of preventable premature death, killing 77,800 adults - that's more than 200 every day - in England.
Since the smoking ban was introduced in 2007 those wishing to avoid exposure to second-hand smoke could stay inside, but due to COVID-19, even with the many inventive measures the hospitality trade have put in place to keep people safe, the risk of infection is higher than being outdoors.
Research also shows that children who are exposed to adults smoking around them are more likely to start smoking, with two thirds of those experimenting with smoking going on to become daily smokers – something that can have a lifetime of health consequences.
'Important to protect non-smokers'
Ailsa Rutter, director of Fresh, the North East's dedicated regional tobacco control programme, said: "We welcome the 100% smoke free condition Newcastle City Council has agreed for pavement licenses.
"Smoking remains a key cause of death and illness in the North East and it's important we do all we can to help people to quit smoking and also protect non-smokers from breathing in second-hand smoke.  
"During the pandemic we have seen the highest level of quitting of any UK region here in the North East and anything we can do to help people stay smoke free is important, and smoke free spaces can help to prevent relapsing back to smoking."
Find out more
For more information about giving up smoking visit the Newcastle Stop Smoking Service website at www.newcastlestopsmoking.org.uk