25 June 2021
| | 4 min read
NewcastleGateshead to host Festival of Rescue this September
Firefighters from across the country will battle it out on the banks of the Tyne, showcasing their skills as NewcastleGateshead hosts this year's Festival of Rescue.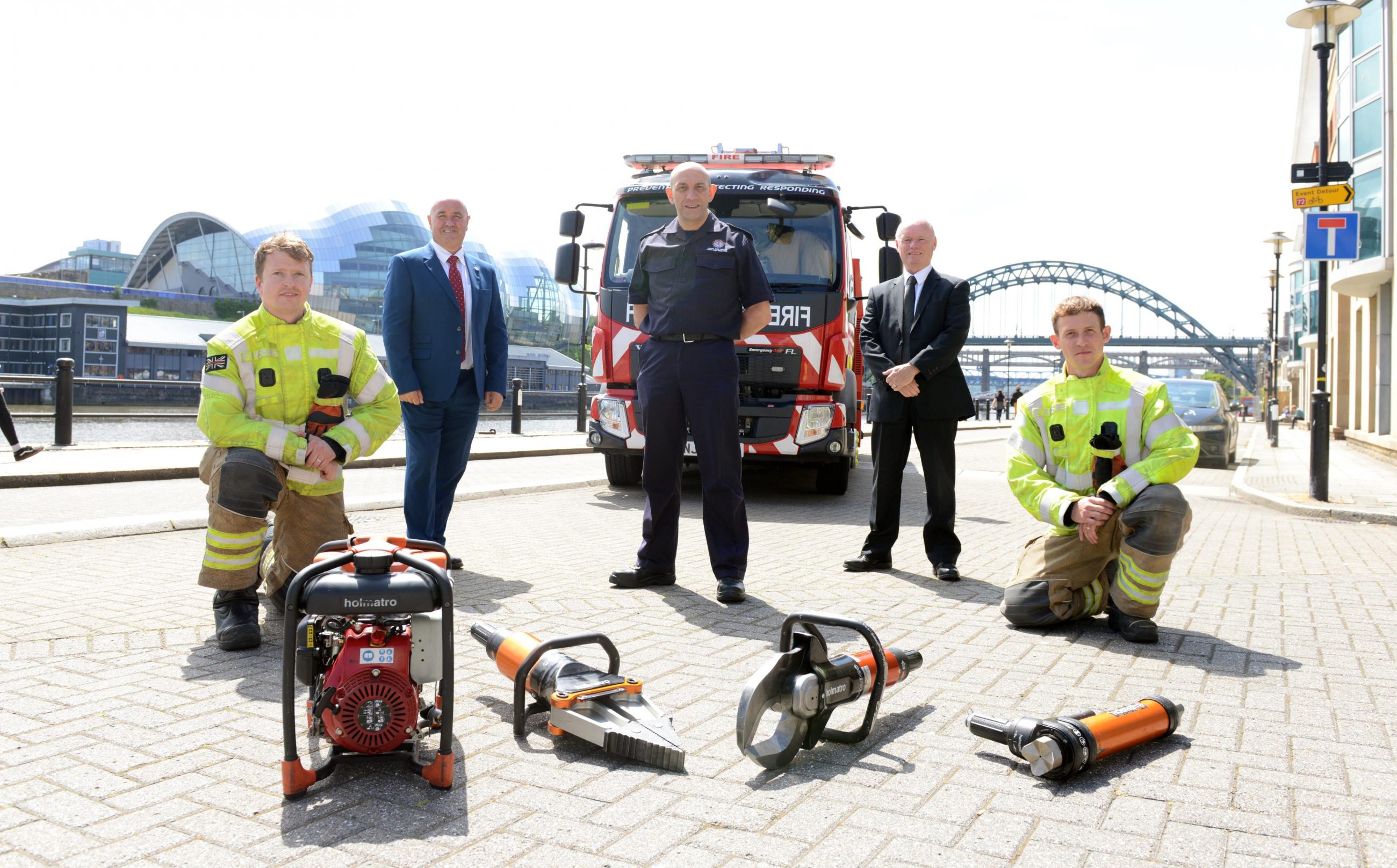 The Quayside's world famous bridges will offer an impressive backdrop for the spectacular UKRO (United Kingdom Rescue Organisation) event, with a warm North East welcome for over 70 teams representing fire services from up and down the country on September 17 and 18.
Councillor Ged Bell, Newcastle City Council's Cabinet member for neighbourhoods and transport, said: "As a former fire fighter with Tyne and Wear Fire and Rescue I am thrilled that the UKRO event is coming to our great city.
"The stunning River Tyne and historic Quayside will provide the perfect backdrop for firefighters from across the UK to showcase the incredible skills, bravery and determination that is built into every single one of them.
"I know the locals and visitors will be astounded by the displays and competition that will feature in this event.
"Newcastle is proud to host so many diverse and unique events across the year and we are looking forward to getting our events calendar back in full swing following the pandemic.
"Events and culture across the city will be an essential part of our Covid recovery and will encourage visitors from across the world to return to Newcastle."
What is the Festival of Rescue?
The event promises to be a true spectacle of resilience, expertise and full-on teamwork as firefighters and crews display their skills through a variety of specialist disciplines. 
Visitors, residents, friends, family and colleagues will be cheering from the side lines as teams tackle the intense challenges put before them from the following five categories:
Vehicle 

Extrication

 

Trauma Care

 

Urban Search and Rescue

 

Rope Rescue

 

Water Rescue 
Who are the UKRO?
As a charitable organisation UKRO prides itself in advancing professional rescue through the direct benefits from the rescue challenge, education workshops and the UKRO Academy. 
All of the exciting events will be sandwiched between an opening and closing ceremony that will include a special awards presentation to honour the achievements gained over the two-day competition.
The Festival of Rescue looks to greet and accommodate over 70 teams as they look to go head-to-head and be crowned the very best in their field.
'An honour and a privilege'
 Peter Heath, Deputy Chief Fire Officer of Tyne and Wear Fire and Rescue Service (TWFRS), said: "It will be an honour and a privilege for Tyne and Wear to host this year's UKRO event.  The past sixteen months has been challenging for the emergency services as we've been working tirelessly on the frontline during the pandemic by continuing to keep people safe from harm. 
"The Festival of Rescue will be a wonderful way for colleagues to gather and unite at the same time as showcasing some of the finest skills and techniques the Fire Service has to offer.  The competitive nature of the challenges will be exciting for spectators and help to create a special atmosphere.
"People will be astounded by the amount of time and dedication our country's firefighters devote towards honing their specialist skills.  I would hope it will also fill the observers with a sense of pride that these brave men and women apply these vital skills on a daily basis to help save people's lives in some of the most gruelling conditions imaginable."
Tyne and Wear Fire and Rescue Service is working closely with Newcastle City Council and Gateshead Council to pull out all of the stops to ensure The Festival of Rescue is one of the standout events of the summer.
As well as the Challenge, TWFRS will also offer spectators the opportunity to visit the Community Engagement Village, where both residents and businesses will receive some great help and advice on keeping themselves, their homes and their businesses safe. 
DCFO Heath said:  "The Festival of Rescue will also be the catalyst to attract residents and visitors to the NewcastleGateshead quaysides, which will not only benefit local businesses and tourism in the area but will also shine a spotlight on to the region as it continues to be a recognised as a premiere host of high profile events.
"The event is an opportunity to make people more aware of invaluable lifesaving fire safety practices they can use in their own homes; and provides a wonderful window in to the Fire Service to attract the young firefighters of the future."
'We look forward to welcoming teams'
Councillor Angela Douglas, Cabinet Member for Culture, Sport and Leisure and Chair of Gateshead Community Safety Board, said: "We are very proud to support and host this special event which will not only showcase the skills of our emergency services to the public but acts as an important reminder that we have such a dedicated fire and rescue service who put themselves in harm's way to protect us every day. We look forward to welcoming teams from all over the UK to Gateshead and Newcastle's quaysides which promise to be impressive locations for the competition."
'An event to remember'
Neil Odin, Chair of UKRO, said:  "We are looking forward to working with Tyne and Wear FRS and all partners to deliver a unique and special event for the communities of Tyne and Wear. We also offer a warm welcome to all our firefighters from across the UK who will take a great deal of pride in displaying their professional skills and aspiring to achieving high in this prestigious event.
"The Festival of Rescue will indeed be an event to remember."
There will be special attractions for everybody to enjoy as The Festival of Rescue promises to be a wonderful occasion crammed full of action, fun and expertise. 
For further information about this year's UKRO event please visit www.ukro.org