21 June 2019
| | 3 min read
Newcastle named Smart City of the year
Newcastle was named as Smart City of the year at last night (June 20) for its innovative approach in using technology to help transform services and improve the lives of residents.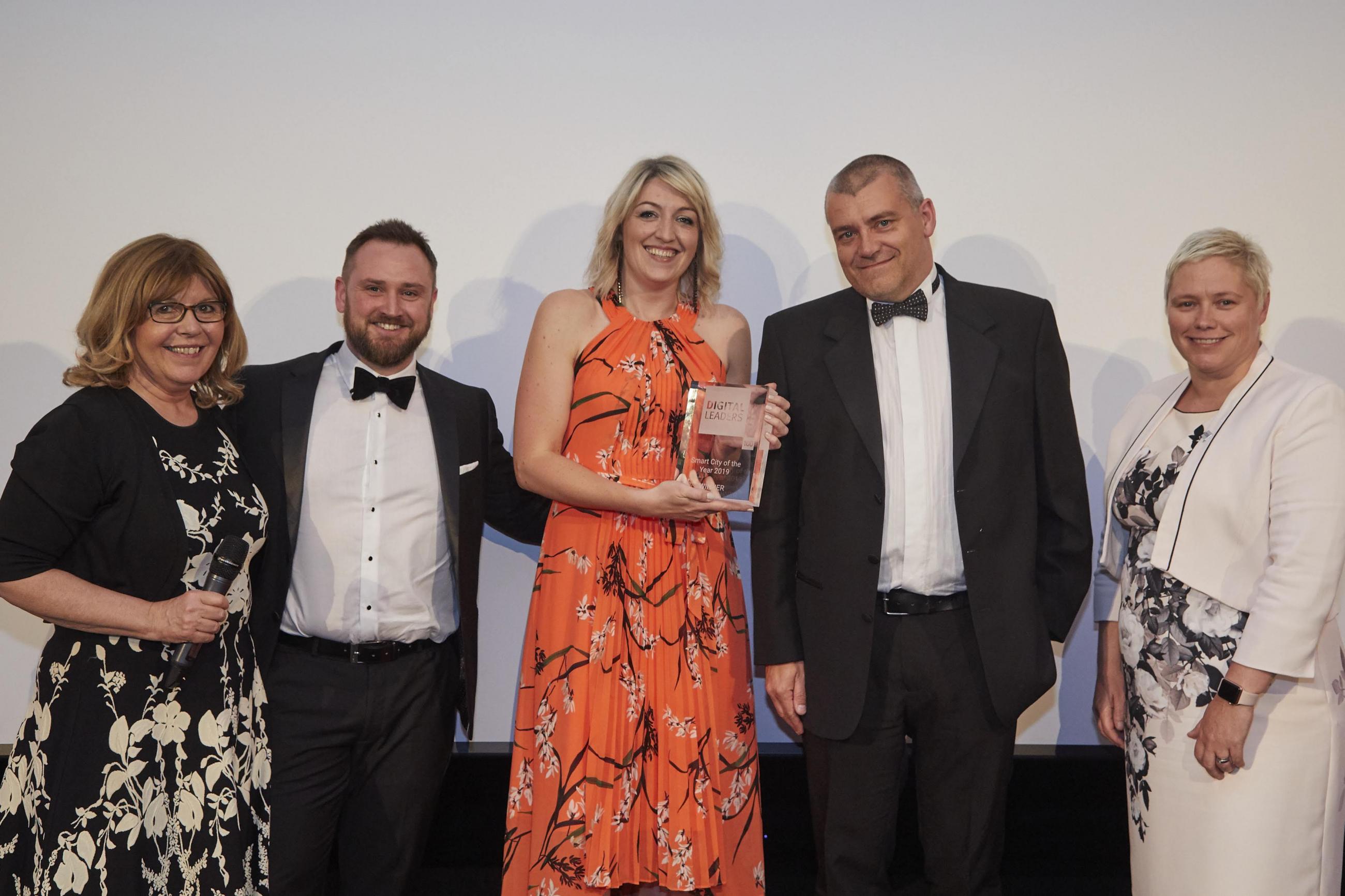 The digital leader award recognised Newcastle for its collaborative approach to innovative use of technology across the city to deliver services more efficiently and make life more liveable - through better transport, cleaner air, more responsive local services and by creating more independence for people in their own homes.
As home to our flagship development Newcastle Helix, the National Innovation Centre for Data and the Urban Observatory, Newcastle is a major player in the digital world.
The Council's Digital Newcastle programme plays a key role in connecting organisations across the city, including the public, private, academic and voluntary sectors to deliver collaborative projects to help Newcastle to be smarter, faster and more productive.
Last year for the Great Exhibition of the North Newcastle was home to the UK's smartest street in partnership with Cisco and partners. Mosley Street and the surrounding area in the city centre, was fitted with additional CCTV cameras, sensors installed on lampposts, bins and car parking spaces where the data is captured to control and monitor street lighting, parking availability, air quality and bin collection and road maintenance services.
Cllr Nick Forbes, Leader of Newcastle City Council said: "I am extremely proud that Newcastle has been named smart city of the year.
"We are a city that is powered by people and inspired by fresh ideas, from start-ups to global players it is a digital city for all and our partnerships across the city place us at the forefront of digital innovation.
 "We continue to be a city that harnesses the power of technology and data to drive forward digital change and this award recognises that we are connected, innovative and pioneering city that is looking to the future."
Pat Ritchie, Chief Executive of Newcastle City Council: "Newcastle is a leader in the digital field and we have the know-how to transform our city.
"Newcastle has always had an ambition to become a smart city and we see ourselves as enablers of digital growth in the city, through technological partnerships between businesses, universities and public services.
"This award recognises the great work we have already done to support digital development across Newcastle and acknowledges our ambitions to do more to put digital at the heart of our city in the future."
The council was recognised three times in the digital leaders top 100 with nominations for digital council of the year, smart city and AI innovation of the year.
Newcastle City Council was shortlisted in the final three for digital council of the year alongside Leeds City Council and Nailsea Town Council and was the only public sector organisation to be shortlisted for AI innovation of the year for the adult social care chat bot, an in-house development that is designed to provide people with adult care information 365 days a year.
Jennifer Hartley, Director, Invest Newcastle said: "Collaboration has played a vital role in driving our smart ambitions forward, with the city facilitating open and transparent collaboration across public, private and academic sectors. It's not just about technology, you must understand people to drive new solutions and this is what has makes us different.   We know that our smart, clean and digital technologies will enable cities to overcome both economic and social challenges for years to come.
"I am delighted that the city has been recognised for their approach and I am excited about the future."
The awards took place in London on Thursday 20 June.
We are a city that is powered by people and inspired by fresh ideas, from start-ups to global players it is a digital city for all
Cllr Nick Forbes
Leader of Newcastle City Council