16 November 2021
| | 3 min read
New proposals launched to reduce traffic on local streets
Sweeping new measures to reduce vehicles cutting through local streets in parts of Newcastle have been released by Newcastle City Council today (16 November).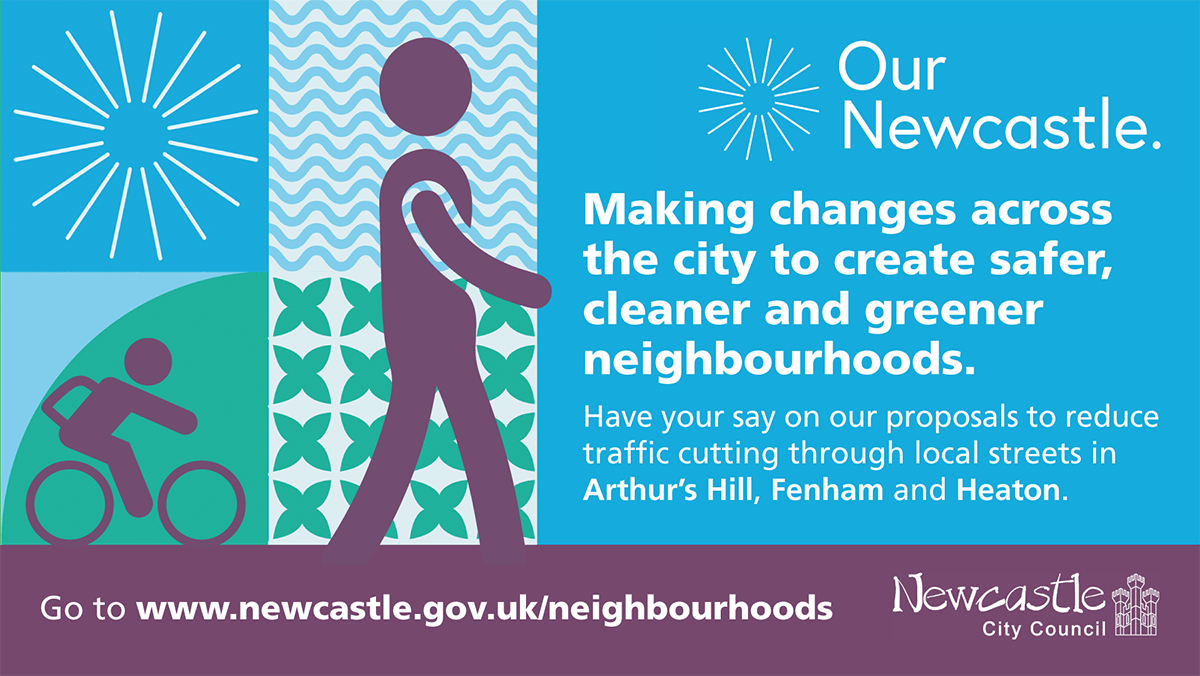 Proposals for three areas in the city, including parts of Arthur's Hill, Fenham and Heaton, will become low traffic neighbourhoods as part of the council's commitment to creating safer, cleaner and greener neighbourhoods. To complement the measures, two School Streets are also proposed for Westgate Hill Primary in Arthur's Hill and Hotspur Primary in Heaton.
The proposals will stop traffic cutting through key local streets in parts of the three areas by using bollards or planters to restrict access. All properties in the areas will still be accessible by vehicles, this includes delivery drivers, refuse trucks and blue light vehicles such as ambulances, police and fire engines. The council are currently sharing these proposals with the emergency services as part of statutory consultation.
As well as reducing the volume of vehicles using local streets, proposals include enhancements to public space, introducing new crossings and tightening junctions to reduce traffic speeds.
Cllr Ged Bell, cabinet member for development, neighbourhoods and transport said: "We're committed to creating a more liveable city – one that puts people first. We need to see less cars and more space for people to walk and cycle. The proposals set out how we could create better neighbourhoods, making streets safer and the air cleaner for the people who live there.
"This is an opportunity for people to tell us what they think of the proposals ahead of them being implemented. They will mostly be made as trial measures which means it's easier for us to make changes if we need to. It is important that people can have their say so we can create better and more attractive neighbourhoods, where children can play out safely and more people feel safer walking and cycling on local journeys."
Cllr Clare Penny-Evans, cabinet member for climate change and public safety, said: "We need to make bold decisions in our city to ensure that we clean up our air, improve public health and wellbeing and tackle climate change and these schemes are a key part of this. We know people don't want their local streets choked by traffic. By making small changes to how we get around our neighbourhoods it can have a big impact on people's mental and physical health, reduce car emissions and improve air quality."
Cllr John- Paul Stephenson, cabinet member for public health and culture, said: "With less traffic cutting through local streets, neighbourhoods become more attractive to the people who live there and helps create heathier and better-connected communities. Just making small changes in our daily behaviour, such as walking or cycling to the local shop rather than driving, can really make a big difference to our health and wellbeing, which is what these schemes aim to encourage."
Leaflets will be sent to residents living in the areas setting out the proposals for their neighbourhood as an opportunity for them to feedback on any issues they foresee before the changes are implemented. The council are asking people to let them know their views before the 7 December. This feedback will be used to help inform the final trial schemes, which will be installed in early 2022.
More information is available at www.newcastle.gov.uk/neighbourhoods