26 June 2020
| | 2 min read
Litter louts warned there's no excuse for dumping rubbish
Litter louts are being told they've no excuses for failing to bin their rubbish or take it home.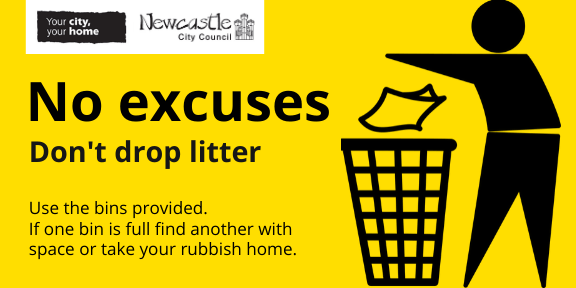 As the Government has eased lockdown measures and sunny weather has drawn more people to Newcastle's public spaces so the amount of waste has increased, with some people trying to put rubbish into already full bins, leaving streets in a mess.
'Keep our city clean by doing your bit'
Cllr John-Paul Stephenson, cabinet member for environment and regulatory services, said: "As you'd expect, with lockdown easing, nice weather encouraging more people to go outside, and high levels of off-sales and takeaways, we are seeing the amount of rubbish collected from public areas like the Quayside and Ouseburn increasing.
"While most people are being sensible and respectful of others, socially distancing and putting their rubbish in a bin or taking it home, some seem to think it is OK to just dump it for someone else to clear up.
"Using technology our bins are monitored and when they are approaching full our team will empty them as soon as possible, but we appreciate there may be a short time when they reach capacity before we have made it to them.
"We would remind everyone of their personal responsibility to dispose of their rubbish properly – If there is not a public bin nearby, or you arrive at a bin that is already full, please take your rubbish home, and put bottles and cans out for recycling.
"Help us keep our city clean by doing your bit."
Your City, Your Home
Launched in 2019 Newcastle's Your City Your Home campaign aims to encourage people to be proud of the environment we live in.
In its first year hundreds of volunteers came forward to work with us to keep their communities clean and, though much of that activity has been put on hold due to the COVID-19 pandemic, the council continues to encourage residents and visitors to take pride in our local areas, and treat them with the respect you would show your own home.
Report littering
If anyone wants to report littering or fly-tipping, or that a bin is full, they should contact our Envirocall service online or by calling 0191 278 7878.