22 March 2023
| | 3 min read
Leader welcomes new £1 bus fare for young people and cheaper multi-operator adult tickets on the way
Young people in the North East are set to benefit from cheaper bus fares under the region's new Enhanced Partnership, including a new £1 single bus fare for all under 22s on any bus service in the region.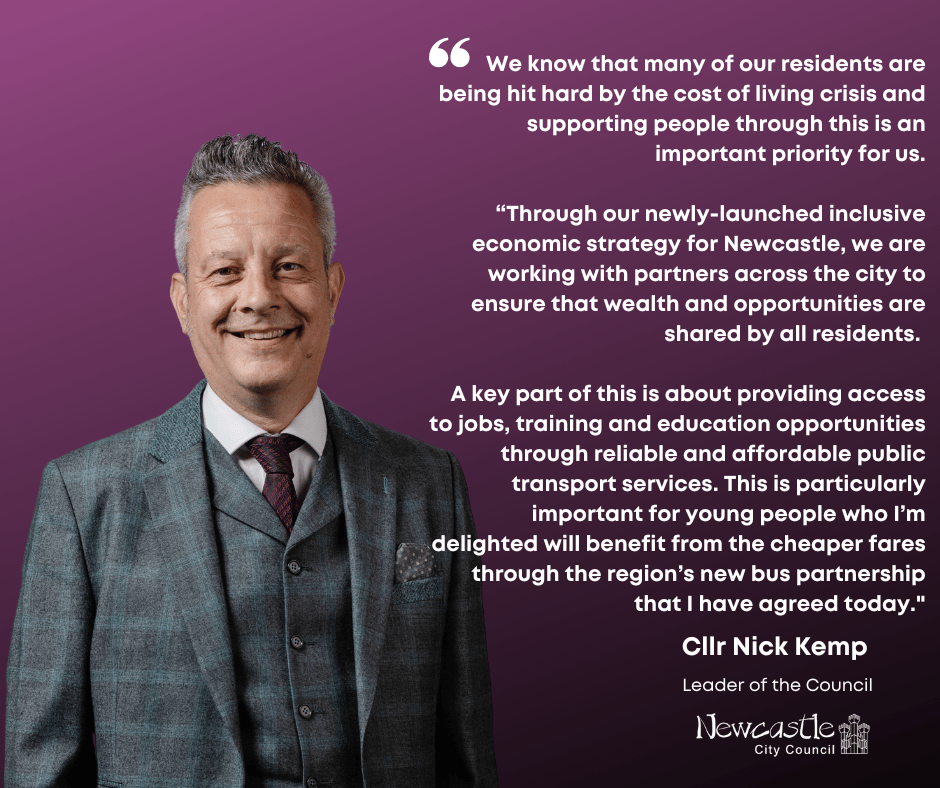 Adults across the region will also benefit from new or lower-priced multi-operator daily tickets as part of the region's Enhanced Partnership (EP) – a new formal agreement between bus operators and local authorities which was approved by the North East Joint Transport Committee today (21 March). The EP covers Tyne and Wear, Northumberland and County Durham.
Following the publication of the North East Bus Service Improvement Plan (BSIP) in 2021, and the region's funding award of £163.5 million, £118m of which was confirmed by the Secretary of State for Transport Mark Harper in early March, the region has now agreed to enter into the formal partnership which will enable multi-million-pound improvements such as:
a new £1 fare for single bus journeys for under 22s, and a £3 daily ticket for under 22s offering unlimited travel on bus, Metro and Ferry throughout the region. These tickets will be some of the first fare initiatives to launch under the new EP and will be available for passengers shortly.

new affordable adult daily tickets for unlimited travel by bus in County Durham (£4) and Northumberland (£5), and lower-priced daily tickets for unlimited bus, Metro and Ferry travel in Tyne and Wear (£6) and region-wide (£6.80).  support for care experienced young people across the North East (Tyne and Wear, Northumberland and County Durham). Timings for the launch of these tickets will be confirmed later this Spring.

many new bus services and improved services, connecting communities and improving frequencies/operating hours for existing services.

a new Park & Ride site to help more people travel sustainably for part of their journey.

additional bus priority measures on the busiest corridors throughout the region to improve bus punctuality and journey times.

enhanced support for rural communities including 'Demand Responsive Transport (DRT) and pop-up 'Pocket Park & Ride – linking remote rural areas to local bus services.

updated bus stops and stations and more.
All initiatives are subject to funding by the Department of Transport, and sit alongside national policy announcements such as the Government's own separate plan to introduce a £2 adult bus fare cap between January and June 2023.
Cllr Nick Kemp, leader of Newcastle City Council, said: "We know that many of our residents are being hit hard by the cost of living crisis and supporting people through this is an important priority for us.
"Through our newly-launched inclusive economic strategy for Newcastle, we are working with partners across the city to ensure that wealth and opportunities are shared by all residents.
"A key part of this is about providing access to jobs, training and education opportunities through reliable and affordable public transport services. This is particularly important for young people who I'm delighted will benefit from the cheaper fares through the region's new bus partnership that I have agreed today.
"It's also excellent news to see that a scheme offering free travel to young care leavers, which was piloted and proved very successful in Newcastle, is to be extended across the region.
"It's more important than ever that we have a public transport network that meets people's needs, supports their ambitions and helps them to succeed, so today's announcement is very welcome news that will hopefully bring far-reaching benefits to many."