2 December 2021
| | 3 min read
Last few days to have your say on low traffic neighbourhood proposals
Newcastle City Council is reminding people that they have until 7 December to  have their say on new measures to reduce vehicles cutting through local streets.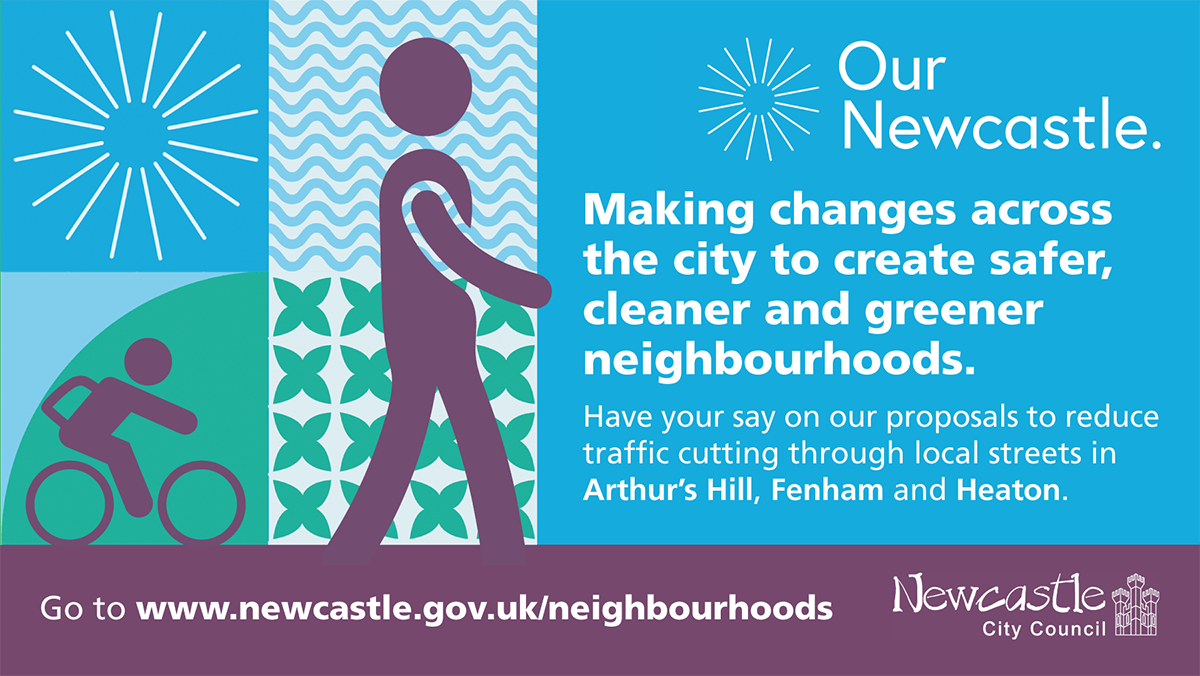 Proposals for three areas in the city were released in November as part of the council's commitment to create safer, cleaner and greener neighbourhoods. Parts of Arthur's Hill, Fenham and Heaton could become low traffic neighbourhoods, including two Schools Streets that would see traffic restricted outside Hotspur Primary in Heaton and Westgate Hill Primary in Arthur's Hill at the start and end of the school day.
The proposals aim to stop traffic cutting through local streets in the three areas by using bollards or planters to restrict access. All properties in the areas will still be accessible by vehicles, this includes delivery drivers, refuse trucks and blue light vehicles such as ambulances, police and fire engines. The council are currently consulting with the emergency services on these proposals.
As well as reducing the volume of vehicles using local streets, proposals include enhancements to public space, introducing new crossings and tightening junctions to reduce traffic speeds.
Cllr Ged Bell, cabinet member for development, neighbourhoods and transport said: "We're committed to creating safer, cleaner and greener neighbourhoods across the city. This is the first roll out of a package of measures to reduce traffic cutting through local streets, creating more space for people to walk and cycle on local journeys and crucially making it much safer for children going to school.
"There certainly seems to be a lot of positivity,  with some people asking us to be bolder in our proposals, and of course some people raising concerns which is what this period is designed to tease out as this allows us to look at potential issues ahead of implementing schemes. Our engagement team has also been out and about in the community, talking to residents and businesses to provide further information and listen to people's views.
"Thank you to everyone who has got in touch so far, but we're reminding people that we need to hear their views by 7 December. By listening to the views of residents we can create better and more attractive neighbourhoods together, ensuring that local streets are not dominated by traffic which ultimately creates safer and better connected communities, where children can play out safely and people, not vehicles, take priority."
The council is asking residents for their views on the proposals by 7 December, ahead of changes being implemented in early 2022. Any changes installed would be subject to a six month public consultation to allow the council to trial any measures, ahead of making a decision on whether or not they should be made permanent.
In Arthur's Hill, the proposals include some closures to streets to vehicles where they meet Stanhope Street to improve public space around the shopping area, as well as stopping through traffic on Beaconsfield Street and Sidney Grove. Other proposals include improved accessibility by removing some parking on surrounding streets and installing dropped kerbs.
In Fenham, the proposals include closing the junction of Queensway and Kingsway to through traffic, as well as Gowland Avenue, Nuns Moor Road and Moorside South. Other supporting measures include changes at junctions on surrounding streets to reduce vehicles speeds and improve crossings.
In Heaton, the proposals include closures to through traffic on Ouseburn Road, Bolingbroke Street, Cardigan Terrace and Falmouth Road. Other measures include tackling inconsiderate parking on Stannington Avenue as well as restricting vehicles outside the entrance to Heaton Park by preventing vehicles turning in to or out of Heaton Park View.
All of the measures in each area work together as a package by stopping vehicles re-routing on to other residential streets, creating quieter streets to improve waking and cycling routes.
Leaflets were sent to residents living in the areas  asking for their feedback by 7 December at www.newcastle.gov.uk/neighbourhoods . This feedback will be used to help inform the final trial schemes, which will be installed in early 2022.
More information is available at www.newcastle.gov.uk/neighbourhoods