7 December 2021
| | 2 min read
It's your information
Newcastle resident Louise Griffiths has won an iPad after signing up for a free council service.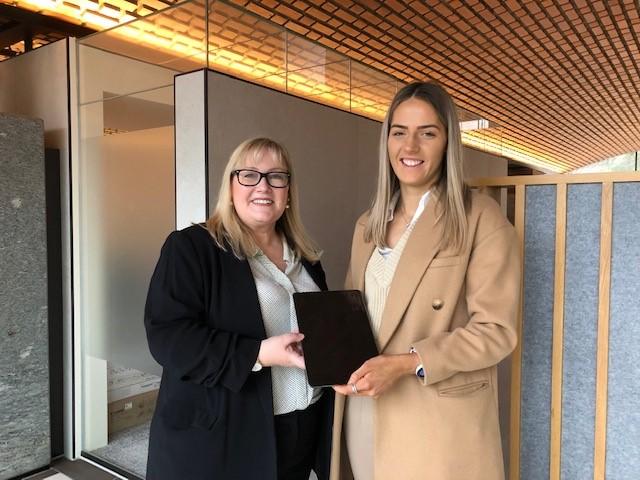 Louise, a social worker, received the computer after winning a competition run by Newcastle City Council which encourages residents to view their council tax, housing benefits and business rates information online.
By making the information available through the council's website, residents can securely view all their information 24/7 and answer any queries themselves before deciding if they really need to ring the council.
It is sometimes more convenient for residents to view their information online and saves the council money allowing it to spend more time helping those who are not digitally enabled.
Louise joined more than 19,000 residents who have registered in the last year for an online account as part of the council's drive to get more people to engage with it online. In all 46% of accounts were created outside of office hours.
Louise, whose name was randomly chosen, came into the Civic Centre to receive her prize from the deputy leader of the council, Cllr Karen Kilgour, who is responsible for financial governance and performance.
Cllr Kilgour said: "It's really nice to give this prize to Louise and I hope she finds it very useful. I'd urge others to follow her example and register for an account to view their council tax, housing benefit or business rates online.
"If more people can engage with the council in this way it will be easier for them and easier for the council.
"Receiving a lower volume of calls means our staff can spend more time helping those who are not digitally enabled – people who are not online or people who may be vulnerable. It helps us provide a better service by targeting our help where it is needed most."
Louise, of Fenham, said: "I was surprised to win an iPad because I don't even win a raffle!
"I recently moved into a new home and received a letter saying I could set up my council tax online. I went online and it was quick and easy.
"It means in future there are lots of things I can check with my council tax which means I don't have to wait to get through to the council and can get on with my life," added Louise, who plays full-back for Sunderland ladies football team.
To sign up for the service go to https://myaccount.newcastle.gov.uk
The service is mobile enabled which means residents can also use the service on their mobile phones.
By signing up, residents can:
Check their balance or award

See what payments have been made 
Check instalments for council tax or business rates

View account information including their council tax band, what their next payment is, what discounts or exemptions have been applied 

Receive automatic notifications when there has been a change to their account 

Link their account to other Council Tax, Housing Benefits and/or Business Rates accounts that they have with Newcastle City Council

Ability to "switch off" paper bills

View bills online