3 October 2019
| | 2 min read
How your £5 can help support local traders
From French breads to Christmas pop-up cards, you can get a lot for just £5 in Newcastle this week.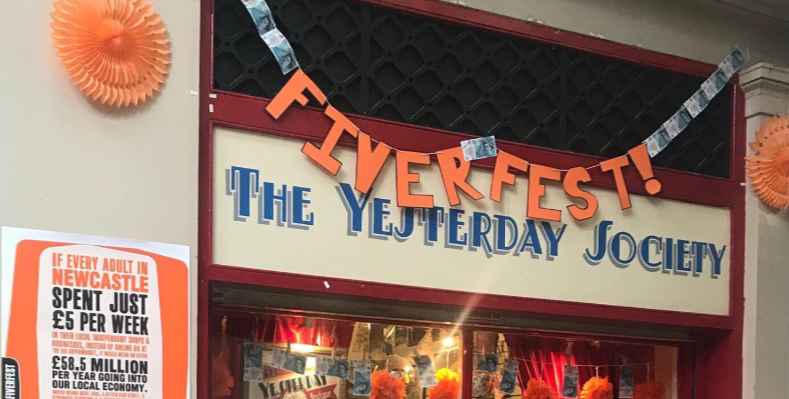 Independent businesses based across Newcastle and the Grainger Market are taking part in the Totally Locally National Fiver Fest Campaign.
The businesses are joining 51 other towns in the UK to encourage residents to shop local with £5 promotional offers.
The campaign, which runs from Saturday 5 October to Saturday 12 October, will see local cafes, clothing stores and businesses showcasing the products they offer.
Cllr Ged Bell, Cabinet member for Employment and Culture said: "This is our first year taking part in the National Fiver Fest as we want to encourage more locals and visitors to choose to spend their money locally and contribute to the local economy.
"Independent traders are at the heart of Newcastle and play a vital role in creating new jobs and improving the cities prosperity and that's why we are encouraging people to take part in this campaign and spend just £5 at a local traders this week.
"The aim is to encourage every adult in Newcastle to spend £5 a week at an independent business instead of online or at a chain store as this would bring an extra £58.5m to our local economy per year."
Rachael Johnson, owner of The Yesterday Society, said: " As an independent trader, I am a huge fan of shopping locally to boost the local economy and celebrate local businesses. The Fiver Fest seemed a great way to follow on from the #supergraingermarket campaign, and commemorate that the Grainger Market has been home to Newcastle's independent traders since 1835.
"Fellow market traders have pulled some great offers out of the bag to celebrate, from BOGOF curry to a wild bird feed selection.
"We also are thrilled to have the wonderful Flea Circus on board with some fabulous vintage offerings, and hope to build on this year's success to include more of Newcastle independent businesses in the coming years. So pop down during the week to see the great value a fiver can get you!"
Over 20 traders in the Grainger Market, including La Casa Delicatessen and The Yesterday Society, and are involved with offers including cheese boards, fruit baskets, afternoon tea and hair styling. The offers are as follows:
The Yesterday Society - 1 gent scarf, 2 ladies scarves, 3 bandanas, 4 scrunchies or 5 pairs of bright tights for £5.

Having a Party Ltd - All big Christmas pop-up cards, 2 small Christmas pop-up cards or 2 real leaf bookmarks for £5.

Snackwhallah - Bring a friend for curry. Buy one £5 curry and get another one free for your friend!

That Retro Game Shop - Any £7 worth Blu-Ray/DVD or Games for £5.

La Petite Creperie - Meal deal offer: any buckwheat galette and 1 lemon sugar crepe for £5.

The French Oven - A £7.50 goody bag for only £5.

Olivers - £5 soup, sandwich, tea or coffee or £5 cakes or scone with tea or coffee for two (after 2pm) or £5 afternoon tea (scone, creme cake, 1/2 round sandwich, tea or coffee).

Superstich - £7.50 trouser shortening for £5.

Newcastle Book Exchange - 3 of the £1.99 books for £5.

Matthew Cheese - buy a £5 cheese deal.

Pet Lamb Patisserie - £5 cup selection.

Liddles Fruit and Veg - £5 fruit box selection.

Eats Cafe - Afternoon tea for 2 for £5. Choose any 2 cakes, scones or tea cakes and 2 hot drinks. Served after 2pm. 

Robinson's Pet Store - Wild Bird Fiver Fest.  Featuring 1.1kg wild bird seed, 800g peanuts, pack of 10 fat balls and one peanut suet block. 

Ellen Cosmetics - Halloween bundle including Swazaroo face paint, fake scars and fake blood for £5. 

RISE Artisan Bakehouse - Deals change daily depending on stock. 

Madam Butterfly - two scarves for £5. 

Almond and Raisins - Organic and non-organic herbs and spices are 3 for £5. 

Hunters - 1lb of Kebab meat, small, chilli and garlic, pack of pitta bread and a bag of mixed cabbage for £5. 

Nil Living - Buy a 500ml Amber Glass bottle for £5 and get 50% off a Faith in Nature body wash refill.

Scented Melts - A selection of perfume wax melts, a small oil burner and a packet of tea lights for £5. 

S Murray Jewellers - Clean and Polish of yellow gold and silver jewellery. 

Curious Leaves - A click spoon infuser and 100g of Assam black tea. 
Pumphreys Coffee, Premier Meats, La Casa, Meat Locker, Dumpling and Bun, Sloppy Joes, One 2 One and Coffee Lounge will also be offering five pound special offers across the week. 
Get involved in the campaign on Instagram and share your support using #FiverFest and #Supergraingermarket.