29 May 2020
| | 4 min read
Housing and building control services to resume
Services to ensure Newcastle residents can find the homes they need are to restart in June.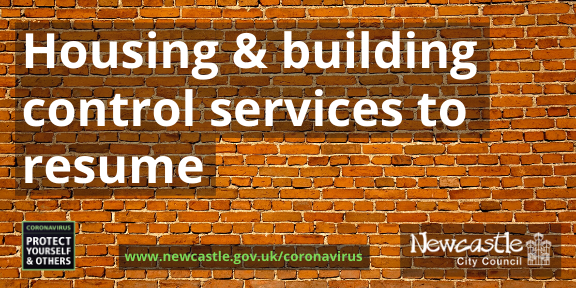 Since the coronavirus lockdown began Newcastle City Council's building control services, which signs off on construction work, has not carried out any physical site visits to certify works complete.
And tenants of Your Homes Newcastle (YHN) have been unable to access the choice based letting system through Tyne and Wear Homes, with the advertising of properties suspended.
But now both, along with non-essential repairs of YHN homes, are to restart in the coming weeks.
'Safety is paramount in our minds'
Cllr Nick Kemp, cabinet member for environment and regulatory services, said: "Obviously the COVID-19 lockdown has seen disruption to services and we can only thank residents and the business community for their patience and understanding during this time.
"Now, as we approach June, we are looking to return some of those towards normality, though safety is paramount in our minds and measures will be in place to protect our staff, workers and the public."
Property allocations and repairs
Your Homes Newcastle is planning to reopen property allocations over the coming weeks, working with Tyne & Wear Homes, the partnership that co-ordinates property allocations across the region.  
To ensure the safety of residents and customers, YHN's allocations service are being reintroduced in stages with an initial phase, seeing customers who had successfully bid on properties prior to lockdown contacted to continue the sign-up process.  
Property advertising, allocations and non-essential repairs will resume later in June, with a smaller number of homes available initially to ensure social distancing guidelines can be followed. 
Building control
Regulations require contractors or building owners to notify the council at certain stages of construction so that inspections can be carried out and, when works are completed, the local authority can be confident in issuing a certificate to say all technical requirements have been met.
During the Coronavirus lockdown fewer sites have been operational and the council has been carrying out "virtual" inspections, relying on photographs, videos and discussions with developers to establish reasonable evidence of compliance.
However, these can never be a complete substitute for physical visits and, particularly where final inspections have been needed, some sign offs have had to be put on hold, delaying the completion of the works.
New measures in place
From next month, physical site visits as well as inspections in response to reports of potentially dangerous buildings may recommence, but with a number of new measures in place to keep our staff and the public safe.
These include:
Continuing virtual inspections where possible.

Combining multiple physical visits into a single visit where possible to limit the cumulative risk.

Prioritising requests on health and safety grounds

Establishing before any visit that no one on site or living at a property has experienced COVID symptoms within the last two weeks, is self-isolating, high risk or vulnerable. 

Making sure that social distancing can be maintained during any visit.

Continuing to delay, until conditions change, inspections where a physical visit is not appropriate and virtual review would provide an insufficient alternative.
Even if an inspection is delayed, the property's owner and those undertaking construction work must continue to comply with all building regulations.
Adapting our buildings for COVID-19
As well as ensuring building and housing services return we have also been working hard to make our workplaces "COVID secure" so that more employees, if they are not able to carry out their duties from home, can again work from the Civic Centre.
Measures have been put in place to provide sufficient space for staff to work and move around the office, while complying with social distancing guidelines, alongside additional hygiene measures.  
The Arches reception continues to operate on reduced hours, from 8.30am to 4.30pm, Monday to Friday, and only those people accessing emergency services should visit the Civic Centre. 
Council service disruptions
For the latest information about any disruption to council services please visit www.newcastle.gov.uk/coronavirus