14 May 2020
| | 4 min read
Frontline staff still park for free as car parking charges resume in Newcastle
Healthcare heroes will continue to park for free even as Newcastle City Council's pay and display spaces return to normal.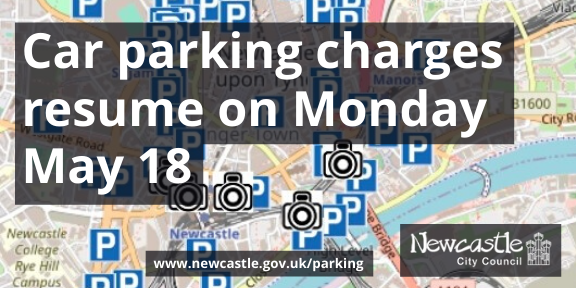 To support key workers the authority seven weeks ago suspended fees for both its on and off street car parks across the city.
But now, as the Government urges more of those who are unable to work from home to return to work, charges will be reintroduced from Monday May 18 – though with around 320 free spaces in dedicated car parks for NHS staff.
'The time is right to reassess'
Cllr Nick Kemp, cabinet member for environment and regulatory services, said: "As one of the first councils to introduce free parking for key workers we have been proud to support the vital contribution that frontline staff are making to our communities.
"However, what was initially a three week initiative has now lasted almost two months and cost us around £1 million.
"From the outset we've said we would review this temporary measure and, with Government lockdown advice beginning to ease, we now feel the time is right to reassess, reintroducing fees for the increasing number of people who may be looking to park, and generating funds to support council services."
Free parking for health and social care staff
The Council remains committed to our key workers and our NHS and are resolved to continue demonstrating our support.
Government guidance allows for healthcare staff to park free of charge in pay and display bays - Workers are asked to contact the council at parking@newcastle.gov.uk, from their trust email address, with the subject line "NHS Parking", and their vehicle details before doing so.
Following discussions with the city's hospitals, the council will also provide free parking specifically for critical care workers at the Royal Victoria Infirmary with three car parks dedicated for their use until at least June 23.
The parking spaces given over to the NHS will be at:
Claremont Road – 183 spaces

Morden Street – 84 spaces

Leazes Park Road – 50 spaces
The spaces will be available on a first come, first served basis, with extra patrols by parking enforcement staff to ensure they are not being misused by non-healthcare workers.
Walk or cycle if you can
However, the Government advice for everyone says that if you cannot work from home and have to travel to work, or if you must make an essential journey, you should cycle or walk wherever possible.
Around one in fourteen people in Newcastle already cycle to work and the council wants to encourage more to use greener travel options.
The city centre has parking for more than 1,150 bikes and, as one of eight Cycle Ambition Cities in England, the authority has in recent years invested more than £16.3m in new infrastructure, including around 16 km of new cycle routes.
Bus lane enforcement begins again
As well as returning car parks to normal, enforcement of bus lane restrictions will recommence and all penalty charge notices, which were placed on hold following lockdown, will be processed and responded to.
That does mean that if someone received a ticket in early March, or their case was at or nearing the debt recovery stage, then it could move forward from Monday.
To allow all of this work to happen some staff who were redeployed to assist with deliveries of food from the Grainger Market and with traffic management around the council's reopened waste and recycling centres will return to their normal roles, though up to six parking services officers will continue to support those other areas.
Residential parking
In residential parking areas, enforcement will also recommence in the coming days.
In recognition of the lockdown period current permit holders – including those who have resident, visitor, business, charity, landlord, tradesmen or city centre resident permits - will see seven weeks added to their next pass when they come to renew.
For more information about parking in Newcastle please visit www.newcastle.gov.uk/parking