24 April 2023
| | 2 min read
Fly-tipper fined for dumping waste in park
A charity was left with a clean-up bill after a huge heap of rubbish was brazenly dumped in a Newcastle park.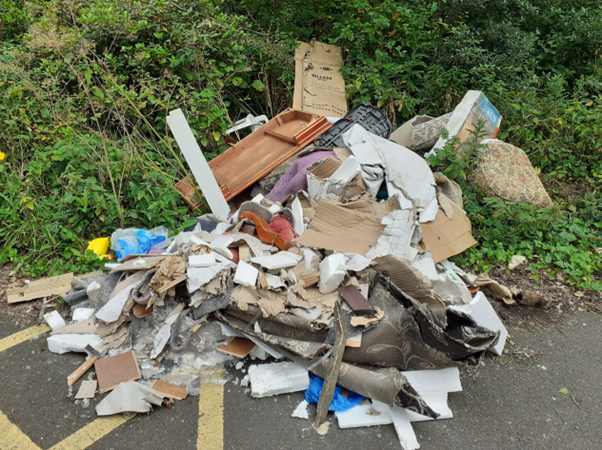 Mohammed Shabuddin Ramzan, 31, fly-tipped waste including cardboard boxes, carpet, a wooden table, packaging and cushions in Heaton Park.
The incident occurred at around 8.30pm on July 26 last year and it was reported to Newcastle City Council and Urban Green Newcastle.
Because the charity manages the park, it had to pay £180 to have the fly-tipped waste safely removed.
Ramzan, of Newton Road, High Heaton, pleaded guilty to one count of fly-tipping at Newcastle Magistrates' Court on April 20, appearing from HMP Preston.
He was fined £1,246, ordered to pay costs of £702.60, £180.25 in compensation and a £498 victim surcharge.
In mitigation, the court heard Ramzan was not proud of his actions and he accepted that he should be punished for committing the offence.
Christine Herriot, Director of Operations and Regulatory Services at Newcastle City Council, said: "This is another excellent result for our diligent officers and I would like to congratulate the team for bringing Ramzan to justice.
"These kind of waste offences blight our communities and pose a serious risk to the public, animals and the environment.
"We are proud of our city. It is an attractive place to live, work and visit and we will do everything in our power to keep it that way.
"If anyone witnesses incidents of fly-tipping, we urge them to contact us with all the details that they have so we can take action."
A spokesperson for Urban Green Newcastle said: "Last year we had to spend roughly £10,000 on skips due to litter that wasn't properly disposed of and had to be picked by our rangers and volunteers.
"That means less money to spend making improvements to the city's green spaces for everyone to enjoy.
"We encourage park users to come forward with reports of fly-tipping so that we can remove them quickly and reduce the impact on Newcastle's parks and wildlife."
To report incidents of fly-tipping, call the council on 0191 278 7878 and ask for environmental health or email psr@newcastle.gov.uk.