10 August 2020
| | 3 min read
Festival of music, comedy and family entertainment welcomed
A festival of music, comedy and family entertainment, bringing back culture to Newcastle in a new, innovative, socially distanced pop-up concert venue, has been welcomed.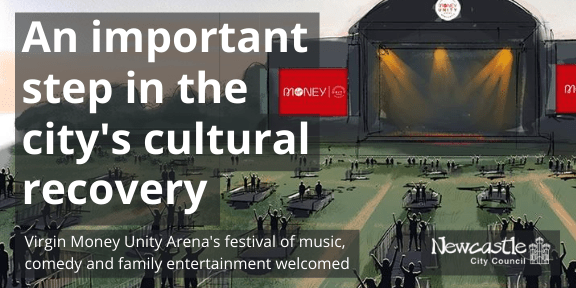 The Virgin Money Unity Arena, at Newcastle Racecourse, will host 29 events on 26 days over the next month, with acts like Sam Fender, Supergrass, Jason Manford, Bill Bailey, Maximo Park, Alfie Boe and Ronan Keating taking to the stage.
Councillors hailed the shows as an important step in the recovery of the city's cultural sector, and commended organisers for going beyond required guidance to keep people safe and be a "good neighbour."
'We need independent festivals like this'
Cllr Ged Bell, Newcastle City Council's cabinet member for employment and culture, said: "Right now times are exceptionally tough for our vibrant community of world class creative professionals in Newcastle, but we know that culture will play a key role in helping our city to heal from the effects of this pandemic
"While we are doing all we can for them for Newcastle to rebuild itself as the leading cultural destination we all love we need independent festivals like this to support the recovery of the sector and provide our people with a diverse programme of events.
"Culture supports economic development, public health, and quality of life, and we want to see an environment in which individuals, businesses and organisations can again flourish and residents have the opportunities to enjoy all that Newcastle has to offer."
Festival plans heavily scrutinised
While not organised by the council, nor on council land, the authority's environmental health, licensing, highways, public health, emergency planning and health and safety teams, along with representatives of the police, ambulance and fire services, have all closely scrutinised the organisers plans through the city's Safety Advisory Group.
Cllr John-Paul Stephenson, cabinet member for environment and regulatory services, said: "While the Department for Digital, Culture, Media and Sport has published guidance on how to put on shows safely it is positive to see that organisers have endeavoured to go beyond what is required.
"As the team behind the This Is Tomorrow festival they already know how to put on major events in our city, and through the specialist production company they have brought in to work with them they gain extensive experience, including one of the people who helped develop the Government's Covid advice for outdoor events.
"Scrutinising their plans we are pleased to see measures such as staggered entrance times, strict social distancing measures, stringent cleaning regimes, mask requirements for concert-goers when not in designated viewing enclosures, and track and trace procedures all in place to keep people as safe as possible."
'Keen to be good neighbours'
"Of course we have, from the outset, highlighted the close proximity of homes and the potential public health risks associated with such large scale events, but we know that organisers are keen to be good neighbours and not cause disruption or nuisance to the local community," Cllr Stephenson said.
"Before the first show we will be working to establish noise limits for the events and then, the organisers have enlisted an independent noise monitoring service, with a resident support line staffed throughout the duration of the festival.
"Also, in the event of any change to circumstances with regards coronavirus, the event organisers have the ability to prevent access to ticket holders from an affected area of the country.
"All of which is reassuring that people will be able to have an enjoyable time in a safe and Covid secure environment."