20 July 2022
| | 2 min read
Extra £1.5m invested to tackle anti-social behaviour
An extra £1.5m is being invested to tackle anti-social behaviour in Newcastle.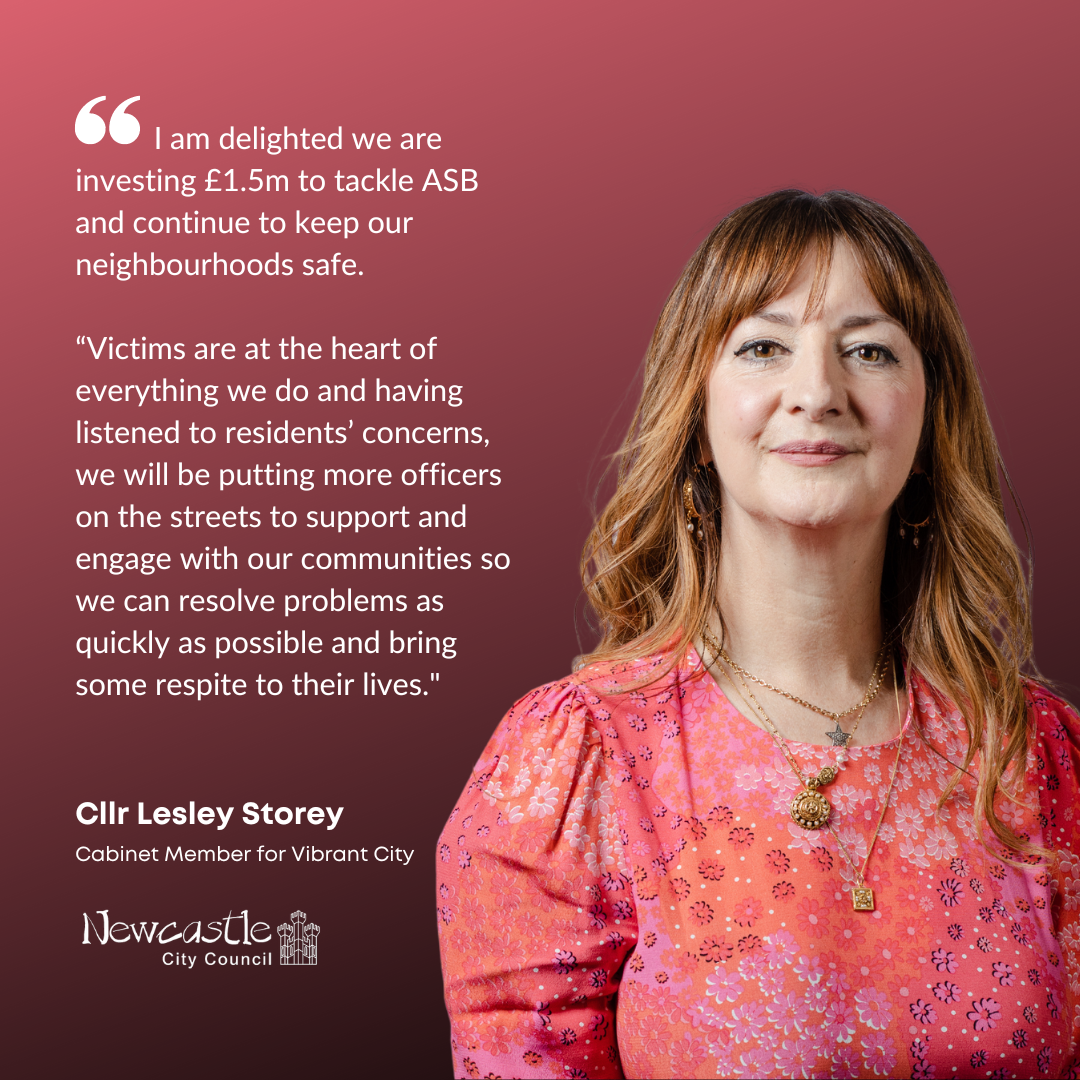 Newcastle City Council will invest in a range of new measures over the next two years to keep communities safe.
The measures come in response to listening to the concerns of communities and the council will work with partners to put victims at the heart of the activity.
These include:
Enhancing support for

victims and perpetrators

Taskforces targeting ASB hotspots across the city, including during weekends and school holidays

Engagement officers working closely with residents to identify and tackle issues in their area

Teams removing graffiti and emptying bins before they overspill to reduce fly-tipping

Recruitment of new neighbourhood protection officers to carry out patrols and respond quickly to arising issues
Cllr Lesley Storey, Newcastle City Council Vibrant City Cabinet member, said: "We know from listening to residents that ASB can make people's lives a misery and blight our brilliant communities.
"That's why despite the huge financial challenges we are facing due to government cuts and increasing cost pressures, I am delighted we are investing £1.5m to tackle ASB and continue to keep our neighbourhoods safe.
"Victims are at the heart of everything we do and having listened to residents' concerns, we will be putting more officers on the streets to support and engage with our communities so we can resolve problems as quickly as possible and bring some respite to their lives.
"Everyone deserves to feel safe in their own home and neighbourhood and we will continue working closely with partners to tackle ASB and make our city such a great place to live, work in and visit."
Northumbria Police and Crime Commissioner, Kim McGuinness, said: "It's great to see more investment going in to tackling ASB in Newcastle.
"Residents can be reassured that the council is fully committed to making the city safer.
"I'll continue to back those efforts with my ongoing ASB plans, including more streets patrols and a new review process to let residents have a voice when it comes to dealing with ASB."
Anyone affected by ASB is asked to report it via the 'Tell Us Something' page of Northumbria Police's website.
In an emergency, or if a crime is taking place, always ring 999.
To report a problem with noise, visit www.newcastle.gov.uk/services/environment-and-waste/environmental-healt….