5 October 2021
| | 5 min read
Public sector organisations unite to support BAME and disabled people into new careers
NHS organisations and local authorities in the North East are hosting a recruitment event to help Black, Asian, and Minority Ethnic people, and disabled people, start new careers.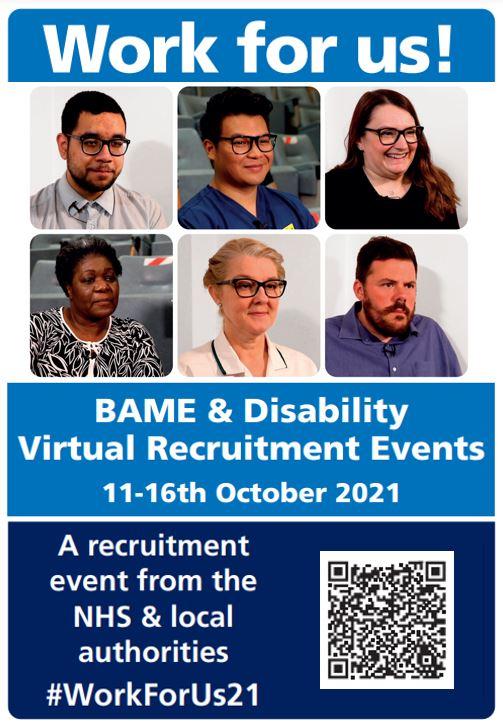 Virtual careers sessions will be held between October 11-16, introducing attendees to opportunities with Newcastle, Gateshead, South Tyneside and Sunderland NHS trusts; Northumbria Healthcare; North East Ambulance Service; Health Education England; Cumbria, Northumberland, Tyne & Wear Mental Health Trust; Newcastle City Council and Northumberland County Council.
All employers attending are committed to ensuring they have inclusive workplaces which are representative of the communities they serve, and have come together to make sure opportunities within their organisations are promoted to a variety of people.
To find out more about the recruitment event, click here.
Cllr Nick Forbes, Leader of Newcastle City Council, said: "Here at Newcastle City Council, equality, diversity, and inclusion are at the heart of everything we do.
"We know that having a diverse workforce is not only the right thing to do but also makes good business sense.  Diversity and inclusion brings into the organisation a wide range of different talents, using different sets of skills that can ignite loyalty and increase retention and productivity. It also allows us to have a better understanding of our customers, if people from all backgrounds are represented in our workforce. 
"We are delighted to be working with our partners on this event which will allow us to promote the vast range of potential career opportunities available within our inclusive organisations."
Helen Ray, Chief Executive Officer at North East Ambulance Service, said: "As an inclusive organisation we want people to be able to come to work and be their authentic self.
"We want to give everyone the opportunity to develop and grow in an environment that recognises and embraces who they are, and the valuable contributions they all bring to the Trust.
"To recruit the best people, we need to attract people from a wide range of backgrounds and experiences, events such as this are extremely important to help us to do this.
"We are fully committed to any activity that helps us to reach out into communities to promote ourselves as an inclusive employer in the region and look forward to working with partners and prospective employees to help people into work."
Dame Jackie Daniel, Chief Executive of Newcastle Upon Tyne Hospitals NHS Foundation Trust, said: "Working for the NHS has never been more important, or more rewarding.  Throughout the pandemic, the whole team across the Newcastle hospitals has supported our patients and our communities in ways that we never expected would be needed. 
"As we look to the future we want to continue to be one of the most inclusive and welcoming places to work in the NHS.  We are committed to creating a working environment which enables all staff to flourish and thrive, and we want to actively encourage people from different communities to work with us.  We recognise that everyone is different and we want every member of staff to feel respected, listened to and valued.
"It's important to us that our workforce is representative of the communities we serve and I'd like to encourage you to find out about the careers we have on offer, ask questions and come along to the sessions to find out more."
A range of workshops throughout the week will provide participants with an insight into working for the different organisations involved, help people identify which roles may suit their skills, offer support with interviews and applications, and much more.